---

When I was standing on top of this building years ago, who could have imagined that some day it would cease to exist? &nbsp &nbsp Over eleven years ago on a Tuesday afternoon, I was standing outside my classroom when I heard the sad, almost unbelievable news of the demise of the World Trade Center. &nbsp I immediately made my mind up that I would never ever look at a video or even a photograph of either tower falling, and to this day I have not.

The designer of the World Trade Center was noted architect Minuro Yamasaki who died in 1986. &nbsp Mr. Yamasaki is interred in a small cemetery on a dirt road in rural Oakland County - Lakeville Cemetery - presumably because his daughter lives nearby. &nbsp This WTC trivia fact is courtesy of Gary Molnar.

Some of the travel stories on this page are in chronological order, but some are not. &nbsp I have more stories to add (such as my one visit to New York City) when time permits.

---

On the Road

September, 2009 I finally took an actual vacation where I went somewhere - it had been about two years. &nbsp I drove 275 miles north to Presque Isle and stayed in a cabin at the camp for three days. &nbsp I have stayed at that camp many times through the years. &nbsp Rather than use the trailer hitch and put the bike rack on my car, I put down the back seats put both my bikes inside. &nbsp I probably had enough room to put four bikes in there. &nbsp Up north, I was blessed with perfect weather - swimming in Lake Esau several times each day and doing plenty of bicycling both on the road and in the woods. &nbsp Though I never saw any deer, I did see plenty of wild turkeys. &nbsp The one time I took a canoe out on Lake Esau, there wasn't another person in sight on land or lake. &nbsp It was so quiet that I could actually hear the water drops bouncing off the lake surface when I pulled the oars up.
On Sunday I went to Church at St Casimir's in Posen where they were singing hymns in Polish. &nbsp It was the weekend of their 58th annual Potato Festival. &nbsp After church I went to the breakfast at the VFW Hall. &nbsp The pancakes, Polish sausage, and potato pancakes were delicious beyond description. &nbsp Both on Saturday afternoon and on Monday morning I biked the 25.4 miles around Grand Lake - about 9 miles of it on US 23. &nbsp The expression, "a country mile" is no exaggeration. &nbsp It's a psychological thing that makes a mile seem longer, but the riding was fun anyway.
The fall wildflowers were blooming, and the fringed gentians were especially beautiful, in blue. &nbsp Think I'll do the same trip next year.&nbsp
P.S. - I did do the same vacation in 2010, with a pal, and it was wonderful. &nbsp I've already made my reservation for 2011.
P.P.S. - Because I was beginning at a new school, I cancelled the 2011 trip. &nbsp Taking off the first Friday and Monday of the school year at a new school would have been too difficult.
---
Passports, Please?
Though it was quite a few years ago, I still remember a sunny June day when I was a mere sixteen years old. &nbsp Along with my buddy from across the street, Tim Simon, I was looking for ways to make the summer more fun. &nbsp The Fourth of July was approaching, and we wanted to get hold of some fire crackers. &nbsp In those days, fireworks were not for sale in Michigan, but we had heard that you could buy them in Canada. &nbsp Tim had just bought a car, and I knew how to get to Windsor, which was all we needed. &nbsp Off we went - Tim driving, and me navigating. &nbsp After driving through the tunnel under the Detroit River, we actually did find a place in Windsor to buy the fire crackers. &nbsp We lost no time in hiding them securely in the last place anyone might think to look - under the front seat of the car! &nbsp As we headed back toward the tunnel to the USA, thoughts of getting in trouble started creeping over me. &nbsp "You do have the car's registration with you, right?", I asked Tim. &nbsp He didn't. &nbsp "Well, do you have your driver's license, at least?" &nbsp "No, I'm not sixteen, yet." &nbsp I couldn't believe it. &nbsp I took over the driving, and I was more than a little distressed as I drove the car with no registration, carrying illegal materials up to the customs gate. &nbsp Amazingly, the customs agent gave us two teenagers no hassle, and we were back home in another twenty minutes to enjoy our explosive devices. &nbsp Remembering this little adventure makes me long for those more innocent days.
---
Hey, this is Toledo
Not to mention any names, but on December 28th of 2010, I and a certain female acquaintance went for a little overnight vacation to Toledo - a place I am quite fond of visiting. &nbsp After checking in at the hotel, we realize the one thing we forgot to bring on this trip - a bottle of Chardonnay. &nbsp So just try and find a party store to buy a bottle of wine. &nbsp Our hotel was right downtown on Summit Street. &nbsp We drive north and the street turns industrial. &nbsp The streets coming off Summit are no better. &nbsp I had the hotel phone number memorized (how useful!) so my friend calls and asks the lady, "Do you know where a party store is?" &nbsp "Yes" - then infinite hold. &nbsp Meanwhile we see a security guard posted outside a door at the corner of the street we are driving down. &nbsp I round the corner and stop to ask him where are the party stores. &nbsp "There aren't any around here." &nbsp "I could tell you where one is, but I wouldn't want to send you there." &nbsp We just can't believe there is no store around. &nbsp He raises his palms and says, "Hey, this is Toledo." &nbsp We drive to the end of the block that this guy is standing on, and my girl spots a neon Bud Light sign in the window of . . . a party store. &nbsp We buy our bottle of Chardonnay along with a corkscrew that requires glove use so you wont lacerate your palm extracting a cork. &nbsp By the time we got back to the room, it was six o'clock. &nbsp Actually, it would have been six o'clock even if we hadn't looked for the wine. &nbsp It was six o'clock the whole time we were there, because nothing we did to that hotel room clock could persuade it to change time. &nbsp The next day was artsy. &nbsp We enjoyed the wonderful Toledo Art Museum, and went across the street to its famous glass collection, too. &nbsp Things were hopping at the museum that day. &nbsp There was an exhibition of Irish step-dancing by some little girls. &nbsp One girl's hair could only be described as "disturbing." &nbsp That performance was to be followed by belly dancing. &nbsp I resisted the temptation to walk up front and roll my stomach to warm up the audience. &nbsp After the museum I took my girlfriend to a wonderful store I was familiar with, called Architectural Artifacts. &nbsp There, she fell in love with a garden chair of carved Italian marble (there's a picture of it on their website.) &nbsp We decided that whichever of us wins the Lotto first would buy it at just $23,500 (plus $29.95 S & H, I think.) &nbsp On the way home we went up US 23 so we could hit Ikea and Sam's in Ann Arbor, where I always buy my blue jeans. &nbsp The humidity was high and some sort of frost blew from the west so that when we looked to the right on the freeway, buildings, trees, grass, everything looked a light gray color, but looking to the left everything looked normal. &nbsp It was surreal. &nbsp Next trip to Toledo will be in the summer so I can visit the botanical gardens and conservatory.
---
The Yard
Whenever I hear old songs that I don't remember, but everyone else does, I figure they came out in 1968. &nbsp That's the year that I was out of the country for most of the summer. &nbsp With our English teacher, Ms. D'Angelo, a group of about a dozen eleventh-graders from Pershing went on a study tour to Europe. &nbsp We were joined by groups from high schools around the U.S. - about 250 students, all together. &nbsp I wish I could have skipped the trip then, and taken it now, instead! &nbsp Anyway, for six weeks we lived in dormatories at the University of Reading, a short train ride west of London. &nbsp We took that train ride to London almost every day and saw so many plays I can't even remember half of them. &nbsp The purpose of our trip was to study English drama, so we had occasional classes at the University, but mostly we attended plays:&nbsp lots of Shakespeare, even some of his histories, Oscar Wilde, The Mousetrap by Agathe Christie, and other modern-day plays. &nbsp When we weren't at the theatre, we visited Stonehenge, all the Cathedral towns like Canterbury and Salisbury, we saw a play in Stratford on Avon, toured Westminster Abbey, and so on. &nbsp On those occasions when we did have free time, we would take the train to London and ride the Underground all over trying to find which station had the longest escalators. &nbsp In Reading, we found a store with the tastiest fish and chips. &nbsp The fish was plaice and it all came wrapped in newspaper. &nbsp Also in Reading I bought a souvenir at a sporting .goods store. &nbsp Did I settle for the usual T-shirt or a sweatshirt as my souvenir? &nbsp Nope. &nbsp I bought myself a starter pistol and a box of the 22mm blanks that it fired. &nbsp I guess it must have been a seventeen-year-old thing.
On the way home from England we enjoyed three days of tourism in Paris. &nbsp Some of the places we vistited were: &nbsp The Louvre, the top of the Eiffel Tower, and the Château de Versailles. &nbsp For me, however, getting to Paris was more of an adventure than being there. &nbsp It was in the late afternoon and we were in the border town of Folkestone waiting for the ferry across the English Channel to France. &nbsp At boarding time we had to go through customs. &nbsp All was going well until my turn came and the customs agents said, "I'm sorry, but you'll have to come with us." &nbsp I thought it must be some random search, but it wasn't. &nbsp It turned out that the junky suitcase I was using had come unlatched enough for a few things to fall out when they were transferring our luggage from the train to the ferry. &nbsp What had fallen out was a book with my name in it, and my new "gun." &nbsp So to my concern, and the concern of the chaperones, I had to wait while they made sure it wasn't a real gun. &nbsp Now any fool could have looked at it and seen that there wasn't even a hole in the barrel for a bullet to travel through, but no, they had to send it to a lab to have it checked. &nbsp And where did they send it? &nbsp Back to London, to Scotland Yard! &nbsp They sent my lousy little starter pistol to Scotland Yard. &nbsp Not only did I have to wait for them to send it there; I had to wait for Scotland Yard to send it back once they checked it out (which probably took all of 15 seconds.) &nbsp Meanwhile, my chaperones deemed that I could get to Paris by myself alright enough, and left me with a ferry ticket and a train ticket.
By the time I got my gun back, the next ferry wasn't until something like 8:00 pm. &nbsp In France I discovered that there was no train going directly to Paris the rest of that day, and I would have to take a train to Amiens and transfer there. &nbsp Of course, nobody was speaking English in Amiens. &nbsp I can still picture the dark platform in Amiens where I was sitting all by myself after midnight, waiting for the train to Paris. &nbsp Once in Paris, I had to take a cab to the address I had written on a piece of paper. &nbsp I know that Ms. D'Angelo and the other chaperones must have been sweating real bullets until they saw me arrive. &nbsp Actually, I was pretty proud of myself for getting around on my two years of high school French. &nbsp The worst part was that next semester my French teacher made me describe the whole adventure to the French class en Français!
---
France
Some of these stories are not in chronological order. &nbsp I have been to France on two other occasions. &nbsp In 1989, Tish wanted to go, but not by herself, so I went with her to Paris for a week. &nbsp We made a side trip by bus to the beautiful little town of Senlis. &nbsp Its narrow and curvy stone streets and flowers draping from windowboxes everywhere, have landed Senlis in many movies. &nbsp Our trip was during August, not even one month after France's big bicentennial celebration. &nbsp There were still decorations everywhere. &nbsp We returned on the sixteenth of August, and as we flew low over I-94 approaching the runway, we could see a huge number of people standing in the median of the freeway. &nbsp We were wondering what that was all about, and then we remembered that it was the one-year anniversary of the crash of Northwest flight 255 which happend right there - 156 people died, and a four-year-old girl survived.
The trip to France with Theresa was really supposed to be our honeymoon, but we took it in 1995 with our 18-month-old Nicholas in tow, and Nathaniel well under construction. &nbsp The airline tickets that we had purchased at an auction to benefit the Traveler's Aid Society had a black-out for the summer months (when we were to be married.) &nbsp So we saved the tickets for later. &nbsp Once Theresa contacted British Airways about getting our tickets she found out that we could have gone in August if we had just asked. &nbsp So we did go in August, just two years later. &nbsp Theresa, bless her, planned out the whole 19-day vacation. &nbsp There was a huge thunderstorm right when we were to leave Metro Airport, and our jet had already left the gate, so we sat on the runway for over an hour while Nicholas ran up and down the aisles.
Theresa's best friend, Amy Dulgerian, her husband Jim (on a one-year work assignment), and their children, Alex and Dan, were living in the little town of Chantilly, north of Paris. &nbsp We stayed with Amy and Jim for a couple days in that town known for its lace curtains. While there, we went swimming at the local pool, and visited the Château, and the massive Living Museum of the Horse. &nbsp We also took a bus trip to Senlis and there we visited the creepy Musée de la Vénerie (hunting museum.)
I took a train to Paris and rented a car - a little Peugeot 5-speed stick. &nbsp The highways were fun to drive on - a sort of rubberized asphalt, and very smooth. &nbsp Nick soon learned how to get out of his car seat and kept climbing up front to sit between Theresa and I straddling the gear shift lever. &nbsp First we visited all the Van Gogh sites in Auvers-sur-Oise, then headed South to Burgundy where we stayed in the tiny town of Lernais. &nbsp The remainder of our trip was off the tourist-track where few, if any people spoke English. &nbsp Lernais didn't even have a grocery store, just an open-air market on certain days. &nbsp Our accomodations were essentially a studio apartment with a tiny kitchen. &nbsp From Lernais we went on side trips all over Burgundy every day. &nbsp We would eat breakfast at home, pack a lunch to eat on our trip and eat our dinners out. &nbsp Often our trips had us driving through The Morvan, Burgundy's immense forest. &nbsp A road map of Burgundy resembled a plate of spaghetti - planning a route was impossible. &nbsp The best we could do was look at the road signs as we came to them, searching for the name of the next city we were after.
One time we drove for miles down a winding one lane blacktop road, following a big flat-bed truck. &nbsp All of a sudden, the truck stops in the middle of the road and a crane starts loading freshly cut logs onto it. &nbsp We decided turning around was not a good alternative so we watched. &nbsp Finding an alternate route would probably have taken more time than waiting for the truck to be fully loaded. &nbsp On another occasion, after a long day, Theresa declared that we were eating at the next restaurant we came to. &nbsp We ended up having a five-course meal at a gorgeous country inn, L'Auberge de L'Atre. &nbsp In his high-chair Nick provided the entertainment for the other diners. &nbsp It was also the first and last time he ate pearl onions. &nbsp Besides dense forest, the Morvan was rich with huge rocks. &nbsp There, we visited the Abbey Pierre qui Vire (rock that turns.) Behind the Abbey was a long path that ran along both sides of a stream. &nbsp With Nick in the carrier on my back, we set off on what we thought would be a short hike. &nbsp After we crossed the stream we got lost and kept walking farther expecting the abbey to come into view. &nbsp It was really hot, pregnant Theresa was exhausted, and my knees were burning up from the extra load of Nick on my back. &nbsp Finally we came on a driveway that looked like entrance to the Abbey, but our hearts sank when we didn't see our car in that driveway. &nbsp We were totally lost at the entrance to a park by a lake. &nbsp We asked some locals how we could get back to the Abbey. &nbsp They said we had walked over a ridge, and there was no shortcut to walking back the way we had come. &nbsp I guess they felt sorry for us and offered to drive us back. &nbsp By car, the way back was even farther - I estimated that the drive had to have been at least five miles around to where we had started. &nbsp To fit us in their little car, this couple had to leave their two teenagers swimming at the lake and then drive back for them. &nbsp Whenever people say that the French don't like Americans, I just figure they are just repeating what they have heard in the media. &nbsp The French people we encountered were nice to us. &nbsp Since we were off the beaten path on this trip, almost all of the tourists we encountered were also French.
We visited too many cities and sites to mention them all. &nbsp Our trip to Dijon, however is worth noting. &nbsp One morning Theresa called me from the shower and told me she was bleeding. &nbsp I had to run to the building's pay phone and try to find out where we could go, speaking in French. &nbsp Fortunately I remembered the French word for blood (sang) and found out how to get to the nearest hospital. &nbsp We drove there, but they didn't have a neo-natal intensive care unit so they took Theresa by ambulance to the hospital in Dijon, with Nick and I following frantically in our rental car. &nbsp After the ultra sound, it was determined that everything was OK, but we needed to do less walking and hiking for the rest of our trip. &nbsp They were nice at the hospital and found someone who spoke English to stay with Theresa and to explain things to me. &nbsp Afterwards we agreed that had Nate been born there, his name would have definitely been Dijon. &nbsp Just writing about this adventure is getting me emotional. &nbsp If Theresa ended up having to stay there until Nate's birth, we would probably still be trying to sort out the insurance thirteen years later! &nbsp Nate did end up with an unusual souvenir - an ultrasound picture printed in French. &nbsp It was a great trip, but for Theresa it was exhausting.
---
It's Over
Yes, the honeymoon is indeed over. &nbsp However, I still like to remember it. &nbsp Theresa and I were married on a Saturday morning - August 14th. &nbsp Since our honeymoon didn't start until the next weekend, we had nowhere in particular to go. &nbsp When dinner time rolled around we decided to eat at Ferlito's in Grosse Pointe Woods. &nbsp Ever since, Ferlito's has been a special restaurant to me, and every single time we go there, I say the same thing: &nbsp we are most certainly the only couple in the history of the universe, who ate dinner at Ferlito's on their wedding day. &nbsp Anyway, a week later, Theresa and I boarded a jet bound for Boston, rented a car, and, after spending the morning in the Museum of Fine Arts, set off for the western end of Massachusetts. &nbsp Along the way, we stopped in the town of Franklin to visit my cousin, Gerry Prokopowicz, his wife, Emily, and their little girl, Caroline. &nbsp Gerry, who now lives in North Carolina, is a noted authority on Abraham Lincoln. &nbsp I highly recommend Gerry's readable and informative book: &nbsp Did Lincoln own Slaves? And other frequently asked questions about Abraham Lincoln. &nbsp We continued along on our journey, our destination being Stockbridge where we had reservations at a country home bed-and-breakfast. &nbsp Broad Meadows, as the home was known, could easily have served as the setting of a novel or a movie. &nbsp That gorgeous home had as much character as any living person, and to call it huge wouldn't do it justice. &nbsp At Broad Meadows, I looked forward to the top of each hour, when the grandfather clocks and mantle clocks throughtout the house would all chime at slightly different times, with slightly different voices, creating a mood that belonged to the house itself. &nbsp Our host, Mr. Spencer, possessed the same reserved dignity as did Broad Meadows. &nbsp Every morning we were treated to a delicious breakfast featuring eggs from the hen house, and blueberries from the back yard. &nbsp In conversation over breakfast, Mr. Spencer told us that he "had known the house for many years." &nbsp Since then, I have learned that Mr. Thaxter (Ted) Spencer died on July 11th, 2009. &nbsp A website visitor was kind enough to send me a link to Ted's obituary which detailed his fascinating life.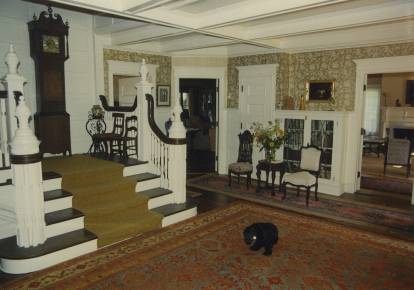 It was difficult to say goodbye to Broad Meadows. &nbsp I found myself wishing that Theresa and I could stay and live at that home. &nbsp Before we had left the Stockbridge area of Massachusetts, I had fallen in love with it. &nbsp &nbsp Some things we enjoyed doing in Western Massachusetts included: &nbsp touring the Norman Rockwell Museum, hearing a concert at Tanglewood and walking its grounds, dining in Lenox and dining in Chesterwood, where, at the Back Porch restaurant, I tasted the most heavenly crab cakes that I have yet to encounter. &nbsp We enjoyed the mountains and Bish Bash waterfalls, the Berkshire Botanical Gardens, and shopping in West Stockbridge, particularly at a certain stained glass market. &nbsp Driving around, we saw the vista from the top of Graylock Mountain (part of the Appalachian Trail), viewed the exquisite collection at the Clark Museum, and had lunch in Williamstown. &nbsp There, in the student bookstore, I bought the purple Williams College shorts that I still wear every morning when I do my sit-ups and push-ups. &nbsp We hated to leave Stockbridge, but the rest of our Honeymoon was to transpire on Cape Cod, so that's where we headed.
On Cape Cod, we again stayed at a bed-and-breakfast, but this time a much more modern one. &nbsp It was located on a tidal basin. &nbsp I had heard of those, but I didn't know what they were. &nbsp Then I saw the huge lake behind our place empty out, and the boats were all left sitting right on the dirt. &nbsp Later on, the lake slowly filled up again. &nbsp This went on every day. &nbsp It seemed so strange. &nbsp Our stay on Cape Cod was mostly about swimming, shopping, and dining on seafood. &nbsp We especially enjoyed swimming in the little fresh water ponds. &nbsp It was at one of those ponds that I learned one of life's great lessons - you don't, even for one second, lay your car keys down in the trunk of your car, especially on a Sunday, especially when you are miles from any store or gas station. &nbsp I had to hitch hike to a gas station, and call an emergency locksmith to get us back into our rental car. &nbsp Never a dull moment! &nbsp Before we left Cape Cod, we took a ride on the Cape Cod Railway, and we visited Ann Philo (now Ann Boucher, watercolor artist), who was best friends with my sister, Lex, when they were teenagers. &nbsp After eleven enjoyable days, we headed back down the narrow road, past the cranberry bogs and away from Cape Cod. &nbsp Having a couple of hours to kill before we needed to be at Logan Airport, we stopped in the town of Plymouth, looked at some big old rock, and looked in some stores, too. &nbsp We took a peek into a furniture shop, but the style of the pieces didn't much interest us. &nbsp As I turned to leave, a little bookstand sitting on a dresser caught my eye. &nbsp It held a bunch of black books. &nbsp I took a closer look, and couldn't believe my eyes. &nbsp There sat a complete set of Journeys through Bookland, the same wonderful books from which my father used to read to Alexis and me when we were young. &nbsp All ten volumes were in excellent condition. &nbsp I asked the store owner if the books were for sale, but she didn't know. &nbsp She said they were just a prop, and belonged to the owner of the adjoining book store, who wasn't around. &nbsp She was watching both stores. &nbsp I got his card, and called him the minute we got home. &nbsp He sold me all ten books over the phone for only $75. &nbsp Over the years, my sons, Nick and Nate have enjoyed hearing many of the stories contained in those books. &nbsp I am hoping that someday they will read to their children from those very books.
---
Up North
Up North is one of my favorite destinations, and I make my way there every year, but where is it? &nbsp What qualifies as up north? &nbsp How far do I have to go? &nbsp I suppose all Michiganders (and Michigeese) have their own definitions, but for me up north is not so much a place as it is a feeling. &nbsp When I am driving northward on I-75 and I glance to the left and realize that I can no longer see any trace of the other half of the freeway, then I feel like I am up north. &nbsp Similarly, I feel like I have finally left the city behind when I see a certain road name on an I-75 overpass: &nbsp Grange Hall Road. &nbsp For me, something about that name evokes the countryside.
---
The True North, Strong and Free
Yes, I know those words from the Canadian national anthem are not supposed to refer to Michigan, but seeing how as I can travel less than two miles south from my house and be in Canada, I feel like I have the right to apply them to the U. P. &nbsp I just love to go "up north." &nbsp Northern Michigan is certainly my favorite travel destination, but just where does "up north" start? &nbsp I always say that you're not up north until you can look to the left and not see the other half of the freeway at all. &nbsp In July of 1997, we decided to go father north than usual. &nbsp Theresa planned out an eleven-day vacation that included the Upper Peninsula. &nbsp On the way we visited Whitefish Point, where the Edmund Fitzgerald sank, took a ferry to Mackinac Island and rented bicycles. &nbsp In the U. P., we visited Sault Sainte Marie, and the locks, crossed the bridge into Canada, and back, and drove the scenic drive along Pictured Rocks. &nbsp It was a miracle that we didn't get stuck on that muddy drive. &nbsp It had been so wet that there was a four-wheel drive advisory, but we tackled it with our minivan and somehow made it through. &nbsp We visited the upper and lower Taquamenon Falls, went down inside Quincy Mine, drove out to the end of Copper Harbor, visited the Seaman Museum, Bond Falls, and visited Theresa's nephew Matt Pruski. &nbsp On the way back we stayed briefly with Theresa's sister Pat Zajac and her husband Mark Cowles in their cottage on Lake Bellaire. &nbsp On Tuesday, July 2nd, when we visited Taquamenon Falls, it was during a huge rainstorm. &nbsp Theresa and I took turns carrying the big umbrella and seeing the falls, while the other watched Nate who was sleeping in the car. &nbsp The precipitation we experienced in the U. P., however, was nothing compared to what was going on in Detroit. &nbsp There were torrential downpours, and a tornado actually came through, it's path hitting Highland Park, Detroit and Grosse Pointe. &nbsp I remember hearing in the news about a family that had taken shelter in a kiosk in the park near Three Mile Drive. &nbsp The tornado blew that kiosk out into Lake St. Clair, and they all drowned. &nbsp Later when I was driving down Oakland Avenue in Highland Park, I saw block after block where the stop signs were laying flat on the ground - the 2" steel pipes that supported them had been bent like straws by the tornado winds.
Our residence was not spared the effects of this storm, either. &nbsp It was 10:30 at night, and we were tired when we arrived home on July 9th. &nbsp After the 5½-hour drive, we just wanted to get right to sleep, but we couldn't. &nbsp Upon opening the front door, we were greeted with the strong smell of mildew. &nbsp I instantly knew what that meant - the large braided rug on the basement floor had been wet, and wet for a long time. &nbsp We were up until 2:00 AM, cleaning the basement floor, and I had to drag an extremely heavy, soaking and mildew-y rug up the basement stairs and out to the dumpster. &nbsp Water had come in through our basement window and sat on our basement floor for a week. &nbsp Many of the 9" square floor tiles were curled up at the edges and loose. &nbsp The 715 square foot floor had to be re-tiled. &nbsp Over the next half year, I removed over one thousand tiles. &nbsp Some popped right off, but others had to be chiseled off in little pieces.
Now for the bright side of the story. &nbsp FEMA made grants available to those with damage from the tornados. &nbsp Theresa applied for, and got us a $1400 grant, bless her heart. &nbsp That was enough for us to buy tile and pay for someone to install it. &nbsp You will never hear me bad-mouth FEMA! &nbsp The tile installer we used was the husband of Nancy Sheridan, a girl who grew up right next door to me on Hildale.
---
Camp Chick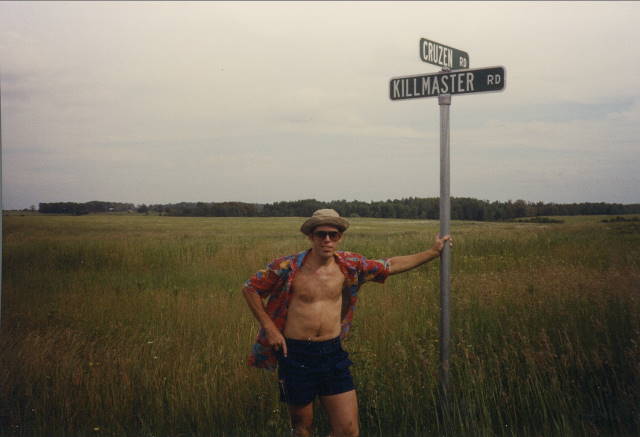 In 1985, I made my first trip to Camp Chickagami for a retreat led by John Laycock, the assistant minister at Christ Church, then. &nbsp John is the person who single-handedly persuaded the Camp's owner, the Episcopal Diocese (of Michigan, then; Northern Michigan, now) not to sell Camp Chick to developers for needed money. &nbsp For decades the Camp had been a summer camp for boys. &nbsp In 1985 it began its life as a family camp. &nbsp I began a tradition of coming to camp for weekends in mid June and mid September when it was easy to find cabins available. &nbsp Sometimes there would be only a couple other people in the camp, or even nobody. &nbsp It was especially nice to have the camp to myself in the fall. &nbsp These days groups will rent out the entire camp for many weeks in the summer and the surrounding months. &nbsp Individuals can still rent cottages, but availability is limited by having to work around the group rentals.
Once I discovered Posen on the other side of Grand Lake, I planned my fall trips to camp for the second weekend in September when that nearby Polish town would hold its annual Potato Festival. &nbsp Sometimes I would attend St. Casimir Church where they sing some of the hymns in Polish. &nbsp At the festival there would be plenty of good food - pirogues and potato pancakes, of course. &nbsp The first time Theresa came to Posen with me, I reluctantly let her drag me onto the dance floor at the Colleseum and teach me how to Polka surrounded by dozens of people who came out of the womb doing Polkas. &nbsp Though I was feeling way too self-conscious, it was fun. &nbsp For the last 15 years we've usually spent a week in camp once or twice during the summer vacation time frame. &nbsp I didn't go up to camp last year, and I really missed both the camp and the wildflowers.
Camp Chick was governed by a task force, and all you had to do to be a member of that group was love the camp. &nbsp I fell in love with the camp on my first trip there, and joined the task force soon thereafter. &nbsp The task force was a great group of people who knew how to party. &nbsp Pictured are John Laycock, Sue Webb, Me, Atilla and Sharon Paltelky, Peter Conti, and seated, Theresa, and Sandy Nelson. &nbsp Others not pictured include Dick and Barbara Rogers, Nancy and Chuck Case, and another couple that I know I am forgetting. &nbsp Sadly, Dick and Peter are now deceased.

Tish took this photograph of me on placid Lake Esau. &nbsp I'm wearing my Over the Rainbow shirt that I bought on Yorkville in Toronto. &nbsp Notice that there are no jet skis or personal watercraft churning up the water. &nbsp That is the normal state of affairs on this tranquil lake. &nbsp Much of the lake's shore line is undeveloped; the road doesn't even go all the way around it on the Lake Huron side. &nbsp On Lake Esau, you are more likily to hear the sound of a loon than of a boat motor. &nbsp Isn't that the way it's supposed to be? &nbsp The camp has canoes, row boats and paddle boats. &nbsp It takes a long time, but I have rowed around the entire lake on occasion. &nbsp The wind can be deceptive if it is blowing out from shore. &nbsp The surface will look pretty still, but coming back it will seem as though you are rowing as hard as you can just to stay in place.

The Camp has two clearings:&nbsp the softball field, and the area around the dining lodge. &nbsp The rest of the camp is carved out of the forest with trees pressing in on all sides. &nbsp It is difficult to describe how good it feels just to be in the Camp. &nbsp There are a variety of cabins to rent - some old, some newer, some with facilities, some without. &nbsp It doesn't matter which I stay in, I always have a great time at Camp. &nbsp This photograph shows St. Andrew's Chapel where my sons, Nick and Nate, were baptized on a beautiful September Saturday many years ago. &nbsp We were happy to trade stained glass windows for birch trees, chipmunks, and the abundance of quiet beauty and inspiration provided by nature. &nbsp I wish I were sitting in that Chapel right now.

My Godchild, Clare, and her dad, Tom, fishing on Lake Esau. &nbsp The shoreline visible in this photo is typical of the whole lake. &nbsp There are some cottages, but there are lots of undeveloped stretches, too. &nbsp The Camp, itself, has a long shoreline, including a sandy beach. &nbsp Every spring during work week, a long L-shaped platform dock is put out in the water, and out past it, in deep water, a floating raft is anchored. &nbsp It is fun to dive off of the raft, and swim between the two platforms. &nbsp Past the beach is the Camp's fire pit for bonfires.

Nick and Nate using the footwash for other purposes.

The "Keep Out Trail" is a long private trail that leads to a deserted stretch of the shore of Lake Huron. The people staying at Camp have permission from the property owner to walk that trail any time. &nbsp It is a rare day at Camp that I don't walk it several times. &nbsp I often take my mountain bike to camp and ride the trail, too. &nbsp I like to be up north when the thimbleberries are ripe. &nbsp Any walk through the woods is a treat when you can just reach over and grab the tart raspberry-like thimbleberries off the plants and pop them in your mouth like candy. &nbsp When our family goes to camp, we usually make a long list of all the animals we see up north. &nbsp Some of the lists have included turtles, all sorts of frogs, skunks, eagles, deer, racoons, large woodpeckers, chipmunks, snakes, loons, herons, bunnies, all sorts of spiders and insects, fish, and farm and domestic animals, too. &nbsp One time we were sitting by the front windows in our cabin looking at Lake Esau and eating turkey sandwiches for lunch. &nbsp Along the path in front of our cabin walked a parade of six wild turkeys! &nbsp I ran outside with my camera but they kept walking faster and faster (as they are wont to do) and I only got a picture of them fading into the woods.

Theresa's first trip to Camp was for "work week" where volunteers would get the place ready for the coming season. &nbsp We just went for the (Memorial Day) weekend - it was the year before we were married. &nbsp In those days I was taking I-75 north to M-33 north, and then cutting across through Fairview (the wild turkey capital of Michigan) to M-65. &nbsp We got a late start after Theresa got out of work, and it was after 9:00 pm when we rolled through Rose City. &nbsp As I drove up the big hill heading north out of town, all of a sudden there was this loud bang-bang-bang from my car. &nbsp At first I thought it was a tire, but that would have just been one bang. &nbsp I pulled over and opened the hood. &nbsp I immediately saw a spark plug wire hanging down with a glowing red spark plug core at its end. &nbsp I was pretty lucky that it hadn't come in contact with any hoses, because it certainly would have melted through. &nbsp I drove back to town, engine banging all the way. &nbsp We found out that they roll up the sidewalks at 9:00 o'clock in Rose City. &nbsp Nothing was open but the gas station. &nbsp All the locals hanging out at the station were advising us, but there was no where to buy a spark plug. &nbsp One guy offered to go home and bring back his tool box, which he did. &nbsp In his box he found a lawn mower spark plug. I tried it, and it fit. &nbsp Now the only problem was that in taking the old core off of the spark plug wire, I had pulled the clamp off the wire. &nbsp I had to trim the wire and re-attach the clamp. &nbsp It only took about ten minutes, but it was the most miserable ten minutes I could imagine. &nbsp Every mosquito in three counties had come to dine on me while I was trying to concentrate on that tricky operation. &nbsp Once we finally got on our way, the car ran fine, but it wasn't until after midnight that we made it into Camp. &nbsp I was thinking to myself that Theresa was thinking to herself, "What did I get myself into?"

My little one, Nate, who loves animals of all sizes.
---
All Aboard
As a child, I was fascinated with trains, and I recall that Detroit was laced with train tracks and they all got used in those days. &nbsp When my dad and I were driving, he knew not to speed up to beat a train because I wanted to get caught by every one. &nbsp My favorite memory, faint though it is, is of driving in the car underneath elevated railroad tracks on West Jefferson just west of downtown. &nbsp Delray (where our family business was) was a fantastic place to watch trains. &nbsp My own sons and I spent many an hour on Dearborn Avenue watching trains when the boys were young. &nbsp You could get locked into a triangle by the trains, and I liked that feeling. &nbsp Our family business was itself in a triangle of tracks, with one of the rail sets crossing our driveway and running down the side of the property. &nbsp When trains used this track, the boxcars would be a mere four feet from the side or our cinder block office building. &nbsp The rails were in bad shape and you could hear and feel a big clunk as each axel rolled over a bad spot next to our building. &nbsp More to come.

Nick standing near Dearborn Avenue in Delray.
---
El Paso
Oologah Resevoir, Carlsbad Caverns, Ciudad Juarez, switchblades, painting and plastering, cockroaches, walls with glass, how old was I? 14?
---
More travel stories coming
--Including trips to El Paso, Israel, England, New York, Florida, Minneapolis, and London.
I should mention that our guide told me that it was "OK" to climb up on the ancient aqueduct for a picture with the Meditteranean in the background. &nbsp He probably meant that it was unlikely that there was anyone around to enforce the sign, but he didn't have to invite me twice. &nbsp And speaking of climbing, why didn't Peter O'Toole just take the cable car to the top of Masada like I did - it would have been so much easier.
---