---
Number of days walked to work &nbsp &nbsp In 2012: 19 &nbsp &nbsp In 2013: 3
On Thursday, September 13th, 2012, I did something that I hadn't done in over twenty years - I walked to work. &nbsp The following week I walked Monday, Wednesday, and Friday. &nbsp I quickly fine-tuned the route to minimize the distance, and the walking time decreased from a little over twenty minutes to sixteen or seventeen. &nbsp I have taken the Garmin GPS odometer in my pocket a few times to get stats, and my best recorded time is 15:44, and the shortest recorded distance is 1.14 miles. &nbsp It helps when the traffic is light enough to permit me to walk across the streets at a gentle angle. &nbsp So now it is my goal to see if I can walk to work at least once each week. &nbsp And I am not going to get fanatical about this, I promise. &nbsp I already stopped taking the odometer with me.
---
Racewalking / Jogging

"Walking like a dork," is what Dave Barry once called it in one of his columns. &nbsp I don't even remember what possessed me to take an interest in racewalking, but I am glad that I did. &nbsp In the 1980s, I linked up with the Wolverine Pacers, just the nicest bunch of people who walked all strange-looking. &nbsp Try as I did, I doubt that I ever perfected the proper form for racewalking, but I like to think that I came close. &nbsp I miss practicing with the Pacers at Levagood Park in Dearborn Heights. &nbsp That beautiful park was a really great place to walk, and the Pacers were a fun bunch to exercise with. &nbsp I can even say that I miss the warmup exercise sessions that our legendary coach, Frank Alongi, put us through. &nbsp Frank had an unending variety of excruciating exercises to torture us with. &nbsp I was more than happy to exert myself on the walking track because it would mean that the exercises were over. &nbsp Some of the people I fondly remember from the Pacers, besides Coach, are Jeanne Bocci, Gary Gray, Max Green, Paul & Marilyn Perry (their parties were awesome), Sue Reckinger, Victor Sipes, Al & Fran Banauch, and their lovely daughter, Tracy, (in the picture) who was my walking partner for practices.
At work, my secretary, Marie Dobbs, was more used to seeing me arrive at work on my bike, than in my car. &nbsp However, one day when I arrived on foot, she asked me, "Where's your car?" &nbsp I had walked the six-and-one-half miles to work! &nbsp That was the first of several times that I not only walked to work, but after working all day, walked home as well. &nbsp I'm sure Marie thought I was nuts, and I kind of felt that way, too, as I racewalked in the curb lane of Fort Street through downtown Detroit with busses and cars whizzing by.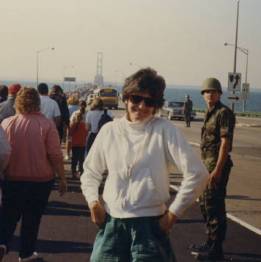 Long walks soon became routine for me. &nbsp Tish, who was my girlfriend in those days, liked walking, too. &nbsp We went for walks almost every day, and distances over five miles were routine. &nbsp On vacation, up north, we walked the crowded Mackinac Bridge on Labor Day in just under one hour. &nbsp On occasion we would walk a nine mile round trip on Lakeshore in the Pointes. &nbsp A couple times when I was training, I walked two laps on Belle Isle: &nbsp eleven miles. &nbsp I entered a few racewalking events, and usually found my name at the bottom of the results lists, but I didn't care. &nbsp The highlight of my brief racewalking career was completing the Free Press Marathon in 1988 (5 hours, 22 minutes, 49 seconds) and 1989 (4 hours, 59 minutes, 59 seconds). &nbsp In 1989, I finished fifth of the 31 reacewalkers who entered, and ahead of quite a few of the runners who were dragging by the end of the 26.1875 miles. &nbsp When my original pair of Nike Racewalkers were worn out, I bought a new pair, and about that time I lost interest in the sport. &nbsp Now they are just waiting for me to start up again!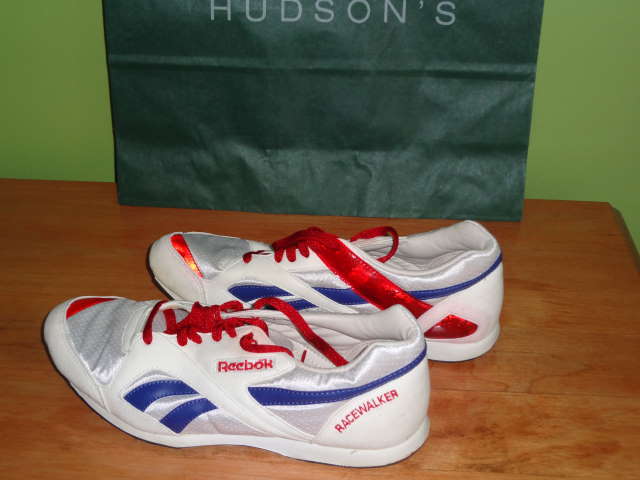 One thing I learned from walking all those miles is that there is a noticible difference between walking on concrete (such as sidewalks) and asphalt (such as streets.) &nbsp The asphalt is softer, and easier on the knees. &nbsp Now, when I jog or walk, I always go for the softest surface, even if it means being in the street.
I can't talk about racewalking without mentioning an annual event that I enjoyed several times as a racewalker - the New Year's Eve Fun Run on Belle Isle. &nbsp Though I now usually ride my bike during that event, I fondly recall the times I racewalked and joined the throng of finishers in the huge gym at Brodhead Naval Armory. &nbsp My favorite time was the year when I sat on the gym floor and enjoyed my refreshments along with attractive Jan Pung and Marjorie Keller.
Updating to 2010: &nbsp these days I jog in the park at the end of my street. &nbsp When weather permits, I try to go out every other day and my distance is either 1.3 or 2.0 miles. &nbsp My beautiful friend, Lisa, runs three miles every day, and I let her talk me into entering the Belle Isle 5K run this past New Year's Eve. &nbsp I couldn't even remember the last time I had run a distance as long as 3.1 miles. &nbsp When 4 pm came, we headed out - me wearing shorts. &nbsp I tried to keep up with Lisa, but that lasted less than one mile. &nbsp By the two-mile mark I took off my sweatshirt and was running in a T-shirt. &nbsp Lisa finished in 27:49, and I came in at 30:02 - not too shabby for a novice, if I do say so myself.
Two Years later - December 31st, 2012 - I "ran" in the Fun Run again. &nbsp This time it was colder and there was snow and ice on the course for the first half mile and in a few other spots. &nbsp Also, I hadn't been jogging much in preparation - just over a mile maybe once or twice a week. &nbsp There, now that the disclaimers are out of the way, I can say that I finished 23 of 40 for the males in my age group with a time of 35:17. &nbsp That's not so awful bad, but I am not entering another 5K until I am reasonably sure I can do it in thirty minutes flat.
---
V-Ball
When I first moved to Lafayette Park, I noticed that volleyball was a big activity in the Park. &nbsp There were two volleyball courts and lots of players. &nbsp I had never even played volleyball, but I lost no time getting involved. &nbsp The following year, the couple who were in charge of the volleyball program moved away, and I took over. &nbsp We had a league of eight teams playing in Lafayette Park, and even on days when the tournament wasn't scheduled, we would have twelve players on both courts, and two lines of people waiting to play. &nbsp Occasionally I would place an advertisement in The Monitor, and we get an influx of new faces. &nbsp We played on Tuesdays and Thurdays in the Park (or in Chrysler Elementary in the winter.)
| | |
| --- | --- |
| | |
&nbsp Eventually our group merged with those playing at Christ Church on Wednesdays. &nbsp Some of us couldn't get enough volleyball during the week, so we even started playing in the Park on Sunday afternoons. &nbsp In those days I was practically living at the Woodbridge Tavern where we would go for dinner and/or beer after the games on Tuesday, Wednesday and Thursday every week. &nbsp After a few years, the free community-use program ended at Chrysler School, and we had to find other places to play indoors. &nbsp Several of us would drive way out to Birmingham and play at Derby Middle School. &nbsp I liked volleyball so much, I didn't mind making that 40 mile round trip twice weekly. &nbsp Now it's been years since I've played, and I truly miss all the fun we had. &nbsp That's me, above, delivering one of my great sets. &nbsp I still have one volleyball net, one pink-and-white Tachikara ball, and my kneepads with holes in them. &nbsp Wishful thinking.
Hopefully that's the moon at the top of the picture, or I'm going to have to jump a lot higher to block that shot. &nbsp Jany is looking on.

Me descending after spiking the ball. &nbsp In the playing days I hosted a couple of parties with my volleyball friends. &nbsp I would love to do that now if I could get in touch with a few more people.
Through volleyball I made lots of good friends. &nbsp Some (but certainly not all) of my favorite volleyball pals were Ed Ardery, Malcolm & Joyce Thompson, Emanuel, Mary Cameron, Jack Shereda, Liz Gregory, Shan Holt, John Rini (who brought his gas lawnmower and mowed the courts when the City let the grass go), Jany Feherpataky, Chuck Dyer, Pete Wagoner, Willie Williams, Will Wilson, Sally Morgenson (my figure skating partner), Alvin & Cynthia Scott, Connie Caldwell, David Faust, John Bellaimey, Aaron, Chuck, George, Gigi, Ike McKinnon, Tom Allenson, Philip Brown, Don Voelker, Greg Dopulos, and his dad, Nick, and my extra-special friend, Kathie, who managed to divert my attention far from volleyball.
---
Ice Skating
Alexis and I received an early introduction to ice skating. &nbsp Every winter, from as far back as I can remember, dad would turn the back yard of our house on Hildale into an ice rink. &nbsp We had loads of fun on that rink, and we would skate almost every day in the winter. &nbsp At the back of the yard there was a big birch tree with two trunks, and the ice rink wrapped right around it. &nbsp For beginners, those trunks were handy to grab onto. &nbsp Even better than the tree were the wooden folding chairs we would use - they made learning to skate so easy. &nbsp We would skate around, holding onto the backs of chairs for support (you sure couldn't do something like that on a public rink!) &nbsp It was fun to get up speed, sneak up behind somebody, and sit them down on your chair. &nbsp We would invite our friends over to skate especially the Sheridans from next door.
| | | |
| --- | --- | --- |
| | Over the years, Dad perfected a technique for starting up the pond. &nbsp Once it was cold enough, he would prop up the hose on a little step ladder, with the spray nozzle pointing upwards into the air. &nbsp By the time the water fell to the ground it was practically ice. &nbsp The ladder had to be moved frequently until the whole yard was covered with a crunchy layer on top of the grass. &nbsp The next step (ha ha) was to put on boots and march around on the grass, compressing the layers of ice together. &nbsp The spraying and marching were repeated for a couple nights, and then the ground would be ready for flooding. &nbsp To just let the hose run on the ice would put out too much water at one time, and melt what was already there. &nbsp Instead, dad only put water on in thin layers, using a couple buckets. &nbsp It took longer, but produced a smooth surface of hard ice. &nbsp As we grew older, Lex and I would help with the ice construction and maintenance. &nbsp Whenever it snowed, it was an easy job to shovel the snow off of the smooth ice. &nbsp Every time we did it, the snow banks surrounding the rink would get taller. &nbsp I remember times when we could barely see over those snow banks. | |
&nbsp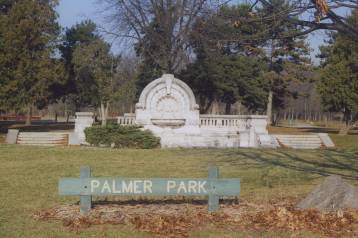 Even with a rink in our back yard, we still went skating at other places. &nbsp We loved to go skating at Palmer Park, where the huge pond with its islands provided plenty of room to skate really fast and not have to worry about people getting in your path. &nbsp At Ford Field in Highland Park, they would make a huge ice rink in the field. &nbsp We used to skate there, too. &nbsp Once I was living on my own, my skating venue of choice was Belle Isle. &nbsp Like Palmer Park, it consisted of a big pond with islands to skate around, and was not crowded. &nbsp Once in awhile, if it was cold enough and there wasn't too much snow built up on top of the ice, you could skate under the bridges and down the canal. &nbsp One time I skated from Lake Tacoma all the way through the woods over to Lake Muskoday one time.
Today, I wear figure rather than hockey skates. &nbsp I like being closer to the ground with those skates. &nbsp Not long after I bought the figure skates, I had the person sharpening them grind off the front notch, because I kept tripping on it. &nbsp My friend from volleyball, and from Christ Church, Sally Morgeson, was taking figure skating lessons. &nbsp The figure skaters had ice time for practice on certain weekdays just after noon. &nbsp Several times I took extremely long lunch hours and drove all the way from work at the Oil Company in Delray, to Saint Clair Shores Ice to skate with Sally during her practice time. &nbsp She taught me a few things that she had learned - including how to skate on certain edges of my skates and how to do a little jump from forward to backward. &nbsp I taught myself how to spin, more-or-less in place. &nbsp If I get in the groove, I can start my spin with my arms out, and pull them in to speed way up. &nbsp The only problem is that I get too dizzy when I do that. &nbsp I will not deny, though, that when I go ice skating, I love to show off.
---
Skiing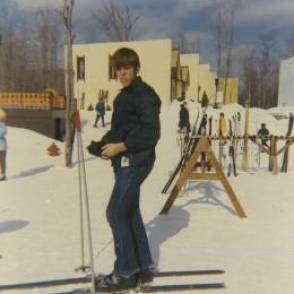 My dad had always liked to ski, and he introduced me and Lex to the sport at an early age. &nbsp Over the years, we went to just about all of the ski resorts in Michigan and even took a train trip to the Laurentians in Quebec. &nbsp My mom would always come when we went on ski trips, but she would never put on skis. &nbsp A few months before I turned sixteen years old, while I was still on my learner's permit, my dad let me drive his station-wagon on a ski trip. &nbsp That summer I had logged over a thousand miles driving my dad on his daily sales runs for the family business. &nbsp With all four of us in the car, I drove north up I-75 over 200 miles in a snow storm. &nbsp Talk about trust! &nbsp Another year, my dad was doing the driving as we headed up I-75. &nbsp We couldn't help but notice that other motorists were honking and pointing at the top of our car. &nbsp When we pulled over to see what they were pointing at, we were amazed to find a large axe hooked on the luggage rack, with its handle sticking out away from the car under the rack! &nbsp The explanation: &nbsp it was mid-December and my dad had just brought home a Christmas tree, the night before. &nbsp He had used the axe to trim the tree trunk to fit into the tree stand, and set the axe down on top of the car. &nbsp We always wondered what those other motorists must have thought.
I had the misfortune of being a beginner when long skis were the rage. &nbsp Long skis allow you to go faster, but they are much harder to control. &nbsp Today, beginning skiers have the luxury of being able to start out on very short skis that are easy to handle. &nbsp Once I learned how to do the "hockey stop" on my skates, I found that it easily translated to skiing. &nbsp If I got going too fast, I could just jump up and turn my skis first to one side and then the other, and slow down in a hurry.
My sister, Lex, used to take ski lessons from Blizzard, but I never enjoyed the benefit of any lessons. &nbsp When we first started skiing, I remember the fun of holding on to the tow rope and being pulled up to the top of the "bunny" hill. &nbsp One time on a ski lift, Lex fell down and her coat got on the caught on the the T-bar. &nbsp She was being pulled up the hill by her coat, and it looked pretty funny. &nbsp My dad was laughing and said she that she looked like a side of beef on a conveyor belt. &nbsp Lex was not amused at the time. &nbsp Years later, I remember a fun ski trip when we rendezvoused with the Mrozowski family: &nbsp Ted & Geri, and their pretty daughters, Cami and Gayle. &nbsp On one trip up the chair lift, I was sitting on the right, but wanted to exit to the left, while the person on my left wanted to go right. &nbsp When we stood up, he skied over the tops of my skis, causing me to fall down in front of the chair lift. &nbsp When the chair swung forward, it hit me on the top of my head. &nbsp A little later, another skiier said to me, "Do you know that you're bleeding?" &nbsp I guess the blood was showing even through my knit hat. &nbsp My dad took me to the hospital where I received several stitches. &nbsp Maybe I'm not quite as hard-headed as I thought I was. &nbsp My last two ski trips were with my U of M buddy, Norb Kaminski, and a U of D Dental School friend of his named Henry. &nbsp I knew that I was driving with a dentist when Henry reached above the visor of his Camaro, pulled out a toothbrush, and started massaging his gums as he drove us northward on I-75. About half way up north, we got pulled over and Henry got a speeding ticket. &nbsp Fortunately the officer just gave us a warning about the beers we had been drinking. &nbsp I eventually got rid of my ski equipment, and now many years have passed since I have enjoyed the thrill of speeding down a hill on top of the snow.
---
Tennis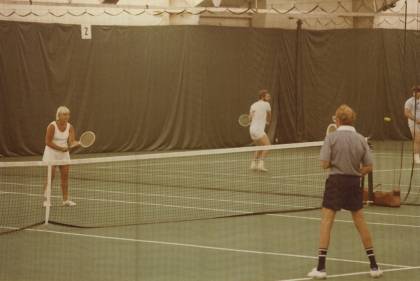 Both of my parents were good golfers, but tennis was the family sport. &nbsp In the warm weather, Saturday and Sunday mornings found us at the tennis courts - either Palmer Park or Ford Field. &nbsp In those days, Ford Field was the name of a large park in Highland Park. &nbsp It was between Sears and the railroad viaduct, running from Woodward all the way to Oakland Avenue. (I used to shop at that Sears all the time. &nbsp I would ride my bike there and lock it up by the back entrance.) &nbsp Over the years we went to a number of weekend tennis camps. &nbsp More than once we went to a tennis camp in the Irish Hills that was run by Joe Felice. &nbsp He had such a wicked chop shot, he could drop a ball over the net and it would jump back over the net, untoucned. &nbsp One summer, on the day before we were to leave for a tennis camp, Lex and I went over to Palmer Park to hit some balls. &nbsp I hit one tennis ball really hard and my metal T-2000 racket broke. &nbsp The head of the racket broke right off. &nbsp I had to go to tennis camp with a racket I had never used and didn't like. &nbsp In recent years my tennis has consisted of introducing Nick and Nate to the sport.
I have a history with self-destructing tennis clubs. &nbsp I think it was in the seventies, that our family became charter members of the Beverly Hills Racquet Club on Southfield Road north of Thirteen Mile. &nbsp We joined before the club was even built. &nbsp During construction, a strong wind storm blew down some of the walls, and they had to start over. &nbsp During the eighties, I joined IVTC, the Indian Village Tennis Club, where some members of my church already belonged. &nbsp Tucked away behind a tall fence on Parker Street, IVTC featured three clay tennis courts. &nbsp As soon as I joined, a fire burned the clubhouse to the ground, destroying the cozy bar with its beautiful dark wood. &nbsp Later I was a charter member of the tennis club across from King High School (the school where I had my first teaching assignment.) &nbsp The club went out of business before long and is now City Ice Arena. &nbsp If you own a tennis club, you might want to make a note of this pattern. &nbsp Some of the people I have enjoyed playing tennis with are, my sister Lex, Rick, Norb Kaminski and his brother Charlie, Sue Webb, Free Press photographer David Turnley, Sally Mackintosh, and lots of the members of IVTC. &nbsp On the right, my mom and dad stand on opposite sides of the net at Beverly Hills Racquet Club.
---