---

Wild in Detroit and Michigan
Spring 2014 - Yes, after the winter from Hell, it is finally warm enough to call this a spring. &nbsp Though I no longer get up north at this time of year, I have been visiting the woods on Camille's farm northeast of Ann Arbor, and I participated in a wildflower tour on Belle Isle, too. &nbsp Unfortunately - after years of faithful service - my Pentax ZX-30 (film) camera recently died. &nbsp I am hoping this is a temporary condition, but meanwhile, I have missed a couple of photo-ops on wildflowers that are not in my collection below. &nbsp I did snap them using my little Sony digital, but the results are nowhere as good. &nbsp I completely missed out on photographing spring beauty which was blooming in abundance at Camille's, and Jack-in-the-pulpit on Belle Isle. I did get a nice picture of bloodroot for the first time. &nbsp Here is a picture of it's cool leaves which I took with my digital camera. &nbsp This is from my own back yard where I transplanted some of the spring bloomers from Camille's farm and from the Belle Isle woods, too.
Early Fall 2013: &nbsp Wildflower trends I have observed of late in the Detroit area. &nbsp It seemed like birdsfoot trefoil was on the increase in the past couple years, but I have seen very little this summer. &nbsp Instead, I am seeing a resurgence of butter and eggs. &nbsp It seems to be everywhere all of a sudden. &nbsp There was actually some of it growing on the median of my own street. &nbsp I promptly transplanted a couple clumps to my backyard. &nbsp It joins white wood aster and daisy fleabane which are also new transplants. &nbsp I will have to put some markers so I don't pull any of it out as weeds next season.
August of 2013 saw another trip to the Lake Bellaire Cottage owned by distant relatives. &nbsp This time my friend, Cami, accompanied me. &nbsp We hit all the ususal spots: &nbsp Seven Bridges, Grass River Natural Area, and Skegemog Swamp (one-mile path). &nbsp This time we also walked in from the Schneider Road trail head to Lake Skegemog. &nbsp Nice! &nbsp We saw a lot of fungi along that path. &nbsp I brought back a few sprigs of wintergreen and planted them in my back yard. &nbsp I hope that they survive.
Here it is the 30th of April, 2013 and I haven't written in a long time. &nbsp Spring is finally here - temperature-wise, and there are two things blooming in my back yard. &nbsp The myrtle, of course, and the pieris. &nbsp It's the second year in a row for my one pieris bush, and it looks so nice with its tiny white flowers cascading down. &nbsp Lots of myrtle flowers perking up that wonderful ground cover. &nbsp It's all over the back yard now, courtesy of my annual spring trips to the woods of Belle Isle.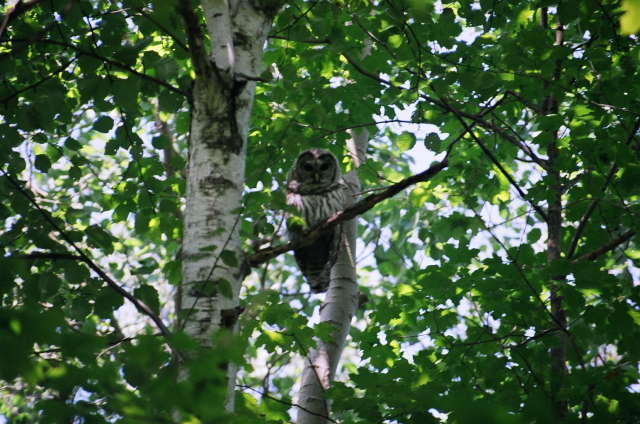 The week of August 13th: Four days up north at Natural Areas and riding down bike trails will translate to a bunch of new pictures of wildflowers below. &nbsp I identified several wildflowers for the first time, and Kathy helped a lot. &nbsp We saw even more that we couldn't identify - yet. &nbsp When I get the my film developed, I will have a session with the wildflower books. &nbsp Notably, we went to Skegemog Swamp and Grass River Natural Area, with its brand new nature center. &nbsp The bike trails were a good source of flowers, too. &nbsp The highlight of the trip from a bird standpoint was when we were riding the trail between Petosky and Charlevoix, and a huge barred owl swooped within a couple feet of us and then perched and sat in the tree above us. &nbsp I managed to get a few pictures with my telephoto lens.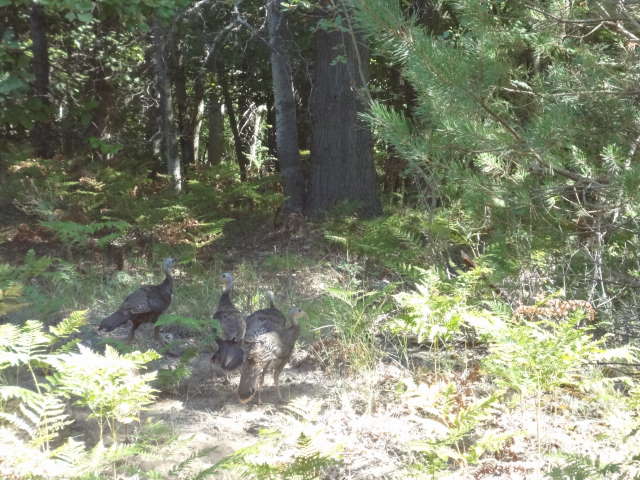 August 5th through 7th: &nbsp Riding on the Pere Marquette Rail Trail - about fifty miles each way - provided a wealth of wildflower viewing. &nbsp It was Kathy who spotted the cardinal flower - brilliant red, as always. &nbsp When stopped to look at it, we noticed two other flower types. &nbsp I was able to identify both, and both were new to me: &nbsp Pine hyacinth, and Showy tick trefoil. &nbsp Why didn't I bring my SLR camera??? &nbsp Of course, Kathy was super at spotting and identifying birds - she is amazing in that way. &nbsp From a boardwalk/bridge near Clare, we saw killdeers and a whole bunch of green herons. &nbsp We heard lots of catbirds. &nbsp But the best was when we pulled off the trail to look at a little lake. &nbsp The driveway to the lake had a "No Tresspassing" sign, but I convinced Kathy that there were no buildings around and it wouldn't hurt to ride to the edge of the lake. &nbsp Before we even reached the water, Kathy went nuts. &nbsp With her bare eyes she picked out a bald eagle in a dead tree way on the other side of the lake! &nbsp Through her binoculars I could see it perfectly. &nbsp That was so awesome. &nbsp Other animals we saw right on the trail, included deer, chipmunks, a green and yellow snake, rabbits, frogs, a family of wild turkeys (in the picture), seventeen million grasshoppers, and even a dead mouse. &nbsp Bring on the next trail!
July 30th &nbsp A day at Seven Ponds followed by a long day of bicycling on trails yielded a huge list of fildflowers observed, not to mention birds and butterflies. &nbsp I intended to list the flowers that I saw, but I will limit it to the more interesting ones. &nbsp There were several yet unidentified species, two in white and one in purple. &nbsp (I later figured out that the purple was spotted Joe Pye Weed.) &nbsp The blazing star was out in abundance, and there were tons of woodland sunflowers. &nbsp A new one to me was rattlesnake master I did photograph it on a return trip a few days later. &nbsp On the rail trail I saw the deadly poisonous water hemlock growing within easy reach from a bridge railing. &nbsp I hope no one decides to touch it.
June 11th &nbsp &nbsp I'm a happy boy again because today I noticed a little stalk of Solomon's Seal growing in my back yard. &nbsp Here I thought that I had transplanted it somewhere else, and so assumed that it did not survive from last year. &nbsp It is so cool to have a wildflower growing in my yard.
May 17th: &nbsp Now what's blooming? &nbsp In front, there are irises (which didn't bother to bloom at all last year.) &nbsp In the house is a little spathiphyllum with its single white flower towering at least one foot above the rest of the plant. &nbsp Out back are pyracanthas and the weigelas. &nbsp Much of what I mentioned below is still blooming, too.
May Day, 2012 - My back yard is looking so verdant after yesterday's rains. &nbsp The lush carpet of dark green myrtle is filling in everywhere, and its existence is completely thanks to my annual spring trips to the woods of Belle Isle for the last six or so years. &nbsp Right now there are spikes of ajuga growing through the myrtle with nice purple flowers. &nbsp I think I planted that ajuga about twenty years ago. &nbsp There are also bunches of white and blue forget-me-nots blooming that are problably about just as old. &nbsp The two azaleas bushes are also in bloom. &nbsp Though it doesn't have many flowers, the deciduous azalea is simply gorgeous. &nbsp Its flowers are a striking shade of white with delicate pink highlights. &nbsp No surprise, this is my favorite time of year to enjoy being out back.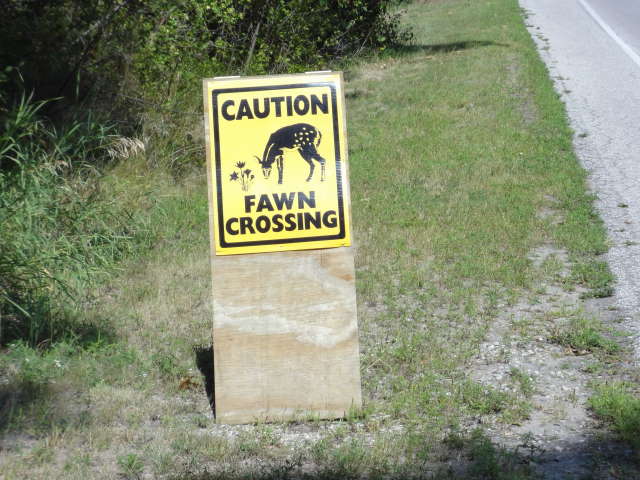 April 6th &nbsp Thursday afternoon was so warm and sunny. &nbsp I took my camera and wildflower book to the park where I had seen some tiny purple flowers blooming. &nbsp I must have been laying on the ground for over half an hour, looking through the pictures in the flower book and carefully reading the plant descriptions. &nbsp I finally decided that what I was taking pictures of was Storksbill because of the fernlike leaves and the hairy flower stems. &nbsp In the same area, I discovered another tiny pink flower growing. &nbsp It was orchid-like in shape, but only about one quarter inch in size. &nbsp I could not find anything like it in the book - I hate it when that happens. &nbsp Meanwhile, in my back yard, the viburnum is blooming now and the sweet smell hits me as soon as I walk out the back door. &nbsp When I planted that bush it was less than two feet high, and now it is taller than my one-story house.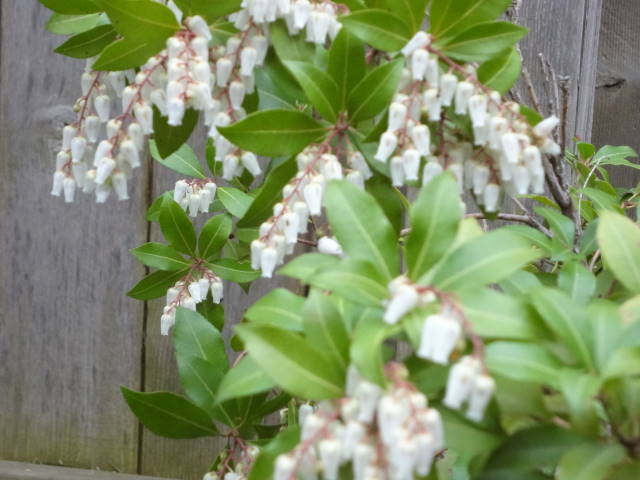 March 18th, 2012: &nbsp We're having a heat wave, a tropical heat wave. &nbsp So many things are blooming early and some of them are in my back yard. &nbsp Cute little purple flowers are peeking out from the myrtle all over the yard, and for the first time in three years, the pieris is covered with tiny white flowers. &nbsp I love my little yard.
October 27th: &nbsp By the time it stopped raining and started drying up it was after dinner and quite dark and cold. &nbsp I couldn't psyche up for a ride around Belle Isle, so I got on the Trek and headed for the Dequindre Cut to ride five laps (10.4 miles). &nbsp On the first lap after I made my u-turn at Woodbridge and started north, I saw an animal right by the pavement a ways up. &nbsp I immediately sensed that it wasn't a dog or cat so I started riding faster. &nbsp By the time it moved back away from the path a bit I figured out that it was a fox. &nbsp It just watched me speed by. &nbsp Of course there were no other nuts exercising in Cut besides me, so no one to say "Did you see that?" to. &nbsp I saw the fox on two other laps, as well - a frisky little animal. &nbsp I must confess that it made me more nervous when I couldn't see the fox than when I could. &nbsp Even this late in the year there was still some evening primrose blooming - its flowers open in the dark.
May 29th, 2011: &nbsp I got tired of trying to guess what wildflower I was seeing all over the place in fields and in Dequindre Cut, too, so I just pulled one out and carried it home on my bike. &nbsp It was easier than taking one of my wildflower books over to the Cut. &nbsp As I suspected, it is common winter cress. &nbsp I just planted my specimen in the back yard. &nbsp If the plant survives the trauma of transplanting, I will put a picture of it here to celebrate. &nbsp Uh oh - maybe I should have washed my hands after touching it. &nbsp (See trout lily, below.)
Any time I find myself outdoors I am always on the lookout for wildflowers. &nbsp I want to see what is growing; what is blooming. &nbsp Whether I'm walking, jogging, or bicycling, I am also looking. &nbsp One of my favorite places to look is the State of Michigan wetlands park on the riverfront, and the Dequindre Cut is good, too. &nbsp The little chart below lists the wildflowers that I have seen blooming in Detroit during this calendar year. &nbsp &nbsp &nbsp I will add to the chart as I have time.
June 4th, 2013: &nbsp Obviously, I haven't had time. &nbsp Last year's chart will probably suffice for this year, too. &nbsp At the end of it I will add anything unusual that I see this year. &nbsp I am seeing more varieties of wildflowers showing up in more places in my neighborhood. &nbsp It warms my heart!
Okay - let's try again in 2014. &nbsp I will note just the flowers that I haven't seen before.
| | | | | | | |
| --- | --- | --- | --- | --- | --- | --- |
| 2 | | 0 | | 1 | | 2 |
| dandelion | storksbill | trout lily&nbsp | cut-leaved toothwort&nbsp | common blue violet&nbsp | moonwort&nbsp | winter cress |
| red clover | white clover | tartarian honeysuckle | spring cress | sulfur cinquefoil | white campion | common St. Johnswort |
| bittersweet nightshade | yellow sweet clover | spotted knapweed | daisy fleabane | hoary allysum | Queen Anne's lace | evening primrose |
| chicory | smooth rose | field bindweed | oxeye daisy | catnip | curled dock | Canada thistle |
| everlasting pea | common milkweed | cat tail | lance-leaved coreopsis | common mullein | bull thistle | hedge bindweed |
| English plantain | butter and eggs | lythrum | white sweet clover | pickerelweed | teasel | blue vervain |
| birdsfoot trefoil | Canada goldenrod | sneezeweed | false Solomon's seal | silverweed | 2013: | 2014: |
| bloodroot | spring beauty | jack-in-the-puplit | large-flowered trillium | | | |
| | | | | | | |
---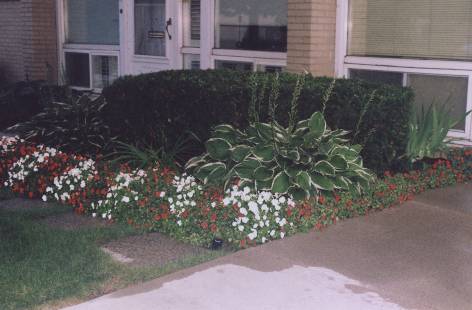 My Front Yard
After years of disappointment with flowers that never spread, never got big, flat-out died, I finally figured out the right ones to plant in front of my house. &nbsp I had never planted impatiens in my life, but I was aware of their reputation for doing well in either shade or sun. &nbsp That's the problem in front of my house. &nbsp The huge Bradford Pear tree throws part of the flower bed in deep shade, while the one corner gets plenty of sun. &nbsp So I decided to give impatiens a try, even though I am not wild about the way they look. &nbsp I bought two flats of red and one of white. &nbsp There were 96 plants per flat, so that meant a whole lot of planting. &nbsp I planted alternating red and white diagonal stripes in the front, and solid red lining both sides of the walk and between some of the bushes on the right. &nbsp Before long they bushed up and now it looks so sharp. &nbsp The plants filled in leaving no bare spots, there are no weeds coming through, and there is no flower maintenance. &nbsp I already know what to buy next year - maybe a variation in color, but not in type.
---
The Back Forty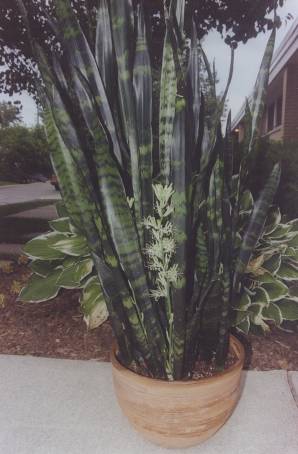 I am not talking about forty acres, here, but more like forty square feet - well, maybe a little more. &nbsp I prefer to call my back yard cozy. &nbsp My neighbor's yard to the left has a huge maple tree whose branches extend over half of my yard. &nbsp That maple, along with my large burning bush, provide a shady canopy for the patio. &nbsp The swing's awning and the umbrella on the patio table make the space even more cocoon-like. &nbsp It's so delightful to dine outside in those surroundings.
The back yard is great for reading and sleeping, too. &nbsp When I lay down on the swing, day or night, it is usually a matter of a only a few minutes before I am gone. &nbsp It's such a nice feeling to lay down, not caring whether or not I fall asleep.
I cook on the natural gas barbecue almost every day, even rain and snow don't stop me. &nbsp I have actually baked brownies in the barbecue so I wouldn't have to heat up the house with the oven. &nbsp If I include the time I spend gardening, I guess I spend quite a lot of time out back.
In the common area behind my yard stand several huge pine trees - one of which is right outside my back gate. &nbsp For the last few years, under that pine has been growing some Solomon's Seal. &nbsp In 2011, that solitary stalk was looking particularly vulnerable to possible extinction from the indiscriminating grounds crew, so I carefully transplanted it inside my back yard. &nbsp It seems to be doing well in its new location.
Myrtle is my favorite choice for a ground cover, and I have been encouraging it to spread between all the bushes in my yard. &nbsp Here's a list of the plants in the back yard, and a picture from a Sunday dinner on the patio with the boys and their "Nanny", my mom, that is.
Pictured at the left is a sansevieria plant that is normally indoors at the top of the basement stairs. &nbsp It is also known as mother-in-law's tongue or snake plant. &nbsp One day when I was walking up the stairs I smelled something funny. &nbsp I looked at the plant and was amazed to see a tall stalk of white flowers - actually their were four such stalks. &nbsp I wasn't even aware that the plant was capable of getting flowers. &nbsp I sorta like the exotic look and smell of the flowers. &nbsp There are drops of nectar on the stems at each flower.
&nbsp aralea five-leaf
&nbsp arbor vitae
&nbsp azalea (deciduous)
&nbsp azalea (evergreen)
&nbsp burning bush
&nbsp chives
&nbsp clematis
&nbsp cotoneaster
&nbsp euonymus emerald gaiety
&nbsp euonymus sarcoxie
&nbsp forget-me-not
&nbsp holly
&nbsp myrtle
&nbsp parsley

&nbsp pieris japonica
&nbsp peony
&nbsp pyracantha
&nbsp rosemary
&nbsp Solomon's Seal
&nbsp spirea blue mist
&nbsp tomato
&nbsp trout lily
&nbsp true geranium
&nbsp veronica
&nbsp viburnum
&nbsp weigela
&nbsp weigela variegated
---
Nate & Fountain

In the middle of the back yard is a large cement planter that I converted to a fountain. &nbsp It is supplied by an underground garden hose, and has a nozzle that will send an extremely thin steam of water straight up fifteen feet or more (or less, too.) &nbsp Nate is investigating whether or not he can stop the spray.

Bleeding Heart

I no longer have this plant in my yard, but when I did, it looked like this. &nbsp Until Nick got a hold of it, that is. &nbsp One day he came into the house, so proud, with his hands full of beautiful bleeding heart flowers that he had picked for his mom. &nbsp It was a short blooming season for the plant that year.
---
This Wild Wildflower Photographer
It was Theresa (my ex-wife) who opened my eyes to the world of wildflowers. &nbsp On one of our first trips up north, she bought an excellent handbook called Michigan Wildflowers by Harry C. Lund - my favorite book of its type. &nbsp We started trying to identify the many flowers which we spotted in fields, by the edges of the woods, in the woods, and by the shores of streams and lakes. &nbsp There were so many different flowers, and their beauty was awesome. &nbsp At one point, it occurred to me that it might be fun to take pictures of the wildflowers, and a new hobby was born. &nbsp I bought a macro lens that cost more than my Pentax SLR camera. &nbsp That kind of lens is designed for close-up photography from distances even less than one inch. &nbsp Amazing detail is possible and photographs of the really tiny wildflowers can show them larger than just a dot. &nbsp Theresa consults the book at Ocqueoc Falls.

I soon became fanatical, shooting half a roll on one flower, trying to make sure I got a good photo. &nbsp On our frequent up north vacations, when we would go for a walk, the first thing my sons would ask was, "Are you bringing your camera?" &nbsp If the answer was "yes" they would groan. &nbsp After fifteen years of photographing wildflowers, in spite of my declining eyesight, I consider myself an expert at spotting flowers. &nbsp I can identify more than 150 different wildflowers by sight, and many of them by their greenery. &nbsp I have gotten to where I can identify wildflowers from a long distance just by the shade of yellow or purple. &nbsp My relationship with my wildflowers is personal - for most of them I can remember where I first saw them, and where I can usually find them. It has been a couple years now since I've shot any flowers, but I still love to go to natural areas whether I take my camera or not. &nbsp I have hundreds of unsorted wildflower photographs. &nbsp Some of them are quite nice, if I do say so myself. &nbsp Here is a small sample from my collection of wildflower photographs. &nbsp In the photo captions I comment on some of my favorite places to look for flowers, and some of the lengths I've gone to in getting my photos.

The photo of the brilliant red dragonfly above was taken at Skegemog Swamp in August of 2011, and the photo at the right is the swamp itself from the obersation deck. &nbsp Most of the greenery surrounding the little pond is growing in water - a huge swamp.

The flower pictures, and almost all of the pictures on this website are new or old photgraphs that have been scanned into digital form. &nbsp In person, the clarity of the pictures is better, of course.
---
My Wildflower Pictures
An alphabetical index appears at the bottom of this page. &nbsp (or soon will)
---
1
Fringed Polygala

Some wildflowers like a habitat located at the particular edge of the woods that is by a sandy lake shore (Huron, in this case.) &nbsp Polygala is one such flower. &nbsp I found it growing at the end of the Keep Out Trail - it was one of the first wildflowers I ever photographed.

Turtlehead

North of Presque Isle is an area called Thomson's Harbor. &nbsp Off US-23, take Old State Road to Thompson's Harbor Road to its end. &nbsp It is a wonderful secluded area at the Lake Huron end of a stream that connects to Grand Lake. &nbsp The stream is dammed up into a swampy area, and trickles through a rocky trench to Lake Huron. &nbsp One time we saw little snakes in that stream. &nbsp There are always lots of great things growing there, sometimes including turtlehead. &nbsp I also found turtlehead growing right out of a crack in the old bridge support upriver from Ocqeouc Falls.
---
2
Indian Pipe

This plant has taught me to recognize the bark and leaves of a beech tree. &nbsp That's because Indian Pipe is noted for growing under beech trees from their roots. &nbsp I have walked through the woods, looking under every beech tree I could spot. &nbsp It doesn't help that sometimes the fallen leaves almost cover the low-growing Indian Pipe. &nbsp I have found it growing up north on both sides of the State.

Cardinal Flower

These bright flowers are true red. &nbsp I have found them in a bunch of places - usually in the woods by the side of a stream. &nbsp The Ojibway Prairie in Windsor, Ontario, Ocqueoc Falls, and the Sanilac Petroglyphs Historic State Park are the places I have seen cardinal flower by streams. &nbsp Those in this picture, however, I found growing in a power line "cut" on East Grand Lake Road. &nbsp The red of the flowers pales in comparison to all the blood I sacrificed to mosquitos while taking photos there.
---
3
Shinleaf

I have only found this highly suggestive plant in one place. &nbsp Along the shores of Lake Huron I have frequently observed that where the shore ends, there will be a narrow ridge of pine trees, followed by a narrow sandy strip that is relatively clear of trees before the real forest begins. &nbsp In that sandy space will be low-growing shrubbery like juniper and bearberry, with its cute white flowers. &nbsp This shinleaf was growing maybe fifty yards to the left of the end of the Keep Out Trail. &nbsp It was well worth wading through the juniper to find it.

Water Hemlock

This plant is fatally poisonous to animals and humans. The Michigan Wildflowers book says that all parts of the plant are poisonous even in small amounts. &nbsp It is growing on the left about half way along the road into Skegemog, and on the right side of the path to the ponds at Seven Ponds. &nbsp The plant is a member of the carrot family. &nbsp I sure hope that nobody thinks that it looks like an herb and decides to sample it.
---
4
Fringed Gentian

I have found these fall-bloomers growing on the shores of Lake Huron in Presque Isle. &nbsp The single flowers grow on long thin stems, and are continuously bobbing in the ever-present winds. &nbsp For the purposes of photographing such non-stop flowers, I devised a clamp to hold them still. &nbsp I used an alligator clamp large enough go around a stem without squeezing it, and attached the clamp to thick aluminum wire (what they used to use for clothes lines.) &nbsp In the plastic at the top of the legs of my little tripod I drilled a hole that would hold hold the aluminum wire firmly. &nbsp The wire is easy to bend, but firm enough to stay put. &nbsp Since the winds up north never cease, my clamp has come in handy many times.

Showy Lady's Slipper

In the spring, these beautiful flowers can be found at the edge of the woods, off to the side of the one mile long railroad right-of-way that leads to my favorite natural area - Skegemog Swamp. &nbsp It is located southeast of Torch Lake. &nbsp Take the road south out of Alden and near Rapid City on the right side or the road, the trail head has a tiny parking lot. &nbsp Actually the right-of-way itself is a great place to observe flowers, and is part of why Skegemog is my favorite. &nbsp More than once have I gone on family trips to Theresa's brother-in-law's cottage at Lake Bellaire that I would gladly have skipped, solely so I could walk that particular mile. &nbsp I must be a masochist because a walk down that long country mile with no shade from the hot sun guarantees a constant entourage of carniverous flies buzzing around my head and neck, and continuously biting. &nbsp By the time I make the turn into the woods, I am more than ready to take mosquitoes in trade for those sun-loving flies.
---
5
Grass Pink

Besides the Keep Out Trail, there is another, shorter path to Lake Huron that ends at what used to be a pond. &nbsp Freddie's Pond Trail ends at a swampy area with large frog ponds and lots of pitcher plants and such growing everywhere. &nbsp For one brief period of the season, these brilliant grass pinks add a lot of color to the landscape.

Autumn Wild Onion

This exotic-looking flower was growing on Belle Isle in a low part of the field just east of the former Detroit Boat Club. &nbsp At that time the people who mowed the Island's grass were leaving that low part of the field unmowed like a microscopic natural area.
---
6
Moth Mullein - Yellow

These flowers grow off the sides of extremely vertical stems. &nbsp The yellow ones grow on Belle Isle in a couple places: &nbsp behind the nature center, and to the north of the north path to the lighthouse.

Moth Mullein - White

I have photographed the white version of this flower near the road side in a couple places west of Lake Bellaire.
---
7
Closed Gentian

I have only run into these one time - at Ocqueoc Falls. &nbsp I can't even remember how I found out about Ocqueoc, but after the first visit, it became a mandatory stop on any trips to Preque Isle County (Camp Chick.) &nbsp On the first time to Ocqueoc Falls, Tish and I walked the several-mile-long loop of the Bicentennial Pathway, there. &nbsp The trail was not well marked, and we got hopelessly lost. &nbsp When we finally found our way back onto the trail, we were so turned around we didn't even know which direction of the trail we should take. &nbsp The "falls" themselves consist of a fast-moving stream that keeps dropping in steps over the rocks. &nbsp In a couple places the stream is dammed up so that a pool forms. &nbsp The best thing to do at Ocqueoc is to swim in the largest pool which is formed by some huge rocks. &nbsp That pool is deep enough for diving into off of the upstream rocks.

On the far side of the stream, in a small clearing between the woods and the stream-side vegetation, I had the luck to find some beautiful specimens of closed gentian. &nbsp On subsequent trips I couldn't even find the same clearing, let alone the gentians. &nbsp The falls are on the north side of M-68, a bit west of Rogers City.

Smooth Rose

Photographed at Grass River - grows everywhere up north. &nbsp When we would stay at the cottage on Lake Bellaire, besides Skegemog Swamp, the other place I liked to visit was the Grass River Natural Area. &nbsp There I bought my Got Blood? T-shirt with a large picture of a mosquito. &nbsp One time at Grass River I had left a camera lens in the car and went back to get it. &nbsp Later when the boys and I returned to the car, someone parked near us alerted us to the fact that several squirrels had been picnicing in my minivan. &nbsp Apparently when I had gone back for my lens, I had left the sliding door wide open, and the menu at Minivan Restaurant featured a cereal box on the back seat.
---
8
Arrowhead

At the north end of Alpena is a great island park. &nbsp There is much to photograph - not just flowers, but turtles, waterfowl, and other animals. &nbsp Practically across the street (U.S. 23) from the park is the Jesse Besser Museum. &nbsp If you are ever near Alpena, don't miss this wonderful little museum.

This brings to mind my son's first joke. &nbsp Nicholas couldn't have been more than six years old and our family was about to embark on a cultural outing. &nbsp Nick said, "Are we going to the moo-seum?" I said, "No, if it were a moo-seum they would have nothing but cows. &nbsp We're going to a mew-seum." &nbsp Without a second's hesitation, Nick asked, "Does that mean they have nothing but cats?" &nbsp I like to take credit for Nick's sense of humor.

Indian Paintbrush

It seems to me that no photograph could ever do justice to the beauty of the Indian paintbrush. &nbsp They always look so much brighter in real life. &nbsp These were growing among the pitcher plants way behind the shore of Lake Huron. &nbsp The thin stems in this picture remind me of the many times I would pull up stiff grass and gather twigs to build a little teepee-shaped structure around the stem to stop the plant from bobbing in the constant wind. Without such a structure or a clamp, it would be simply impossible to photograph many of the wildflowers up north.
---
9
Round-leaf Sundew

It was my good friend, Tom Allenson (Nick's Godfather) who introduced me to this miniscule plant. &nbsp It is so small and inconspicuous, I never would have even thought of looking at it. &nbsp Back behind the wide Lake Huron beach which is often more rock than sand, sometimes I will find a band of lower land that is like a mini-wet lands. &nbsp There is such an area to the north at the end of the Keep Out Trail. &nbsp There are a bunch of tiny ponds connected by a tiny sort of stream. &nbsp The larger ponds are just loaded with frogs, and the whole area has a lot of moss. &nbsp It is on top of that moss that sundew likes to grow. &nbsp Sundew traps and digests small insects on its sticky pods. &nbsp If you look carefully at the two o'clock pad on the rightmost sundew, you can see a tiny insect whose flying days are over.

Sundew Flowers

Only saw this type of sundew blooming one time. &nbsp Photographing flowers this short requires me to get down pretty low so I can look through the camera lens. &nbsp I always keep a pair of old volleyball knee pads in my camera bag so I don't have to kneel on little rocks and such. &nbsp Frequently, though, I will actually lay down on the ground - be it swampy or in the woods - to get my pictures. &nbsp Since I always wear shorts and short socks, I am assuming that I must be immune to poison ivy because I am sure I have come in contact with it numerous times.
---
10
Butter and Eggs

The flowers are pretty. &nbsp Unfortunately the scraggly looking greenery of the plant is not. &nbsp I have seen a bunch of these around Detroit in later summer. &nbsp In fact, there seemed to be more each year for awhile, but now I am seeing less. &nbsp I've noticed year-to-year trends in the Detroit presence of other wildflowers, too: &nbsp goatsbeard, everlasting pea, and boucing bet, for instance. &nbsp Some wildflowers seems to spread along corridors in Detroit. &nbsp I am constantly surveying the fields to see what's growing as I drive through the city.

Bearberry

This low-growing ground cover with it's attractive dark green leaves can be seen in abundance covering the sand at the edges of forests. &nbsp I transplanted some to my backyard where it grew for quite some time. &nbsp This picture is from my yard, in fact. &nbsp Its tiny flowers are just as cute as can be.
---
11
Trout Lily

When these bloom in the forest it looks like a carpet of white (there is a yellow version, too.) &nbsp Besides up north, I would see trout lilies every spring when I would take the boys on walks through the woods on Belle Isle. &nbsp I have photographed them en masse on several occasions, but the pictures never do justice to the beauty of the scene. &nbsp This shot is from Belle Isle, along the path by the red bridge at the west end of Lake Okonoka.

Trout Lily

Spring of 2009, I got the crazy idea that it would be nice to have trout lilies in my own back yard, which is pretty shady. &nbsp One morning, armed with a shovel and a plastic bag, I dug up about twenty of them (and about the same number of cut-leaf toothwort which was also blooming), and transplanted them from Belle Isle to the corner of my back yard. &nbsp Once I had them planted, I realized that that corner of the yard actually gets a little direct sunlight for a short period of the day. &nbsp Since these forest plants don't like much light, you could say that planting them where I did was both "not too bright" and "too bright" simultaneously. &nbsp Transplanting them at all was not too bright because I promptly got something that looked like leporosy on my legs - my doctor attrributed it to contact with oil from the plant roots. &nbsp It just wouldn't go away, and my doctor was ready to send me to a dermatoligist. &nbsp Note to self: &nbsp wear long pants and gloves next time, and then wash everything cloth, and the shovel in hot water. &nbsp Or maybe there just shouldn't be a next time?
---
12
Teaberry

Remember Clark's Teaberry gum? &nbsp I used to love that stuff, and I guess some places still sell it. &nbsp Teaberry, also known as wintergreen, grows in forests. &nbsp Though it is inconspicuous, I can alway recognize it by the shade of green of its leaves. &nbsp Breaking one of the leaves releases that familiar smell that I happen to love. &nbsp If you have smelled Pepto Bismol or Icy Hot, you've smelled wintergreen. &nbsp Writing about this reminds me of the spicy jelly beans I like. &nbsp They come in an assortment of seven yummy flavors: &nbsp wintergreen, anise, cinnamon, peppermint, spearmint, sassafras, and my favorite, clove. &nbsp You can buy them online at George Howe Candy.

Yellow Pond Lily

Sometimes I take pictures of aquatic plants like this by rowing a boat up very close and photographing from the boat. &nbsp For this picture, however I decided that the boat was just not quite steady enough. &nbsp I had rowed across Lake Bellaire and into the stream that connects to Clam Lake (on the "Chain of Lakes.") &nbsp The water was not even two feet deep, so I decided to step out of the little rowboat to get some better pictures. &nbsp I immediately sunk into the soft silt until the water was up to my armpits! &nbsp Holding my camera over my head, I was getting ready to throw it back in the boat until I finally stopped sinking. &nbsp I got my pictures, but I was a mucky mess. &nbsp Good thing that I wore my bathing suit.
---
13
Nodding Ladies' Tresses

When I scan the drab green and brown vegetation behind the Lake Huron shore, it is such a treat when a glint of bright white enters my field of vision, because I know it is going to be these beautiful flowers.

Pink Mullein

Minus the flowers, this mullein looks like a junky weed. &nbsp The stems and wrinkly leaves are a strange grayish color. &nbsp When in bloom, however, the pink flowers eclipse the rest of the plant. &nbsp They seem to glow in the middle as if there were electric lights in there.
---
14
Swamp Candles

I've only seen these pretty little flowers in one place up in Presque Isle. &nbsp They were growing in a deep drainage ditch with tall vegetation growing behind the ditch. &nbsp It was hard enough finding a time when the sun would shine on them, but setting up the little tripod in the ditch was even more difficult. &nbsp The combination of bright yellow and red is dramatically pretty.

Grass-of-Parnassus

These beauties are easy to find aound Lake Huron behind the beaches where the soil is stll sandy, but the water table is high. &nbsp Their bright white stands out against all the green vegetation.
---
15
Bouncing Bet

I first saw these on the corner of East Grand Lake Road and the road into the Bell Bay Natural Area. &nbsp Now I see them all over Detroit, esecially along Kercheval. &nbsp The flowers stick straight out from the stems in four directions at 90° angles.

Teasel

I can guarantee you that this is one plant you would not pull out of the ground bare-handed. &nbsp These babies are loaded with sharp thorns from top to bottom. &nbsp The stems are practically solid thorns, and then there are these thin curving leaves that bracket the flower clusters, and they, too, have thorns along them, as in this picture. &nbsp Teasels grow straight and tall - sometimes over eight feet.
---
16
Striped Coralroot

Like Indian Pipe, this inconspicuous plant grows on a short stalk from amongst the dead leaves on the forest floor. &nbsp Because of its color, it is difficult to spot.

Swamp Dewberry

Bright white and deep dark green - such a pretty combination of colors. &nbsp Found these in western Michigan on a trip we took all the way across Base Line Road from Grosse Pointe Shores to Lake Michigan. &nbsp The road started and stopped many times so we would have to backtrack and go up or down a mile or two to find the next part of the road.
---
17
Crown Vetch

Because of its extensive root structure, this plant is a favorite with highway departments. &nbsp They plant it on steep slopes to prevent soil erosion from rain run-off. &nbsp I have seen it along freeways, up north, and at Kensington Metro Park.

Leadplant

Just one place have I seen this exotic looking plant. &nbsp It was near the little pond in the middle of the prairie at Seven Ponds.
---
18
Catnip

This is a member of the mint family - sometimes called catmint. &nbsp From a distance, the flower clusters looking boring gray, but up close, the individual flowers are quite pretty.

Wild Bergamot

What I like the most about these pretty flowers are the bracts - the leaves that protrude just below the flowers themselves. &nbsp The bracts on the wild Bergamot are wavy in a nonchalant looking way. &nbsp They give the flowers a sort of sexy look.
---
19
Common Burdock

Burdock grows all over the place. &nbsp There is plenty growing around Detroit, and it often shows up, uninvited, in people's yards. &nbsp It is easily recognizable by its huge weedy-looking leaves. &nbsp It's the flowers that are quite pretty when viewed up close.

Wood Lily

Viewed from the side, these orange beauties look like ordinary flowers, but a top view, as in the photo, reveals that the six petals don't even touch each other. &nbsp Each petal is on its own tiny stem. &nbsp You can look right through the flower from the top.
---
20
Common St John's wort

These grow abundantly up north near swamps and at the edges of forests.

Purple Gerardia

I love the way these flowers look when they happen to lay right on top of one of the green spikes that protrude from the stalk.
---
21
Bladder Campion

Where I have most frequently seen bladder campions growing is by the side of a dusty road up north. &nbsp It is hard to imagine a less friendly environment - full sun and lots of dust.

Spotted Jewelweed

These cornucopia-shaped flowers are suspended on thin flexible stems. &nbsp The stems look so fragile, I am surprised that the ever-present winds don't blow all the flowers off. &nbsp When the plant has mature seed pods, a gentle squeeze will cause the pod to explode and shoot the seeds out (it's called dehiscence.) &nbsp Pretty cool.
---
22
Pickerelweed

At Seven Ponds there is a stairway bridge over the narrow water connecting two of the ponds. &nbsp Just off of the boardwalk leading to the bridge, these flowers were growing in the water. &nbsp The water was far too deep for wading, so to get close enough for a picture, I knelt at the edge of the dock, and had my sons sit on my legs - one on each leg. &nbsp Then I stretched straight out over the water and got my close-ups. &nbsp It was hard to straighten back up onto the dock.

Wild Basil
---
23
English Plantain

Ask anyone whose lawn is plagued with these ubiquitous plants and they will categorize them as weeds rather than wildflowers.

Fireweed

Photographed near the Bell Bay Natural Area in Presque Isle County.
---
24
Compass Plant

These are the tallest wildflowers I have photographed. &nbsp It was in the prairie at Seven Ponds. &nbsp The plant's leaves always align north-south, hence the name.

Bittersweet Nighshade

We go way back. &nbsp I can remember nightshade growing in the back yard when I was a child. &nbsp I also remember being warned that it was poisonous - probably because the berries, once they would turn orange and then red, looked so succulent and appealing.
---
25
Great Lobelia

Pitcher Plant

These grow by the hundreds in wet areas. &nbsp My picture is of the flower, but the water-holding tubular pitchers at the base of the flower stem are what give the plant its name. &nbsp The flower heads are sometimes green, and sometimes dark maroon in color.
---
26
Bull Thistle

Bees seem to love the flowers of these thistles. &nbsp On several occasions I have taken super close-up photos of said bees.

Evening Lychnis

Also known as White Campion, its flowers look like they are folded up. &nbsp Male and female flowers inhabit separate plants and are pollinated by moths.
---
27
Blue-Eyed Grass

Purple Loosestrife

This wildflower, AKA Lythrum, is so invasive that planting it is prohibited. &nbsp From a distance, it looks quite purple, but up close the flowers are washed-out pink. &nbsp Their tiny anthers are a startling shade of bright electric green - not reflected in the photo.
---
28
| | |
| --- | --- |
| | |
| Columbine | Yellow Lady's Slipper |
---
29
Musk Mallow

Photographed in the ditch by the stop sign at the northeast corner of Lynn Road and Clam Lake Road west of Lake Bellaire. &nbsp I have since seen it growing on the north side of Lynn Road west of Clam Lake Road.

Blue Vervain
---
30
Fringed Purple Orchid

Quite the impressive purple display - hard to miss. &nbsp Yet there was only one stalk to be seen anywhere around, and I have never seen it any other time. &nbsp It was along the railroad right-of-way at Skegemog.

Birdsfoot Trefoil

I had seen bright yellow patches of these tiny low-growing flowers in past years, but in 2011, I finally brought the wildflower book and identified them. &nbsp I have mainly noticed them in Detroit.
---
31
Bunchberry

Hard to say which is prettier - the berries or the flowers. &nbsp The pure white flower lays flat on top of the green leaves with four equally-spaced petals of a pleasing rounded shape and pointed tip.

Chicory

This wildflower is my nomination for the official wildflower of Detroit. &nbsp Chicory grows everywhwere and looks good in masses, especially combined with Queen Anne's lace. &nbsp It's blue-purple color looks best on cloudy days rather than in the sunlight. &nbsp In photographs, the color invariably looks washed-out
---
32
Everlasting Pea

This low-growing viny wildflower attaches itself to other plants with curly tendrils. &nbsp I see it up north on both sides of the state, and also in some fields in Detroit. &nbsp There are often white versions of the flower present along with the pink (which is the shade of Pepto Bismol.)

Field Bindweed

Some patches of this flower are huge. &nbsp It often will grow up a fence if there is one handy. &nbsp Comes in a pink version, too.
---
33
Silverweed

Silverweed grows abundantly on the shores of sandy lakes, always way back where the sand makes a ridge at its highest point. &nbsp The bright yellow flowers grow off the many red runners that lace the ground amidst the fern-like greenery. &nbsp Normally silveweed has a nice dark green color, but a slight reverse wind will turn the small flexible fronds over and reveal the silver colored back sides. &nbsp Then it's as though the plant has changed colors.

Starry False Solomon's Seal

There are several varieties of Solomons seal, all of which get small white flowers. &nbsp This version with the long narrow leaves is called "false" for some reason. &nbsp It's easy to spot this type of Solomon's Seal because the stems always arch.
---
34
Curled Dock

This wildflower undergoes some dramatic color changes as it matures. &nbsp It starts out an ordinary light green color, but close inspection reveals light pink and blue highlights on the flowers. &nbsp Then the whole plant grows darker and darker - passing through maroon on the way to a very dark brown, like the color of rusty iron. &nbsp It's that color that prompted me to call it rust weed for years, until I found out that it was known as curled dock. &nbsp It grows in fields all over Detroit.

Beach Pea

Typical pea plant grabbing onto other vegetaion with its twiny tendrils. &nbsp I found it growing on a sandy beach, of course.
---
35
Dune Lily

It's strange to find flowers growing in a sand dune, and these flowers are cute with their alternating red and purple heart-shaped anthers.

Goatsbeard

Like a shy dandelion, these only open in the morning, and only if it's sunny. &nbsp The leaves are more pointy than a dandelion, and the seeds form a feathery ball just like those of a dandelion, only larger.
---
36
Dwarf Lake Iris

Even though this is a protected wildflower, it can be found in great abundance in the spring in wet areas near Lake Huron.

Twinflower

This is one of the first wildflowers that I photographed. &nbsp I found it at the edge of the woods in two places on Lake Huron.
---
37
Rough-fruited Cinquefoil

Most flowers benefit from sunlight when being photographed (chicory is a notable exception.) &nbsp Sometimes once I identified the perfect specimen to photograph, that flower would, alas, be in the shade. &nbsp Now if it so happened that the shade was being produced by another plant, my attention would then turn to finding a way to relocating the part of the plant that was causing the unwelcomed shade. &nbsp While photographing, I have tied branches out of the way, held branches out of the way, bent branches (sometimes temporarily, sometimes permanently) out of the way, and even removed a branch or two. &nbsp Of course I have always tried to be as undisruptive as possible to the surrounding nature.

Thimbleberry

Rather than the flower, I took a picture of the raspberry-like fruit. &nbsp If I had to describe thimbleberry in one word it would be "delicious!" &nbsp When I have the good fortune to be up north at the right time of spring, it is pure delight to walk through the woods popping those tart little berries in my mouth by the dozens. &nbsp The plant has large leaves and grows at the edges of woods or along paths in the woods. &nbsp It evidently needs more light than the deep woods provides. &nbsp There are several places online where you can order thimbleberry jelly and jam.
---
38
Common Skullcap

From the look of its leaves and the square hairy stem, this is obviously a member of the mint family. &nbsp What I find amazing is that the longish flowers stick out so straight, seemingly defying gravity.

Canada Mayflower

I find Canada Mayflower growing in the filtered sunlight that makes its way through the large trees in the forest. &nbsp The charateristic zig-zag pattern of its stem is so pleasing.
---
39
Starflower

Orange Hawkweed

It's so nice to see the color orange in the middle of a field of green growth. &nbsp I usually see it up north in fields that are hardly grass, but still mowed. Then it will be blooming quite low to the ground, but still easy to notice for it's perky color.
---
40
Indian Tobacco

Culver's Root

Photographed in the prairie at Seven Ponds.
---
41
Common Milkweed

The seedpods are much more interesting than the flowers. &nbspI love it when they leak little drops of milk right through their skin - as in the picture. &nbsp

Common Mullein

These nice little yellow flowers have the misfortune of inhabiting what I would probably consider to be the junkiest looking weed I've ever seen. &nbsp
---
42
WIld Strawberry

Photographed by the parking lot at the end of the very very very long one-lane entrance road to Thompson's Harbor Natural Area north of Alpena.

Lady's Thumb

Escept for these tiny colorful spikes of flowers, this plant would look like any other weed growing at the edge of the street. &nbsp Yes, Lady's thumb favors one of the most hostile environments imaginable to grow - from cracks between the street surface and the curb. &nbsp I see it all over Detroit in the late summer (if I happen to look at the curbs.)
---
43
Self-Heal

I would always find self-heal growing along paths deep in the woods. &nbsp The flowers grow on four sides of a square column which can vary a lot in height.

Deptford Pink

I first discovered these pretty little flowers at Seven Ponds Nature Center northeast of Oxford in Oakland County. &nbsp This natural area is expecially great because not only does it have the ponds, but there is also a large prairie with a whole different set of wildflowers. &nbsp That prairie is the only place I have ever seen compass plant or lead plant.

Last summer I spotted Deptford pink near my house, along the St. Aubin fence at the top of the Dequindre Cut. &nbsp I often wonder if some of the wildflowers that end up in the City are actually planted there.
---
44
Hairy Vetch

I have seen a lot of this vine-like wildflower in Detroit, as well as up north. &nbsp When I ride my bike to work, my usual route takes me across Watson Street to Woodward. &nbsp On the north side of Watson, I used to see hairy vetch growing in a vacant field. &nbsp Then came this market called Zaccaro's, and they paved the field for a parking lot. &nbsp The market didn't survive one year. &nbsp Now I get to look at unused asphalt instead of nature's beauty. &nbsp It reminds me of a Joni Mitchell song.

Fragrant Water Lily
---
45
Evening Primrose

The flowers open at night and close before midday. &nbsp I have seen it's flowers when I have been riding after dark in the Dequindre Cut. &nbsp At the top of the stems are reddish seed pods.

Canada Anemone

Photographed along the west edge of Lake Bellaire.
---
46
Horsemint

The only place I have ever encountered this mint was in a field on Alpena Island. &nbsp It took a while before I could figure out what it was.

Pipsissewa

With its dark green shiny leaves, this plant looks similar to wintergreen. &nbsp I have found it along the path through the woods at Bell Bay in Presque Isle.
---
47
Hedge Bindweed

Always pink with white stripes, this vine is similar to morning glory, attaching to other plants. &nbsp I have seen it in the woods on Belle Isle, along the Gratiot ramp of the Dequindre Cut, and up north, of course.

Pearly Everlasting
---
48
| | |
| --- | --- |
| | |
| Obediant Plant | Tufted Loosestrife |
---
49
British Soldiers

I put the macro lens through its paces with this shot. &nbsp I saw this super-tiny stuff growing between the boards of a dock at a lake up north. &nbsp I would never have noticed it were it not for the bright red tips which turn out to be spores. &nbsp British Soldiers is a lichen - the single plant that is formed when an algae and a fungus combine.

Cutleaf Toothwort

This grows at the edge of the woods on Belle Isle in the spring. &nbsp I have seen it up north, as well. &nbsp I have also seen similar broadleaf toothwort on Belle Isle.
---
50
Purslane

Rarely have I seen purslane blooming. &nbsp In lawns, including mine, however, this weed is far from rare. &nbsp Purslane probably ranks second only to crabgrass as a lawn nuisance.

Red Clover

It really looks more purple than red, and is widespread in fields everywhere. &nbsp The leaves of red clover have a distinctive V-shaped marking.
---
51
Viper's Bugloss

Every time I have seen these pretty blue and pink flowers, I have wished I had a hose with me to wash them off. &nbsp They always seem to be growing at the sides of dusty dirt roads up north. &nbsp It is also known as blueweed.

Daisy Fleabane

I photographed these aster-like flowers beside a path through the woods in Preque Isle. &nbsp There was filtered sunlight available to them.
---
52
Queen Anne's Lace

This ubiquitous wildflower is also known as wild carrot. &nbsp I love the way the thin bracts interlace below the flowers. &nbsp The flowers are usually all white, of course, so I had to include this picture. &nbsp It is one of only a couple that I have ever encountered with the ring of pink around the edge.

Saint Peterswort
---
53
Swamp Milkweed

Hoary Allysum

Even though it's just another white flower, hoary allysum is easy to recognize. &nbsp Its leaves clasp the stems in a way that makes the stems look twisted, and the color of the flowers is slightly chalky. &nbsp This picture was taken at the first place I found them in Detroit - along the fence on the parking lot of Old St. John's Church which is located on Russell south of Gratiot.
---
54
Sow Thistle

Sowthistle is one of several tall dandelion-like plants. &nbsp These, in particular, have a lovely southward view of Windsor.

Common Plantain

This weed shows up in fields and lawns all over. &nbsp Even without the "flower" stalks it can be recognized by the non-symetrical size and pattern of the leaves.
---
55
Skunk Cabbage

The flowers are the little yellow things on the inside. &nbsp I found this during our family trip across Baseline Road from Lake Saint Clair to Lake Michigan in '98.

Yellow Sweet Clover

Sweet clover, both yellow and white, grows in fields all over Detroit. &nbsp Where there is a bunch, you can smell its sweetness from a distance.
---
56
Prairie Coneflower

Common Nightshade

At times, I have found this growing in both my front and back yards. &nbsp Its berries are black and sort of oval. &nbsp There are several in this photo, but, alas, they are not in focus.
---
57
Mouse-ear Chickweed

One of the many odds and ends that grow in vacant fields. &nbsp You would have to look carefully to notice it, and then wonder why you did.

Beach Heath

This was growing along the sandy path at Bell Bay Natural Area in Presque Isle.
---
58
Common Winter Cress

I never paid attention to this stuff before, but now I see that it grows abundantly in the fields areoud Detroit. &nbsp It is the first highly noticeable wildflowers of the spring.

Dutchman's Breeches

This is one of the the first wildflowers I ever photographed. &nbsp Then I never saw it again for many years because I had stopped going up north in the spring. &nbsp I later discovered that DUtchman's Breeches grow like crazy at Pointe Pelee - the park is famous for that wildflower. &nbsp The flowers grow all along the road into the park, but just on the side away from Lake Erie. &nbsp In describing the quantity, "innumerable" comes to mind. &nbsp Sprawled out on the ground, taking photos, I lost one developed roll of film out of my pocket, but after searching for about twenty minutes, found it. &nbsp Whew!
---
59
| | |
| --- | --- |
| | |
| Storksbill | Boneset |
---
60
| | |
| --- | --- |
| | |
| Ox-eye Daisy | Honesty |
---
61
| | |
| --- | --- |
| | |
| Spotted Knapweed | Staghorn Sumac |
---
62
| | |
| --- | --- |
| | |
| Crabgrass | Harebell |
---
63
| | |
| --- | --- |
| | |
| Canada Thistle | Common Cattail |
---
64
Sneezeweed

Pine Hyacinth

Found these cuties along the Pere Marquette Rail Trail. &nbsp I only had my small Sony digital camera, but I like the picture anyway.
---
65
| | |
| --- | --- |
| | |
| Prairie Blazing Star | Rattlesnake Master |
---
66
| | |
| --- | --- |
| | |
| Woodland Sunflower | Spotted Joe Pye Weed |
---
67
False Solomon's Seal

This specimen was photographed in my own back yard! &nbsp It was several years ago when I first noticed Solomon's Seal growing in the common area behind my yard. Afraid the wildflower might get mowed down by our grounds crew who would take it for a weed, I transpanted a few stalks inside my back yard. &nbsp Next spring I will get a picture of the flowers.

Spreading Dogbane

Spotted by Kathy on the bike trail between Petosky and Charlevoix.
---
68
Chinese Lantern

People do plant these in their gardens, but the wildflower book includes it, so that's good enough for me. &nbsp It is a variety of the wildflower known as ground cherry. &nbsp These were growing along the designated bike trail in Charlevoix.

White Wood Aster

Pictured at Skegemog Swamp. &nbsp Some of the flowers have yellow centers, and some red - quite a pretty combination. &nbsp These little asters have become prominent in Detroit in recent years. &nbsp They bloom in late summer, and I have seen the flowers persisting after the first snowfall.
---
69
Tall Meadow Rue

Growing on the railroad right-of-way at Skegemog Swamp.

Musk Mallow in pink

There is a picture of the white version, as well. &nbsp These were on the trail between Petosky and Charlevoix.
---
70
Bloodroot

These were growing at the edge of the forest on Camille's farm in Washtenaw County, and I didn't know what they were until I looked them up. &nbsp The huge clasping leaf made it easy to ID them. &nbsp I transplanted some to my back yard.

Trillium

First time I've run into large-flowering trillium. &nbsp Again, in the woods at Camille's farm. &nbsp I transplanted three to my back yard, and I photographed these in my yard with my little digital camera. &nbsp I will try to get a better photo.
---
71
Jack-in-the-Pulpit

I photographed these elegant spring flowers in my own backyard (with digital camera). &nbsp I am not saying how they got there or where they came from. &nbsp Just call me the stealth gardener.

Virgin's Bower

These were abundant growing through other low greenery along the railroad path at Skegemog Swamp. &nbsp Lack of clarity due to the limitations of the little Sony digital camera.
---
Nature that Moves Around
Don't tread on me!

Actually, I almost did step on that Eastern Massasauga Rattlesnake (Michigan's only venomous snake). &nbsp It was basking in the sun on the Skegemog railroad right-of-way nor far from the sign which appears below.

Skinny dippin'

This snake skin is looking mighty lengthy as it sits in the Ocqueoc River at Ocqueoc falls - place where we always go swimming! &nbsp I am so glad that we encountered the skin rather than it's former contents in the waters there.
---
Spotted on the knapweed

This pretty little butterfly was kind enough to sit still on the spotted knapweed long enough for me to get real close with the camera.

This way to the Swamp

As that path nears the swamp it turns into a boardwalk that is barely above water in parts. &nbsp At the swamp end of the boardwalk there is platform with a stairway to an observation deck about 15 feet high overlooking the swamp. &nbsp Standing on that deck, I get the feeling that I am miles from anywhere (probably because it's the truth.) I've been to Skegemog quite a few times, and it's almost always deserted there. &nbsp One time, as I was photographing some flowers from the boardwalk I heard a funny noise. &nbsp After a minute, it dawned on me that I was hearing the rattle of a rattlesnake. &nbsp I high-tailed it out of there - leaping down the floating boardwalk trying to take as few steps on it as possible. &nbsp That was just a little too much nature for me.
---
| | |
| --- | --- |
| | |
| A Big Question Mark | The New VW |
---
Before . . .

This Monarch-to-be is all I need to identify the plant as common milkweed.

. . . and after

What a metamorphosis!
---
Praying Mantis

Hardly a summer goes by without some praying mantis camping out on my front screen door or one of the windows.

Deer

Spotted trailside while riding from Crooked Lake to Midland on the Pere Marquette Rail Trail.
---
White Admiral Butterfly

On the Petosky path, I kept getting closer and clicking until I finally scared that beautiful creature away. &nbsp Identified by Kathy, of course.
---
Natural Areas
Skegemog Swamp Natural Area

This sign marks the extreme climate change that takes place when one leaves the old railroad bed - full sun, high and dry - and turns into the dark, damp woods leading to the swamp. &nbsp Skegemog is my all-time favorite natural area - no other site comes close.

Seven Ponds Natural Area

I thought that maybe I could wade over to some wildflowers for a picture, but the water was too deep. &nbsp I love going to Seven Ponds - it's always fun. &nbsp There are trails through the woods, boardwalks, and even a huge prairie! &nbsp The Nature Center and its store are nice, too.
Birding from the Bridge

This is the newly rebuilt bridge whose predecessor is pictured just above. &nbsp The new bridge is beautiful, and so is the refurbished Nature Center at Seven Ponds.

Where to eat in Metamora

If you come to Seven Ponds from Lapeer Road, as you drive across Dryden Road, you will encounter this wonderful tavern at the corner of Metamora (the only traffic light.) &nbsp Eat there - you will be glad that you did. &nbsp White Horse Inn

Sad Footnote: &nbsp After 162 years of operation, the Inn closed on November 14, 2012 due to structural problems that were too costly to repair.
Grass River Natural Area

Not letting water stop me, I waded right in to get a closer look at the unidentified blue wildflower. &nbsp It turned out to be forget-me-nots, and I should have known it by the habitat. &nbsp The water was pretty cold.

Seven Bridges Natural Area

This deligthful place is truly off the beaten path. &nbsp You would drive by the dusty inconspicuous parking lot never dreaming that just inside the woods water is splashing in every direction. &nbsp Bring a lunch, pick a bench, and watch the many little streams merge and split, water coming seemingly from all directions. &nbsp Seven Bridges is not to be missed!
---
Here is a list of my favorite places to view nature.
Each one has a link to some sort of information about the natural area.

---

Alphabetical Index of the Pictures

Arrowhead • 8

Autumn Wild Onion • 5

Beach Heath • 57

Beach Pea • 34

Bearberry • 10

Birdsfoot Trefoil • 30

Bittersweet Nighshade • 24

Bladder Campion • 21

Bloodroot • 70

Blue-Eyed Grass • 27

Blue Vervain • 29

Boneset • 59

Bouncing Bet • 15

British Soldiers • 49

Bull Thistle • 26

Bunchberry • 31

Butter and Eggs • 10

Canada Anemone • 45

Canada Mayflower • 38

Canada Thistle • 63

Cardinal Flower • 2

Catnip • 18

Chicory • 31

Chinese Lantern • 68

Closed Gentian • 7

Columbine • 28

Common Burdock • 19

Common Cattail • 63

Common Milkweed • 41

Common Mullein • 41

Common Nightshade • 56

Common Plantain • 54

Common St. John's Wort • 20

Common Skullcap • 38

Common Winter Cress • 58

Compass Plant • 24

Crabgrass • 62

Crown Vetch • 17

Culver's Root • 40

Curled Dock • 34

Cutleaf Toothwort • 49

Daisy Fleabane • 51

Deptford Pink • 43

Dune Lily • 35

Dutchman's Breeches • 58

Dwarf Lake Iris • 36

English Plantain • 23

Evening Lychnis • 26

Evening Primrose • 45

Everlasting Pea • 32

False Solomon's Seal • 67

Field BIndweed • 32

Fireweed • 23

Fragrant Water Lily • 44

Fringed Gentian • 4

Fringed Polygala • 1

Fringed Purple Orchid • 30

Goatsbeard • 35

Grass Pink • 5

Grass-of-Parnassus • 14

Great Lobelia • 25

Hairy Vetch • 44

Harebell • 62

Hedge Bindweed • 47

Hoary Allysum • 53

Honesty • 60

Horsemint • 46

Indian Paintbrush • 8

Indian Pipe • 2

Indian Tobacco • 40

Jack-in-the-Pulpit • 71

Lady's Thumb • 42

Leadplant • 17

Moth Mullein, yellow & white • 6

Mouse-ear Chickweed • 57

Musk Mallow • 29

Musk Mallow - Pink • 69

Nodding Ladies' Tresses • 13

Obediant Plant • 48

Orange Hawkweed • 39

Ox-eye Daisy • 60

Pearly Everlasting • 47

Pickerelweed • 22

Pine Hyacinth • 64

Pink Mullein • 13

Pipsissewa • 46

Pitcher Plant • 25

Prairie Blazing Star • 65

Prairie Coneflower • 56

Purple Gerardia • 20

Purple Loosestrife • 27

Purslane • 50

Queen Anne's Lace • 52

Rattlesnake Master • 65

Red Clover • 50

Rough-fruited Cinqefoil • 37

Round-leaf Sundew • 9

Saint Peterswort • 52

Self-Heal • 43

Shinleaf • 3

Showy Lady's Slipper • 4

Silverweed • 33

Skunk Cabbage • 55

Smooth Rose • 7

Sneezeweed • 64

Sow Thistle • 54

Spotted Jewelweed • 21

Spotted Joe Pye Weed • 66

Spotted Knapweed • 61

Spreading Dogbane • 67

Staghorn Sumac • 61

Starflower • 39

Starry False Solomon's Seal • 33

Storksbill • 59

Striped Coralroot • 16

Swamp Candles • 14

Swamp Dewberry • 16

Swamp Milkweed • 53

Tall Meadow Rue • 69

Teaberry • 12

Teasel • 15

Thimbleberry • 37

Trillium • 70

Trout Lily • 12

Tufted Loosestrife • 48

Turtlehead • 1

Twinflower • 36

Viper's Bugloss • 51

Virgin's Bower • 71

Water Hemlock • 3

White Wood Aster • 68

Wild Basil • 22

Wild Begamot • 18

Wild Strawberry • 42

Winter Cress • 58

Woodland Sunflower • 66

Wood Lily Sunflower • 19

Yellow Lady's Slipper • 28

Yellow Pond Lily • 12

Yellow Sweet Clover • 55

&nbsp

&nbsp

---