---
| | | |
| --- | --- | --- |
| | Music & Art | |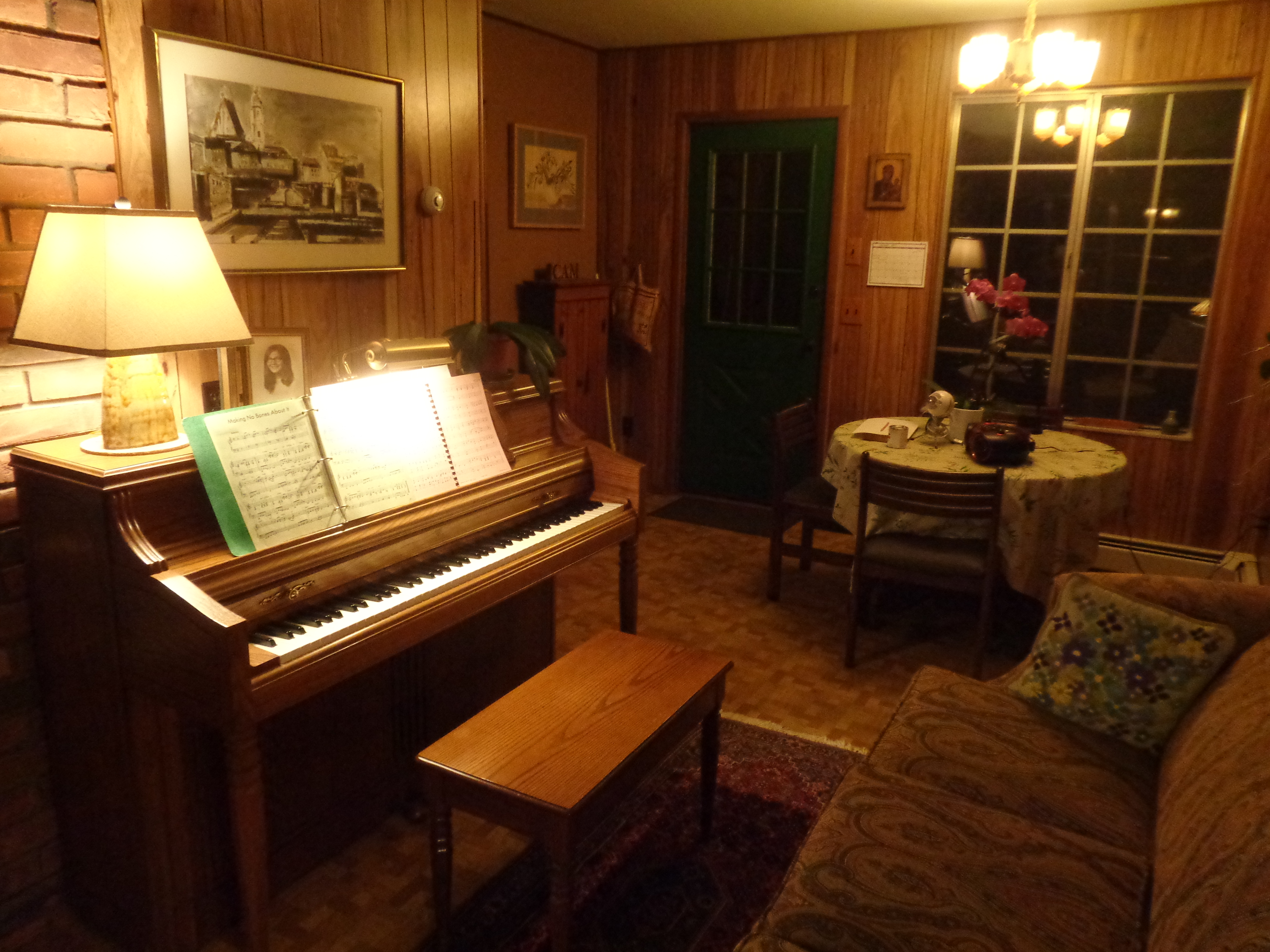 December 19th, 2017 &nbsp This is the first that I have written on this page in a long long time. &nbsp Now that I am living in two cities, I own two pianos. &nbsp Here is my Ann Arbor keyboard - a console-size Wurlitzer - which was moved here from the Mrozowski home in Grosse Pointe Woods. &nbsp It gets played by me every single day that I am in Ann Arbor (which is most days). &nbsp With no neighbors to bother, I can play the piano as much as I want, and whenever I want, so it's a rare day when I don't play for at least an hour before I go to bed. &nbsp This wurly has a soft, warm sound, that I truly enjoy. &nbsp In fact, now I find that my Detroit piano sounds overly loud in comparison. &nbsp Unfortunately, the piano has begun to lose its tune fairly rapidly. &nbsp I have had it tuned by Chris Grapentine twice this year, and already it is horribly out of tune again. &nbsp I suspect the culprit is the climate on the window-covered porch where the piano resides. &nbsp The porch has it's own independent thermostat which I keep between 62 and 67 degrees depending on whether I am in Ann Arbor or not. &nbsp The heat is baseboard with hot-water pipes. &nbsp It's a closed system, so no moisture is put into the air. &nbsp Could that be the problem??? &nbsp Oh, well, it won't stop me from playing all the time. &nbsp The porch is a wonderful place to hang out, and I love playing music there. &nbsp The space is flooded with light and there are great views in all directions. &nbsp On the table under the orchids sits the ball microphone with which I had hoped to record myself playing some of my transcriptions which are mentioned farther down the page. &nbsp Then I would figure out the HTML code to allow that music to play if you were to click on a button on the page. &nbsp Well, not now! &nbsp No out-of-tune piano demonstrations from me. &nbsp Guess I better take that mike to Detroit and record there! &nbsp Meanwhile, I think I'll go play right now. &nbsp Oops, it's 2:35 am. &nbsp So what!
---
At the age of eight I began piano lessons and the study of music theory through the Karl Haas Studios. &nbsp My teacher was Edward Higbee. &nbsp In the beginning, we had a little red piano that only had 64 keys - two less octaves than normal. &nbsp That fact messed me up at my very first recital. &nbsp The students of several piano teachers gave a recital in the carriage house of Smiley Brothers Pianos at Woodward and Ferry. &nbsp When it was my turn, I walked up to the grand piano and promptly began playing my first piece one octave too low. &nbsp I had counted off from the left edge of the keyboard. &nbsp I knew it didn't sound right, so I started over an octave higher. &nbsp We replaced the little piano with a Bush & Lane baby grand, and eventually replaced that with a Steinway baby grand. &nbsp It was a great piano, though the stiff action of a Steinway was a challenge for my fingers. &nbsp After a couple years, Lex started up lessons, too. &nbsp Mr. Higbee used to come to our house once a week after school. &nbsp We were supposed to practice every day, and I actually did play the piano quite a bit every day, but it was usually what I wanted to play. &nbsp The whole week's lesson practice would typically take place the half hour before the piano lesson itself. &nbsp Mr. Higbee was a good teacher, but he had a couple of annoying habits. &nbsp He would keep time to what I was playing by tapping a pencil on the piano, but when I messed up he would keep time with the pencil on the top of my head instead. &nbsp Other times he would count the time out aloud with a mouth full of a chocolate. &nbsp He liked Hershey's miniatures, and my mom would keep a supply for him by the piano. &nbsp I figured out which variety he liked the most, and one time I slid the covers off the little chocolate bars and switched them so he would select the kind he didn't like. &nbsp Lex liked to play piano, too, and we were always competing for piano time to play anything-but-our-lessons. &nbsp Our rule was whoever sat on the piano bench first got to play. &nbsp Often we would race to the piano bench. &nbsp One time I took a flying leap onto the bench and crashed loudly to the floor as both sets of legs broke off sideways. &nbsp Only Alexis and I found that funny.

I continued my studies for over ten years until I went off to college at the University of Michigan. &nbsp While at U of M, I took two music theory classes, and I was introduced to jazz by my good friend, Mike Reed, who is now an illustrator of children's books. &nbsp Mike brought a record to my dorm room, played Little Rootie-Tootie for me, and I instantly fell in love with the crazy music of Thelonius Monk. &nbsp He has remained my favorite jazz composer since. &nbsp Besides jazz, I like classical music, operatic music, and the "classic" rock &AMP roll that I grew up with. &nbsp Above are pictures of me and Lex at the Steinway on Hildale. &nbsp Below is my cousin, Greg, at the same piano, and Mike Reed at his place in Minneapolis, where I visited him twice. &nbsp At U of M in the Adams House lounge of West Quad, Mike and I would hack our way through four-hand music at the piano. &nbsp I remember attempting the choral movement of Beethoven's Ninth, and the (usually) beautiful first movement of Brahms Fourth. &nbsp On my links page is a link to Mike's website where you can see his awesome drawings.
My favorite classical composers are J. S. Bach, Chopin, Beethoven, and Brahms, more or less in that order. &nbsp My favorite symphonies are: Brahms' 4th & 2nd, Tchaivoksky's 6th and 2nd, and the Nutcracker, Schostakovich's 9th, Mahler's 5th, Beethoven's 9th, Mozart's 40th and Haydn's 49th. &nbsp I also like the Requiems of Duruflé and Verdi, Chopin's preludes, and too much to mention by Bach.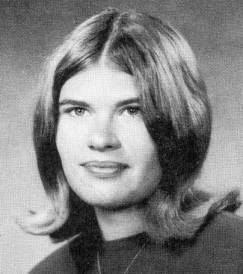 My introductions to various classical works have come from many sources. &nbsp Of all places, it was on the Fragile album by the rock group, Yes, that I first heard a keyboard version of the third movement of Brahms' Fourth Symphony, and was thereby introduced to what has become my favorite symphony. &nbsp Movies have exposed me to some beautiful music, particularly the movies of Ingmar Bergman, one of my favorite directors. &nbsp I became acquainted with the Schumann Piano Quintet, and the D-minor Suite for Unaccompanied Cello by J. S. Bach from watching (listening to) Bergman movies. &nbsp At U of M in 1971, my English-major girlfriend, beautiful Charlene Crittenden, dragged me to a movie that I never would have seen on my own - Visconti's Death in Venice. &nbsp It actually was a great movie, and now I can't listen to the hauntingly beautiful Adagietto of Mahler's Fifth Symphony without thinking about that movie (and Charlene.)
My two favorite pop composers are Paul McCartney and Stevie Wonder. &nbsp Other favorite composers and arrangers include Gino Vanelli, Duke Ellington, Richard Rogers, Dave Brubeck, Frank Zappa, Peter Schickele, and Herbie Hancock (if I had to name an all-time favorite jazz piece it would have to be his Spiraling Prism.) &nbsp In between all the weirdness, the late Frank Zappa was a brilliant composer and musician. &nbsp Little Umbrellas from his Hot Rats album is another of my favorite jazz pieces.
---
Concerts
July 13th, 2012 &nbsp With my bike riding pal, Kathy, I went to the DIA for a Friday evening dinner, and afterwards stumbled upon a truly great concert upstairs in the Diego Rivera Court. &nbsp As soon as we got to the second level, we were drawn by the intriguing music, and ended up staying for the entire performance which was a whole lot of fun. &nbsp The musicians were three young men from Quebec known as De Temps Antan. &nbsp All three of them used their feet to play some unuusual percussion devices, and their main instruments were fiddle, guitar and accordian. &nbsp Their music sometimes sounded Irish. &nbsp Click here for their website, and then watch one or two of the videos of their performances. &nbsp Great stuff!
Over the years I have attended some great concerts. &nbsp Ones that come immediately to mind are Cream at Olympia, Ahmad Jamal at Baker's and The Mothers at Ford Auditorium (of all places.) &nbsp Actually, I have seen Frank Zappa and/or the Mothers at least five times - including one time when they didn't show and were replaced at the last second with the Art Ensemble of Chicago. &nbsp The earliest concert I can recall was from my teen years. &nbsp It took place at the Coliseum at The Michigan State Fairgrounds. &nbsp The concert was a thank-you for teenagers who collected money for ALSAC, the Danny Thomas charity. &nbsp We got to hear Gino Washington (anybody remember him?) sing Gino is a Coward, and Martha and the Vandellas sing their brand new Heat Wave. &nbsp Since then, I have attended concerts at Pine Knob, Meadowbrook, Music Hall, Fox Theatre, Orchestra Hall, Masonic Temple, Ford Auditorium, Joe Louis Arena, Michigan Stadium, Crisler Arena, Olympia Stadium, numerous bars, Hill Auditorium, Seligman Performing Arts Center, Cobo Arena, Latin Quarter, Punch and Judy, Alexander's, The Roostertail, Bert's Place, Rapa House, Chene Park, Macomb Center for Perfoming Arts, Redford Theatre, Rackham Auditorium (a heavenly place to hear music) and Baker's Keyboard Lounge, where I have been so many times (mostly with my sister, Alexis) that they ought to name a booth after me.
| | |
| --- | --- |
| | Every Labor Day weekend, Hart Plaza in downtown Detroit abounds with free jazz concerts - both local and international talent. &nbsp Some years I have practically lived on the plaza - going all four days. &nbsp I have heard countless sets of great music there by too many groups to possibly remember. &nbsp One such group whose name I don't remember had a Latin flavor and was really hot, hot, hot. &nbsp When the saxophonist flipped his sax up in the air and started playing it upside down - the audience went wild. |
| | |
| --- | --- |
| Some of the rockers I've heard are Rush, America, Cat Stevens, Cream, Heart, Kansas, Bob Dylan, Jefferson Airplane, Frank Zappa, Spirit, Southbound Freeway, The Band, Gino Vannelli, SRC, Traffic, Stevie Wonder, Triumph, and Gordon Lightfoot singing his then brand new The Wreck of the Edmund Fitzgerald. &nbsp The jazz artists I've heard include Dave Brubeck, Hugh Masekela, Leon Thomas, Herbie Hancock, Larry Carlton, Ahmad Jamal, Manhattan Transfer, Gil Scott-Heron, Chick Corea, Jean-Luc Ponty, Charles Green, Milt Jackson, Mark Murphy, Michael Franks, Roy Ayers, Pharoh Sanders, Yusef Lateef, Mose Allison, Richie Cole, Sonny Stitt, Marian McPartland, Sir Roland Hanna, Besse Bonnier, McCoy Tyner, Wayne Shorter, Toots Thielemans, excellent local pianists, Gary Schunk, and Cliff Monear, and Polish violinist, Michael Urbaniak (playing at Baker's). | |
When it comes to classical music, I have attended too many concerts to catalog. &nbsp Starting with all the free concerts that I enjoyed courtesy of U of M's School of Music, I have heard everything from chamber music to electronic, and loved it all. &nbsp It should be no surprise that the symphony I have heard performed most often is my favorite - Brahm's Fourth. &nbsp One other sort of music that I have come to appreciate is the operatic, thanks to my ex-wife, Theresa, who introduced me. &nbsp My first opera was the obscure King Roger at the Masonic Temple in 1995, I think. &nbsp With the exception of one year, I've had season tickets since the MOT moved into the Opera House in 1995. &nbsp I have truly become an opera fan. &nbsp Also at the Opera House, I attended the production of the musical, Wicked. &nbsp It was thoroughly enjoyable and I highly recommend it.
---
My Keyboards
| | |
| --- | --- |
| | |
| The first piano I bought was used, and I don't even remember the manufacturer. &nbsp In the late seventies, my piano tuner, the late Mr. Zech, was trying to get a franchise and sold me the piano I still use today - the Mason Hamlin pictured above. &nbsp I love my little piano. &nbsp I love its sound and the feel of its action. &nbsp I now have an adjustable leather Steinway bench I use with it (a gift from my first wife, Kathie.) &nbsp I'm a happy boy if I can do just two things every day: &nbsp ride my bike and play my piano. | I bought this Roland Digital Harpsichord in 1988 at Arnoldt Williams, that wonderful keyboard store in Canton. &nbsp I liked it when the store was in a big house. &nbsp Sad to say, the store is now gone. &nbsp This harpsichord has a super-realistic sound. &nbsp The keyboard even has the click sound of a real harpsichord when each key is released. &nbsp It is fun to play, but like most electronic keyboards requires more precision than a piano. |
| | |
| Once I got my subscription to Popular Electronics and started ordering kits from them, I would set up a workbench wherever I lived. &nbsp Even the desk in my college dorm room was not exempt. &nbsp Also on the desk you can see the TTL Data Book for Design Engineers, my beloved Sony tape deck and my Kenwood reciever and amp. &nbsp Inside the amplifier, I added a second capacitor to the power supply circuit - the largest that I could stuff under the amplifier's cover. &nbsp Doing so actually improved the bass! | When Eμ Systems was in it's infancy, I started buying their modules and built the mini synthesizer in the picture on the left. &nbsp Eventually, as I added more modules, I built a more elaborate instrument and bought a mono keyboard to go with it. &nbsp The cabinets for both synthesizers were designed and fabricated by me. &nbsp I got a metal shop to fold the aluminum for the smaller version. &nbsp In the background appears my home-made sequencer with digital readout. &nbsp I actually etched a two-sided circuit board for it. &nbsp The sequencer could store up to 1024 notes ranging up to five octaves and sixteen units of duration. &nbsp All proramming had to be done binarily with toggle switches. &nbsp I programmed in all 165 notes of the left-hand part of the F# prelude from Bach's Well-Tempered Clavier. &nbsp I played the sequencer through the sythesizer, as I played the right-hand part on the keyboard - half speed, and one octave lower than normal. &nbsp Meanwhile I recorded it at 3.75 ips. &nbsp When I played it back at 7.5 ips, it really sounded great. |
| | |
| The Roland Jazz Chorus 160 - one of those items that as soon as I had sold it, I wished I hadn't. &nbsp When I began an extremely brief career playing keyboards in a garage band, I bought this amplifier at Arnoldt Williams. &nbsp Tim Bennett, who worked in the warehouse at my family's business, played lead guitar in a group that was looking for a keyboard player. &nbsp I took on that role, and the five of us actually played at a couple parties. &nbsp The keyboard I was using for those gigs was a Roland Orchestrator. &nbsp Wish I still had that, too. &nbsp On the back burner is a plan to buy some sort of electronic keyboard just for fun. &nbsp I really want one with a B-3 emulator and a realistic Leslie Speaker sound, too. &nbsp I know that it would not come cheap, but I might go as high as two grand to get something good. | This picture of my workbench was taken in the livingroom of my first apartment in Lafayette Towers. &nbsp Even though I never made electrical engineering my career, it was certainly something that I practiced. &nbsp The blue instrument was my Tectronix dual-trace 'scope. &nbsp The two boxes of drawers (only one appears in this photo) held a large assortment of electronic parts, including many different TTL chips. &nbsp I loved designing logic circuits and used a breadboarding device of my own design and construction. &nbsp I developed my own process for producing printed circuitboards. &nbsp I would lay out my circuit on 10-to-the-inch graph paper (because that was the spacing of the IC pins), tape the paper to my copper-clad board, use a center punch to mark all the holes to be drilled, drill the tiny holes with a drill bit smaller than one-sixteenth, then I would use fingernail polish to paint a mirror image of the circuit on the bottom of the circuit board. &nbsp The board would be placed in a plastic tray containing ferric chloride (I still have the five-gallon can I bought from a chemical company decades ago.) &nbsp Once the copper was eaten off the board, I would use acetone to remove the fingernail polish and solder on all of the components. &nbsp I constructed many projects that used my home-made circuitboards. &nbsp One such just-for-fun project built in a sherbet container is pictured below. &nbsp With the five-volt power suppy inside, and the round circuit board fitting snuggly on the ledge just inside the top, I was proud of both the mechanics and the electronics of this useless - but fun - flashing light thing. |
---
My Transcriptions
Circa 1968, my parents bought me my first piece of audio equipment - a Sony 7½" reel-to-reel tape deck with three recording speeds. &nbsp I would sit my tape deck next to me on the piano bench, plug in my David Clark headphones, and begin transribing music by listening over and over to small segments of the music - frequently playing it at half-speed (which dropped the pitch exactly one octave.) &nbsp Transcribing music has always been a long, tedious job, but it has allowed me to learn to play music on the piano for which sheet music was not available. &nbsp You can see my headphones on the floor next to my piano, above.

Click here to print a page of blank sheet music that I designed using Microsoft Word.

If you would like a copy of any of my piano transcriptions, you may order from the list below. &nbsp The music will be printed on card stock and mailed in a 9 x 12 envelope. &nbsp The total cost for each transcription, including postage, is five dollars.
---
Christmas Carols
The following Carols are transcribed from the exquisitely beautiful album, NOËL, by Joan Baez. &nbsp The talented Peter Schickele arranged and conducted the music of this album. &nbsp When I saw him in concert as P. D. Q. Bach at Music Hall, he started his show by swinging down to the stage on a rope from the first private box!

Bring a Torch, Jeanette, Isabella &nbsp (1 page) &nbsp As much a song of rhythm as of melody, the French Carol is here arranged by Schickele as a short interlude, beginning and ending in the subdominant key of G.

Carol of the Birds &nbsp (2 pages) &nbsp My arrangement of this Catalonian Carol is a blend of two other arrangements. &nbsp For the most part I used my transcription of the hauntingly beautiful version on the album NOËL. &nbsp Every time I play this arrangement, the B-major chord in the fourteenth measure sends chills down my spine.

Mary's Wandering &nbsp (1 page) &nbsp A traditional German Carol.
---
Guitar Music
These transcriptions are taken from the albums, More Virtuoso Music for Guitar and The Art of the Spanish Guitar, by the exceptionally talented guitarist, John Williams (not to be confused with the composer/conductor of the same name.) &nbsp I recommend that you listen to the albums to get the rhythms, tempos, and pacing of the rolled chords.

La Maja de Goya &nbsp (2 pages) &nbsp I like to play this piece using the lute setting on my Roland digital harpsichord, but it sounds great on piano, too.

La Pastora &nbsp (2 pages) &nbsp By Federico Torroba, this dreamy ballad sounds just great on the piano.

Prelude &nbsp (5 pages) &nbsp Undated, and written for an unspecified instrument by J. S. Bach (BWV 998), transcrbed for guitar by Andrés Segovia, played on guitar by virtuoso guitarist, John Williams, and finally transcribed by me. &nbsp It's a lovely flowing piece that's easy to play. &nbsp I have also transcribed the third movement.
---
Classical Music
Prelude in B minor &nbsp (4 pages) &nbsp This is a condensed version of J. S. Bach's organ prelude BWV 544. &nbsp Somehow or another I stumbled upon a high A-sharp that let me jump smoothly from the beginning to the end of the prelude, creating a short show-piece that sounds just great on the piano. &nbsp I'm proud to say that every note of every voice in the organ version is present and playable in my abbreviated arrangement.
---
Thelonius Monk
Ask Me Now &nbsp (2 pages) &nbsp This Monk composition has a nice little variation in the rhythm of the melody. &nbsp Be sure to listen to a Monk recording of it. &nbsp The third A of the AABA is my own arrangement, and I wrote the little coda, too.
Reflections &nbsp (2 pages) &nbsp In the transition to the B section I snuck in the theme of another great Monk compositison, Thelonious.
Ruby, My Dear &nbsp (2 pages)&nbsp A Monk classic. &nbsp It took so long to get the chords just right in the second measure. &nbsp The ending is fun to play.
Sweet and Lovely &nbsp (4 pages) &nbsp This is Thelonius Monk's version of the standard tune. &nbsp I just love Monk's sense of humor with those crashing dissonnant chords that accompany the second statement of the "sweet and lovely" melody. &nbsp In Monk's brilliant coda (which mirrors his intro) the chords seem to go berserk. &nbsp It gets me emotional every time I play it. &nbsp I am not quite finished transcribing the piece yet.
Ugly Beauty &nbsp (2 pages) &nbsp Listen to Monk play it to get the feeling for the rhythm. &nbsp I like the chords at the end of the B section, and the closing chords.
---
Jazz & Popular Music
Creepin' &nbsp (2 pages) &nbsp One of my favorite songs by Stevie Wonder. &nbsp I composed the short ending.

DC Farewell &nbsp (2 pages) &nbsp A funky ballad written by saxophonist, Richie Cole. &nbsp I transcribed it from an album by the vocal group, Rare Silk. &nbsp It starts off in A-flat and ends up in the key of A.

The Duke &nbsp (3 pages) &nbsp This is just an awesome tune be Dave Brubeck. &nbsp I have made extensive modifications to some existing sheet music.

Memory of Minnie &nbsp (4 pages) &nbsp This instrumental piece is just a great collection of chords and melody from the talented flute player, Hubert Laws. &nbsp The ending was written by me.

Storm at Sunup &nbsp (1 page) &nbsp It was about 2:00 AM on a Saturday in May of 1977. &nbsp I had been riding around Belle Isle for over twelve hours in the Woverine Marathon accompanied by my U of M buddy, Neal Clinthorne. &nbsp We were both fading fast. &nbsp The FM radio clamped to my handlebars was tuned to that station that I miss so dearly: &nbsp WJZZ. &nbsp Those were the days when you could listen to the jazz on 'JZZ for days and not hear the same song twice. &nbsp Anyway, a song came on that had a long frenetic saxophone solo over a fast, strong beat. &nbsp It energized us to speed up and keep riding. &nbsp I asked Neal if he knew who it was, and he said the voice sounded like Gino Vannelli. &nbsp I had never even heard his name, but I quickly fell in love with Gino's songs and their awesome chord progressions. &nbsp I never get tired of listening to him sing. &nbsp This transcription is just one time through the main melody, but it's worth the trip. &nbsp As a bonus, on the same sheet is the brief melody of Fall by Wayne Shorter.

Sugar &nbsp (4 pages) &nbsp I used the group Rare Silk's vocal recording of this Stanley Turrentine classic for my transcription. &nbsp
---
Vinyl Records for Sale
| | | |
| --- | --- | --- |
| | This extremely rare album was the only early Beatles album that was not produced by Capitol Records. &nbsp Click here for a link to a website devoted strictly to this album. &nbsp There is detailed information on how to determine whether a copy of this album is a fake or authentic. &nbsp There is also a history of the album and a price list for the many variations of Introducing the Beatles. My album cover and disk pass all the authenticity tests. &nbsp I bought the record as soon as it was released. &nbsp My version is mono, and I am asking $400 for it. | |
| | | |
| --- | --- | --- |
| | This is the first album by legendary Run DMC, and it is in perfect condition. &nbsp I am asking $75 for this classic. | |
---
Art
Photos coming.
---