So here are some pictures from my city - some new, and some old. &nbsp There is no theme or reason to them. &nbsp They are just random, to use the word that kids like to use today. &nbsp I would welcome any suggestions for additions if you know of anything unusual in the D.
I don't have to travel far from my home to get to a funky urban trail called the Dequindre Cut. Originally, it was one of several below-grade railroad corridors that serviced the warehouses and factories that used to dominate Detroit's riverfront area. &nbsp "The Ravine" as I refer to it, has now been transformed into a jogging and cycling trail that will connect to Detroit's popular RiverWalk. &nbsp Though it officially opened May 14th, 2009, I began riding my bicycle down in the Cut frequently as soon as it was paved in fall of 2008.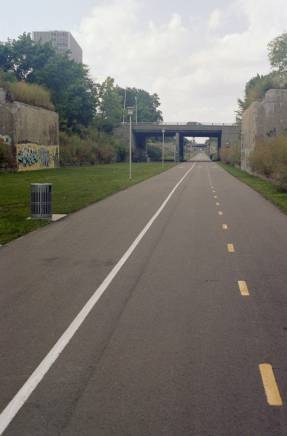 My previous home was in Hyde Park Cooperative - a stone's throw from the Cut. &nbsp In 1981, when I moved into Hyde Park Co-op, there was a commuter train operating between Pontiac and the Ren Cen, with a couple stops between. &nbsp Sometimes when I would ride my bike to work, that train would be rolling south in the Cut just as I turned south along St. Aubin, and I would race against the plume of smoke rising up from the ravine. &nbsp After those days, the tracks sat unused for more than a decade.
In the last several years there had been talk about "doing something" with the unused railroad right-of-way. &nbsp That prompted me to ride my bike through the cut on a number of occassions to observe for myself what any clean-up might entail. &nbsp I would ride from Mack Avenue down to Woodbridge Street, and the ride was not one for the faint-hearted. &nbsp There were lots of places where the large loose gravel made it almost impossible to ride. &nbsp It took all of my strength in low gear on the mountain bike to keep rolling. &nbsp Then there were people living under some of the overpasses, the occasional wild dog, debris that had been thrown off the overpasses to be dodged, and large patches of vegetation to circumnavigate. &nbsp What I especially liked about riding down in the Cut was the abundance of nature: &nbsp the wildflowers, the butterflies. &nbsp There was moth mullein growing down there, and tons of teasels - some seven feet tall. &nbsp Just as plentiful were the empty spray cans. &nbsp Someone could have done a good business by opening a paint store down there. &nbsp There were even abandoned paint rollers, extensions, and roller pans.
When it was announced that the ravine was to be turned into a jogging path, I bet (my now ex) Theresa fifty dollars that the ravine wouldn't be turned into anything during our lifetimes. &nbsp Any project in the Dequindre Cut was doomed to be a "black hole" for money (as is indeed currently the case.) &nbsp The Dequindre Cut project is woefully underfunded. &nbsp Ugly fences remain on the topside, the project's "landscaping" is almost non-existent, but inspite of all that, the Cut is something to be proud of. &nbsp It is to the credit of the planners that this phase of the project has been completed. &nbsp Looking down into the Cut from the overpasses, it does look sort of impressive, and I did pay Theresa.
Using Microsoft EXCEL, I designed a diagram of the Cut. &nbsp It's not perfectly to scale, but it's close enough.&nbsp The diagram shows the bridges with their names, and the abutments of former brigdes which I numbered for convenience of reference. It prints on two 8½ X 11 pages. &nbsp You can trim the border of one page, tape the pages together, and laminate it for a nice reference. &nbsp Diagram &nbsp I have recently updated the diagram, and included indications of the four bridge abutments which have fencing around them.
Once the Cut was open for business, whenever anyone would ask my opinion of it, I always answered that I considered it a novelty - not really useful to me. &nbsp Now that I have used the Cut for winter riding on several occasions when a trip to Belle Isle would have been too snowy, I have had to revise my condescending opinion of that subterranean path. &nbsp It seems that the Cut's roadway is cleaned off quickly after snowfalls, even larger ones. &nbsp It is courtesy of the Cut that my days of riding in January and February have been so high. &nbsp I used the nicely accurate odometer of the Sierra to measure the length of the Cut in its current state of completion. &nbsp From my house to the bottom of the Lafayette down ramp is 0.52 miles. &nbsp The round trip from Woodbridge Street to the top of the Gratiot down ramp, and back, is 1.85 miles. &nbsp To cover the 11.6 miles of my Belle Isle rides, I have to ride at least six laps of the Cut. &nbsp Along with the ride there and back, that's 12.14 miles. &nbsp It might be a little boring riding back and forth, but in the winter, at least, it's like a private road.