---

— My Detroit —
I have lived in Detroit all my life since I was born at Mt. Carmel Hospital. &nbsp The time I spent in Ann Arbor attending U of M doesn't count, because I maintained my official address and voted in Detroit the whole time. &nbsp As soon as I turned eighteen, I voted for the first time in Emmanuael Episcopal Church on John R, two blocks from my house. &nbsp In college, I voted by absentee ballot when necessary. &nbsp Since turning eighteen, I have not missed a single election or caucus of any type to this day. &nbsp Now that everything is computerized, I miss seeing my voter card when I vote. &nbsp It would be just covered with little stamps from all the times I had voted.
So here are some pictures from my city - some new, and some old. &nbsp There is no theme or reason to them. &nbsp They are just random, to use the word that kids like to use today. &nbsp I would welcome any suggestions for additions if you know of anything unusual in the D.
Oxymoron

A store where even the chips are down?

Clang, clang, clang . . .

. . . went the trolley. &nbsp Push, push, push went the driver of the stalled car. &nbsp Actually, the funniest aspect of this picture is that the driver of the other car would pull up behind a guy pushing his car instead of going around him in the the other lane.
---
My Beacon

For many years the Strohs sign was a friendly landmark
guiding me down I-75 to my home.

Which is it?

This motel was on McNichols between City Airport and Mt. Olivet Cemetery. &nbsp I'm just trying to figure out which sign to believe.
---
Family

Once upon a time there was this lady who was really proud of her son, the architect.

Family

I photographed the fall of Detroit Edison's "seven sisters" from the far end of Blue Heron Lagoon on Belle Isle. &nbsp About three seconds after I snapped this shot, the entire scene was invisible due to the dust which billowed up into the atmosphere.
---
You can see what shape Detroit is in

What are those strange looking creatures giving each other high-fives with sound effects? &nbsp They look like magenta LEDs. &nbsp Are they the future population of our city?

The strange demographics of the Warehouse District
---
Theatre

This was such a cool looking building - I even liked the title font on the signs.

After Hours

At Rapa House, musical jam sessions usually started around 2 o'clock in the morning when the musicians would arrive from their real gigs. &nbsp I recall a couple of times when I went to bed early and set my alarm clock to get back up around 1:30 to go listen to that great music.
---
Ernie

Take this as a sign that Ernie Harwell had as many fans as the Tigers did. &nbsp (Ernie died on May 4, 2010.)

Stella

For decades she was Greektown's resident resident. &nbsp (Stella Perris died on January 16, 2010.)
---
Sign of Intelligence

Driving down Mack always means coming under the gaze of this cow atop an abandoned ice cream stand. &nbsp I wish I could have seen what he looked like at night, illuminated by the twin spot lights above his head.

"The Doll House"

Even though looking at this house on Mt. Elliott always gave me the creeps, I miss it. &nbsp I still considered it to be Tyree Guyton's best work ever.

Guyton is well known for his Heidelberg Street Project where he has decorated abandoned houses, trees, sidewalks and fields with "found" items and lots of colorful paint to the dismay of neighbors and the delight of visitors.
---
Knock on wood

I find it so amazing that there are still sections of Detroit where old wooden poles support the street lights. &nbsp How old are those poles?

Sad Story

Behind every street-side memorial lies a sad story, and I always wonder what that story is. &nbsp I hate it when a child gets hurt.
---
Church Offices relocated to Heidelberg Street

Imagine my surprise to find an old sign from my own church on Heidelberg. &nbsp Using the same title as above, I composed a tongue-in-cheek story about why Christ Church had chosen to move it's offices, and posted it along with this picture on the bulletin board in the parish hall. &nbsp The office staff promptly removed my little story because they were concerned that some parishioners might get confused and think the story was actually true.

I figured anybody who took my satirical article seriously deserved to go knocking at 1647 Heidelberg Street.

"Adaptive Reuse"

Ever wonder whether those wedding cakes in the windows of bakeries are real? &nbsp Here, on Chene, across from the post office, is your chance to find out. &nbsp To me these specimens look liked painted cardboard, but hey, check them out for yourself - there's no glass in the windows. &nbsp It all looks a little too much like Tyree Guyton's handywork.
---
Don't Move

This guy had decades to draw Wayne State's Mackenzie Hall, but no, he had to wait until they were about to blow up the building and do a rush job. &nbsp Actually, that was a clever idea, and the painting was quite nice. &nbsp About 90 seconds after I snapped this photo, the building was reduced to a pile of bricks and clouds of dust. &nbsp The long fire-escape stairway on the left of the building crashed dramatically down in one piece, stretching a long ways from the site.

Facade Improvement

I always wondered whether those were the waitresses or the patrons, but I wasn't about to find out.
---
Memories

Over the volleyball years, I spent countless hours with my friends at the Woodbridge. &nbsp We had lots of fun there, and lots of beer, of course. &nbsp Let's just say it was a good thing that the drive home was only a couple blocks.

When 4½ stars are just not enough

Don't look for it in the Fodor Guide to Detroit, but I always direct my out-of-town guests to the Hotel St. Aubin. &nbsp It's simple charm includes meals grilled and served under the canopy of the huge trees along side the house.
---
What next?

Quite a few years ago, I saw this freshly painted storefront on the six o'clock news. &nbsp I couldn't believe my eyes, so I grabbed my camera and drove to West Vernor to take a picture. &nbsp That paint job wasn't going to last until the next day, and even that would be too long! &nbsp Stupidity and hate seem to run together.

Would that be Howard Johnson's?

No - I don't see fried clams on their outdoor menu. &nbsp Some houses have porches on the front; others have stores. &nbsp I imagine that the neighbors must feel lucky to have a signature franchise on their block.
---
It was the best of garages . . .

Visible from E. Vernor, the house and the entire property looks attractive in white with red trim.

It was the worst of garages . . .

The painter of this sign should be arrested for having no sense of color whatsoever, and then booked on phonics.
---
You folks order the blubber pizza?

Okay, so maybe they aren't igloos, but with a white paint job and a fresh snow fall, I think we could make a case. &nbsp I ride by these domes every day to and from work. &nbsp Just recently someone started working on them. &nbsp It will be interesting to see what use they are put to.

Partyin' in the Projects

You can see the party tents from Oakwood Boulevard. &nbsp Who said that working in an oil refinery can't be fun? &nbsp Still, I think I'll pass on the heavy oil - make mine a Shirley Temple.
---
Is it Safe?

This little diner on West Vernor west of Clark is a magnet for police. &nbsp Makes me want to kick the door open and say, "This town ain't big enough for the both of us."

The Thin House

I first spotted this house when I worked in Delray more than twenty years ago. &nbsp I used a straight-on shot to show how thin it is, but looking at the house from an angle you would wonder how they could possibly have room for a stairway. &nbsp The house is on Melville Street between Harbaugh and Dearborn Avenue.
---
— My Grosse Pointe —
I travel into and through the Pointes often. &nbsp With shopping, dining, appointments, cycling, visiting my aunt, and what not, it's a rare week that I don't make my way to the east several times. &nbsp Thus, I figure that my familiarity with the five Grosse Pointes gives me the right to have my favorite street. &nbsp Actually, I have two of them.
Bishop Road

From Kercheval to Jefferson, this street has many beautiful houses, but so do many other nearby streets. &nbsp What sets Bishop apart are the two gentle S-curves, and the junction where its neighbor, Grayton, comes over to joint it. &nbsp In comparison, all the straight and rectangular blocks seem so ordinary. &nbsp The clincher is the gorgeous house in the picture above - the one with a roof unlike any other you've ever seen or ever will see. &nbsp The beautiful shade of green and the texture of that roof are simply awe inspiring.

Cloverly Lane

There are no sidewalks in front of the houses on Cloverly from Ridge Road to Grosse Pointe Boulevard. &nbsp That's because the sidewalk runs down the middle of the median through a corridor of large trees. &nbsp It's just too cool for words. &nbsp Beautiful houses and trees, too, make driving (or cycling) down Cloverly a visual treat.
---
— Signs —
If you know of a strange or funny sign in the Detroit area, please tell me where it is. &nbsp Thanks!
&nbsp
. . . April, June and November?

Don't think this park is going to be closing any time soon.

Micro-Management

When the people whose cars are parked ahead get in their cars and drive off, do they call the City and tell them to come and take down the sign?
---
Don't bother applying if you want to be hired !

I can put up with any misuse of the English language accept this. &nbsp This sign was displayed inside the door of a Little Caesar's. &nbsp Perhaps Caesar should skip English and stick to Latin?

SUV Mentality

Apparently, "Street Ends" is merely a suggestion for those drivers
who equate driving over a guard rail with a "bump".
---
In front of Saint Asphalt's Church

I forget, isn't Saint Asphalt the patron saint of parallel parking, or something? &nbsp Anyway just put your offering in the parking meter and have a blessed day!
---
— A Cut Below —
I don't have to travel far from my home to get to a funky urban trail called the Dequindre Cut. Originally, it was one of several below-grade railroad corridors that serviced the warehouses and factories that used to dominate Detroit's riverfront area. &nbsp "The Ravine" as I refer to it, has now been transformed into a jogging and cycling trail that will connect to Detroit's popular RiverWalk. &nbsp Though it officially opened May 14th, 2009, I began riding my bicycle down in the Cut frequently as soon as it was paved in fall of 2008.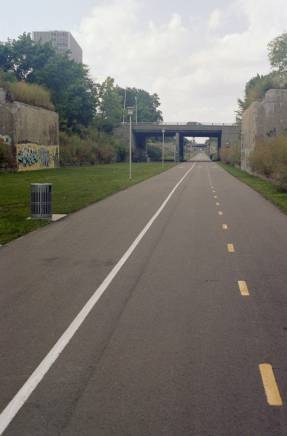 My previous home was in Hyde Park Cooperative - a stone's throw from the Cut. &nbsp In 1981, when I moved into Hyde Park Co-op, there was a commuter train operating between Pontiac and the Ren Cen, with a couple stops between. &nbsp Sometimes when I would ride my bike to work, that train would be rolling south in the Cut just as I turned south along St. Aubin, and I would race against the plume of smoke rising up from the ravine. &nbsp After those days, the tracks sat unused for more than a decade.
In the last several years there had been talk about "doing something" with the unused railroad right-of-way. &nbsp That prompted me to ride my bike through the cut on a number of occassions to observe for myself what any clean-up might entail. &nbsp I would ride from Mack Avenue down to Woodbridge Street, and the ride was not one for the faint-hearted. &nbsp There were lots of places where the large loose gravel made it almost impossible to ride. &nbsp It took all of my strength in low gear on the mountain bike to keep rolling. &nbsp Then there were people living under some of the overpasses, the occasional wild dog, debris that had been thrown off the overpasses to be dodged, and large patches of vegetation to circumnavigate. &nbsp What I especially liked about riding down in the Cut was the abundance of nature: &nbsp the wildflowers, the butterflies. &nbsp There was moth mullein growing down there, and tons of teasels - some seven feet tall. &nbsp Just as plentiful were the empty spray cans. &nbsp Someone could have done a good business by opening a paint store down there. &nbsp There were even abandoned paint rollers, extensions, and roller pans.
When it was announced that the ravine was to be turned into a jogging path, I bet (my now ex) Theresa fifty dollars that the ravine wouldn't be turned into anything during our lifetimes. &nbsp Any project in the Dequindre Cut was doomed to be a "black hole" for money (as is indeed currently the case.) &nbsp The Dequindre Cut project is woefully underfunded. &nbsp Ugly fences remain on the topside, the project's "landscaping" is almost non-existent, but inspite of all that, the Cut is something to be proud of. &nbsp It is to the credit of the planners that this phase of the project has been completed. &nbsp Looking down into the Cut from the overpasses, it does look sort of impressive, and I did pay Theresa.
Using Microsoft EXCEL, I have designed a diagram of the Cut. &nbsp It's not perfectly to scale, but it's close enough.&nbsp The diagram shows the bridges with their names, and the abutments of former brigdes which the historic names of the Detroit streets that used to cross there. &nbsp Diagram &nbsp I have recently updated the diagram to included the extended portion of the Cut.
Once the Cut was open for business, whenever anyone would ask my opinion of it, I always answered that I considered it a novelty - not really useful to me. &nbsp Now that I have used the Cut for winter riding on several occasions when a trip to Belle Isle would have been too snowy, I have had to revise my condescending opinion of that subterranean path. &nbsp It seems that the Cut's roadway is cleaned off quickly after snowfalls, even larger ones. &nbsp It is courtesy of the Cut that my days of riding in January and February have been so high. &nbsp I used the nicely accurate odometer of the Sierra to measure the length of the Cut in its current state of completion. &nbsp From my house to the bottom of the Lafayette down ramp is 0.52 miles. &nbsp The round trip from Woodbridge Street to the top of the Gratiot down ramp, and back, is 1.85 miles. &nbsp To cover the 11.6 miles of my Belle Isle rides, I have to ride at least six laps of the Cut. &nbsp Along with the ride there and back, that's 12.14 miles. &nbsp It might be a little boring riding back and forth, but in the winter, at least, it's like a private road.
---