&nbsp It was cold overnight, but by ride time I was able to wear shorts and long-sleeved shirt. &nbsp I put my pink short sleeve (which exactly matches the color of my bike) over the top. &nbsp Got lots of compliments on the bike and even some on the shirt. &nbsp. At 500 riders, it was the largest crowd yet. &nbsp We started on the waterfront in Windsor at 9 am and rode over and back on the Ambassador Bridge. &nbsp I broke a front spoke - an all to frequent occurence - on the way over to Detroit. &nbsp It was not an issue, really. &nbsp The twenty mile route that ensued was quite nice so the whole thing was a lot of fun. &nbsp I talked to a bunch of people. &nbsp Didn't try to pick up any girls this time, but I am sure I could have. &nbsp As much as I like riding alone, there is something to be said for organized rides, too.

8-5-14: &nbsp When I saw my son's bike in the living room, it made me think about now many bikes were in the house - seven - a new record. &nbsp There were my three; the Paramount, the Trek, and the Stingray, Nate's bike that he keeps at my house and the one from his mom's, and Cami's new bike that I have been working on. &nbsp It's a good thing that I have a huge basement. &nbsp Speaking of working on bikes, I spontaneously decided to touch up the pink paint on the Paramount since I still had a spray can with a bunch (I thought) of paint. &nbsp I took the bike all apart, but I didn't take the parts apart. &nbsp Since I wasn't changing the color, I didn't sand down to bare metal; I just used fine steel wool to get off any dirt and grease. &nbsp I painted the fork on Monday and I am painting the frame today. &nbsp I decided I had put on enough coats when the spray can started running out. &nbsp After it dries for a couple days comes the fun part - putting it back together without scratching the paint, especially the bottom bracket.

Sunday, the 29th of June: &nbsp My first 50 mile ride of the year, and I couldn't have picked a worse wind to ride through. It was strong out of the south and slowing me down, oh, about 80% of the time. &nbsp Only the ride out Gratiot to Martin (11½ Mile) was fun, and that was at the beginning. &nbsp The rest was laborious, but still you know I enjoyed that accomplishment. &nbsp On the way home I cut onto Belle Isle and did a variety of lap routes. &nbsp Still a little short, I did one lap in the Dequindre Cut to finish it off at 50.5 miles. &nbsp Oh yeah, it was very hot and sunny and sticky, too. &nbsp I almost wished I had taken water with me - almost.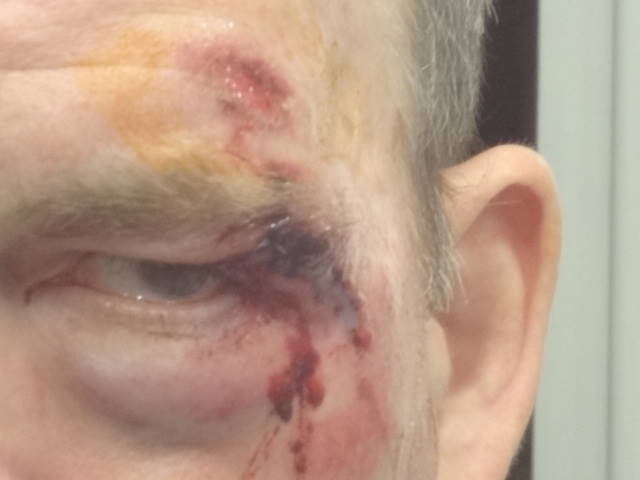 Tuesday, May 20th &nbsp &nbsp What should have been a five-minute bike ride to a neighborhood meeting which was being held at a church in Eastern Market quickly turned into an eight-hour session at the E.R. of Henry Ford Hospital. &nbsp Running a little late, I was on the Trek moving fast - north on Russell, then west on Wilkins. &nbsp Not remembering whether I needed to turn on the first or on the second side street, when the church's steeple suddenly came into view up Rivard, I whipped around the corner onto what had always been a paved street. &nbsp Only this time the end of the street was that dusty gray gravel that you couldn't even identify looking from the side. &nbsp The way I found out it was gravel was when my bike flew out from under me and my body which was traveling close to twenty mph slid to a stop on that gravel. &nbsp I was wearing shorts and a light jacket. &nbsp The last part to hit the road was my helmet and the side of my face. &nbsp I immediately stood up and couldn't help but notice that blood was sort of raining down from my face. &nbsp Out of the corner of my right eye I could see something that didn't belong there - like skin hanging down, no doubt. &nbsp A quick inspection of my bike showed that the front brake was rubbing a bit - no other problems. &nbsp Right across Rivard, a lady had stopped in her car and kept pointing out to me that I had dropped my tissue pack - she must have said it three times. &nbsp Here I was bleeding to death and she was worried I might lose my tissue pack. &nbsp I almost had to laugh. &nbsp My neighbor, who was right behind me in his car, insisted on giving me a ride home even though I was ready to get back on the bike. &nbsp At home I jumped into the shower to wash off all the dust. &nbsp I didnt dare touch my face - I didn't even look at it in the mirror. &nbsp I drove down to the corner store, retrieved my son who works there, and he drove me to the hospital. &nbsp They x-rayed my right knee which had some serious road burn, and my right hand which had swelled to twice its normal thickness. &nbsp Actually both hands were sore and swollen, and my right shoulder was a little scraped up (the jacket helped). &nbsp They did a CAT-scan of my face and gave me a tetanus shot, but I would have gladly traded twenty tetanus shots for all those shots in my face to numb me up - they hurt like hell. &nbsp Then there was the sewing through my skin right next to my eye - that was no picnic, either. &nbsp Still, it could have been worse, and I thank God that it wasn't. &nbsp The doctor was calm and gave me confidence that time would heal even this wound. &nbsp Wednesday and Thursday I stayed home from work, but I was riding again on Wednesday. &nbsp Far be it from me to allow a major trauma to interrupt my riding schedule. &nbsp I noticed that the last time I wrote (just below) I was still complaining about the winter that wouldn't die. &nbsp It finally did. &nbsp We have had eighties and seventies - such as today - and I can look back at the winter and laugh. &nbsp I am at Camille's, now, and about to go ride the country roads on this wonderful Memorial Day.
Saturday, March 1st An idea of how the weather has been - they closed the school district yesterday because the predited low temperature was -10°. &nbsp I enjoyed having a day off, but the temperatures are still below normal almost every day. &nbsp The normal average high temp is up to 37° now, but I think we have only had about three or four days in the thirties this whole month. &nbsp Today it was a little milder, and not much wind, cloudy and dry pavement as I went on my recycling ride on the Trek. &nbsp One of my favorite rides, and today was no exception - until - the flat from Hell. &nbsp On the way home heading south on Trumbull south of Grand River I got a rear flat. &nbsp I probably shouldn't have been surprised. &nbsp I had a rear flat on the Riverwalk near Joe Louis on the same ride the previous week. &nbsp I had patched it and topped the air off when I got home. &nbsp Today is the first time on the Trek since then. &nbsp But I checked the tire every single day last week and it was fine each time. &nbsp So this morning, I get the bike down and the tire is totally flat. &nbsp I pumped it up and it seemed fine almost two hours later when I was ready to leave. &nbsp Anyway, I crossed the street to where the was a patch of grass that didn't have snow on it. &nbsp I took off the wheel, tire, tube and noticed my previous patch was pretty messed-up looking. &nbsp I put on the new tube but it wouldn't pump up. &nbsp I kept trying to push the pump farther on the valve stem, but no luck. &nbsp Finally I took the tube off, put a new patch over the old one and mounted the old tube, but it wouldn't pump up either. &nbsp Then I am thiking something is wrong with the pump. &nbsp I took the old tube off again, and tried to pump it up outside the tire. &nbsp I could see that air was going in, at least. &nbsp I tried the same thing with the new tube and I saw a puff of chalk from the other side of the tube. &nbsp The new tube had a fucking hole in it! &nbsp No wonder I couldn't pump it up. &nbsp So I patched the new tube and then everything else went okay. &nbsp On top of all this, the rear derailleur would not up-shift from the beginning of the ride for some unknown reason, so I had to stop a couple times and pull it out by hand. &nbsp Always something, but in spite of those two problems, I enjoyed the ride. &nbsp I have since put it on "the rack" and lubed the heck out of the derailleur and it is now shifting fine except it won't come off the largest sprocket and I cannot figure out the problem yet.
February 9th: &nbsp Pardon my French, but I hate this fucking weather! &nbsp The normal average high temperature is up to 33° from the 32 degrees for essentially the whole month of Jaunary. &nbsp I don't think we got over 30 but one day in January and most of the time the high was in the teens or even lower. &nbsp Now the prediction is for more frigid temperatures in the next few days. &nbsp I am crying "Uncle". &nbsp I am singing Forty Days and Forty Nights &nbsp How can these stupid temperatures be below normal - way below normal - for forty straight days? &nbsp Now we are pushing towards one of the snowiest winters on record and it snowed again last night. &nbsp Where is the part where we look back at this and laugh? &nbsp When does that come?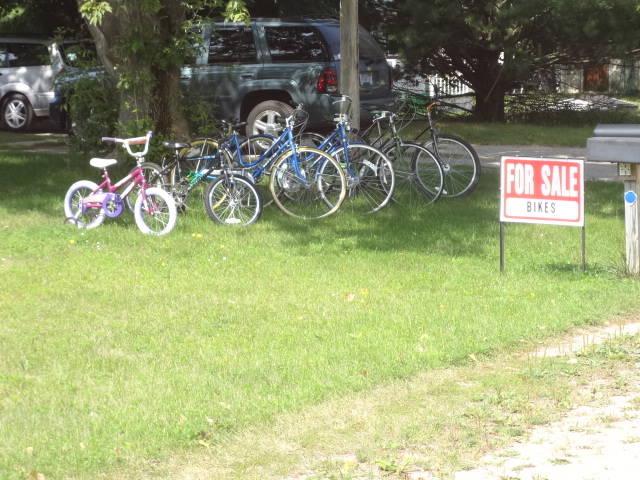 January, 2014 - this is a winter like we used to have. &nbsp Two days ago it already became the snowiest January in Detroit history, and the high temperatures have been mostly below twenty - even though 32 is the average high temp for pretty much the whole month. &nbsp Bitter cold and blowing snow have made this the most challenging weather for bicycling that I have ever encountered. &nbsp Somehow, I have managed to keep my consecutive days riding string intact. &nbsp With two more days of riding, I will have two straight years of riding. &nbsp That's 731 days because of 2012 being a Leap Year. &nbsp Several times I have had to ride on the windy RiverWalk beside the Detroit RIver when the Cut wasn't plowed. &nbsp And one time, the only thing that was plowed was my own street, so I ended up riding 55 slippery laps around the median to get my ten miles. &nbsp Tonight it is going down to -10 degrees. &nbsp I am getting so tired of having to put on a ton of clothing when I ride. &nbsp We are way ovedue for some temperatures above the normal, and I am so ready for them.
It's history, 2013 is. &nbsp I rode outdoors - at least 10 miles - every single day, and I broke my record of days riding to work by 1, with 162. &nbsp I guess I should be happy, and I am. &nbsp So should I try to keep this string of consecutive days of riding intact? &nbsp That was a rhetorical question, of course. &nbsp I have had to go through some heroics to ride the first two days of 2014. &nbsp I don't remember any prolonged snows and winds like this last winter. &nbsp At this time of year I feel like my whole life revolves around bike riding, and everything else has the potential to get in the way. &nbsp String or no string, record or no record, I plan to do a lot of riding in 2014.
December: &nbsp Christmas break is fast approaching, and I have biked to work 158 days this calendar year. &nbsp That's only three short of my personal record of 161 rides to work, set in 1986. &nbsp At six and a half miles each way, those were longer rides than my current measly 1.2 mile commute. &nbsp Still, I am really keen to beat that record and I only have seven more work days remaining this year. &nbsp It doesn't help that winter has set in with a vengence. &nbsp I'm just wondering if my conscience would let me count rides to work that I might take during break (if I needed them). &nbsp I am sure I could find some sort of work to justify going in. &nbsp Just saying.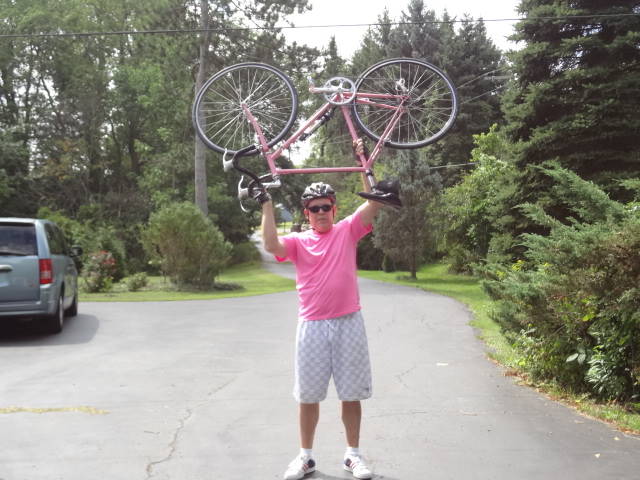 October 23rd: &nbsp I just rode my Trek in the Dequindre Cut from the Woodbridge sidewalk to the fence under Gratiot – 0.91 miles, and then from the Mack sidewalk to the same fence – 0.56 miles. &nbsp That will eventually give us a 1.47 mile stretch with no cross streets, or 2.94 miles round trip. &nbsp I measured with my GPS odometer. &nbsp North of Gratiot, much work has already been done but there is still a long way to go. &nbsp Gaping abandoned buildings must be closed up; there is a scale pit to be filled in, and the like. &nbsp Still, the prospect of that long stretch to bicycle or run with no cars in the way is exciting.
Sunday, 10-20-13: &nbsp This morning thousands of runners ran 26.1875 miles in the Free Press Marathon, so, as usual, I had to ride farther than that. &nbsp I rode from Camille's farm on North Territorial near Dixboro up Pontiac Trail to South Lyon, then via the bike trail to Wixom, and back. &nbsp The distance was 32.54 miles and there were a few hills involved, but not bad. &nbsp It was cold when I left at 10:30 am, and the pavement was still wet here and there - especially on the shady bike trail which had a lot of wet leaves in places. &nbsp I really enjoyed the ride. &nbsp Only touched ground once when a hole in the dirt road I had to cross on the trail bounced my chain off. &nbsp I saw a cool bike sign, so I will have to take my camera and do the ride again soon.
October 4th &nbsp I just learned Mr. Kemp (the other teacher who rides to work every day) that much work has already taken place to extended the Dequindre Cut north of Gratiot. &nbsp I hadn't even noticed, but I took a look and took a bunch of pictures. &nbsp From Gratiot all the way to Mack there are signs of progress. &nbsp This is really exciting. &nbsp A longer paved Cut would be wonderful for those days when I don't feel like riding to Belle Isle for my excercise - less laps and no Gratiot ramp at the end of each lap. &nbsp I can't wait.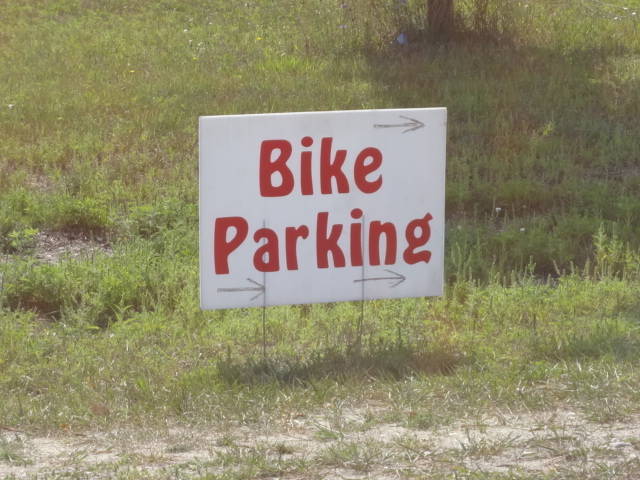 September 17th &nbsp Another Monday night Slow Roll ride - but with a theme this time. &nbsp It was "prom night" and many people, including me, rode in dress clothes. &nbsp I rode the Paramount wearing a black suit, white shirt and black tie. &nbsp There were some truly outlandish outfits - it was pretty cool in more ways than one. &nbsp The temp was only in the low sixties. &nbsp The ride was slow, naturally, so I had already taken my Belle Isle ride, naturally. &nbsp I rode with lovely Maria and Diane from Lafayette Park. &nbsp There were hundreds of other riders as usual.
August 17th 2013: &nbsp Just got back from four days at Lake Bellaire - northeast of Traverse City. &nbsp I brought three bikes and my friend, Cami, and had a great time in spite of cooler than normal temperatures. &nbsp It was still warm enough to do daily morning rides in shorts and sleeveless shirt. &nbsp My exercise route was 11.6 miles (coincidentally the same distance as my Belle Isle rides from home.) &nbsp Each morning I started out from the driveway on Cottage Road slightly uphill on a winding narrow asphalt road. &nbsp It was in a tunnel of trees which obscured the warm sun for several minutes. &nbsp It always felt so good to get out into the open, &nbsp Before long I was faced with two big hills to climb - the first one was steeper, and the second one much longer. &nbsp At the top of the second hill I turned onto Clam Lake Road and took it until it dead-ended at East Torch Lake, where I made a U-turn and rode back. &nbsp The two downhills on the way back allowed me to get to the mid thirties mph. &nbsp I could easily have gone even faster, but I get a little scared at those speeds and think about what might happen if I wiped out with all that exposed skin. &nbsp Another ride I took was up nearby Steiner Road. &nbsp I took this ride on my Trek because my road bike doesn't have low enough gears. &nbsp Steiner is super steep - almost vertical at the top. &nbsp I was proud that I was able to ride it without rising off the saddle. &nbsp I glanced at the odometer when I was nearing the top and saw that I was traveling at a whopping 3.3 mph. &nbsp I did not come back down the hill because you have to turn right at the botton unless you want to cycle in Lake Bellaire. &nbsp Next year I am going to bike around Torch Lake (62 miles) again.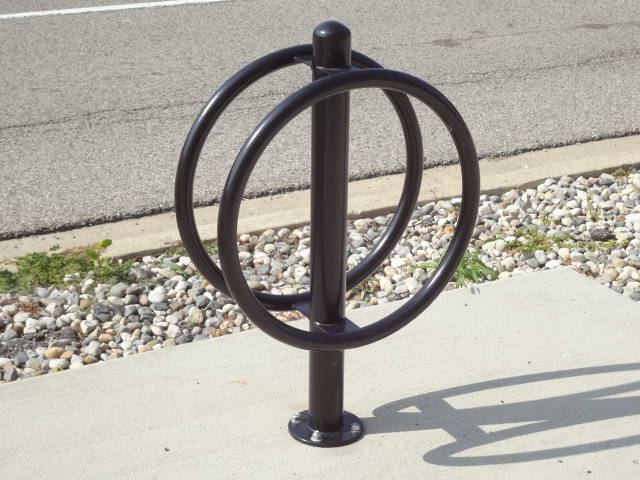 Monday, July 22nd: &nbsp How often have you ridden your bike with the derailleur hanging right on the ground? &nbsp Never? &nbsp Wish that I could say that. &nbsp Today, after work and lunch, I was riding the Trek on the Dequindre Cut loop, and I had just arrived at my favorite part - the big hill just past the wetlands park. &nbsp As I rode across the field to the hill, I down-shifted to the lowest gear. &nbsp The chain proptly went over the top of the large sprocket and down between the sprocket and ths spokes. &nbsp I shifted and rolled the bike backwards to get the chain back on the gears. The same thing happened again as I reached the top of the hill. &nbsp Mabe I was too rough with the power train as I forced the chain back onto the gears, but the next thing I knew, the bracket that held the derailleur to the bike frame broke, &nbsp I actually rode the bike downt the hill and through the Cut about one mile to home - with the derailleur hanging by its cable on the ground. &nbsp Unbelievable! &nbsp I had to walk the bike up the ramp at Lafayette and up a gentle rise in the last street because I couldn't pedal hard without the chain jumping off. &nbsp This called for a trip to the bike store. &nbsp One new derailleur, chain, shift wire, and bracket later, I was back in business. &nbsp Still need to do some fine tuning on the adjustments, &nbsp Actually it was my attempts at adjustments to the old derailleur that no doubt led to the chain coming off in low gear. &nbsp Oh well. &nbsp And I'm not even going to mention putting thr new chain on the bike with it routed improperly throught the freewheel cage, causing me to have to take the master link back apart (no easy task.)
7-11-13 &nbsp A date that consists of three consecutive prime numbers. &nbsp Rode the Paramount up to Palmer Park for the Thursday ride. &nbsp There were about 40 people. &nbsp We rode a completely different area this time - down Hamilton and La Salle - it was a nice tour. &nbsp The ride totaled 10.48 miles. &nbsp With the ride to and fro it was 26.49 miles. &nbsp I really need that fast ride up and down Woodward to make up for the slow cruise with the group. &nbsp Met some nice people, especially Eileen.
July 5th: &nbsp Bug rides. &nbsp On the fourth, I rode my big triangle - Gratiot, Martin, Jefferson - for 31.7 miles. &nbsp Out in St. Clair Shores, I suddenly heard this popping noise and realized that my tires were traveling over thousands of deceased (or about to be) fish flies. &nbsp There were places where the white concrete was greatly discolored by a layer of those squished bugs. &nbsp I could even smell their decaying bodies. &nbsp My main concern was to not skid on them. &nbsp Fortunately my path was quite straight - straight into the wind all the way home. &nbsp Oh well, it was a pleasant ride anyway. &nbsp Then, on my ride to Belle Isle the next day, a bug flew into the intake manifold (my mouth) and bit or stung me on the tip of my tongue. &nbsp Man, did that hurt. &nbsp I must have spent the next ten minutes spitting out the thought of that bug.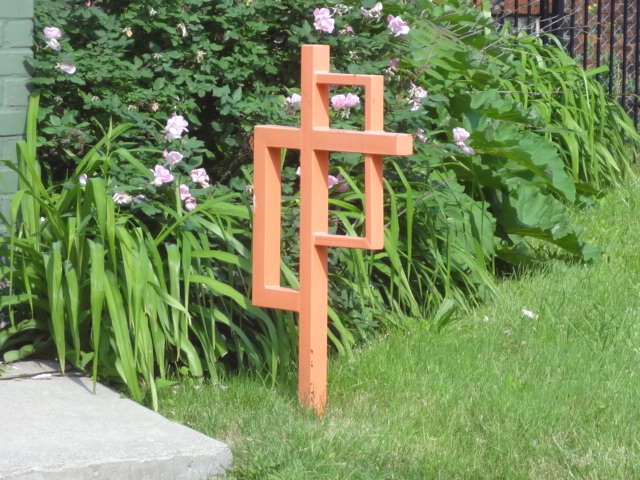 Here it is June 15th and today I was finally able to ride the whole perimeter of Belle Isle - and they are still dismantling the stages from the Orion concert weekend. &nbsp With the Gran Prix set-up, it was about a month of disruption. &nbsp I rode up to Palmer Park for that ride yesterday into a stiff NNE wind. &nbsp At least it was warm, but the ride had already left when I got there. &nbsp Someone told me which way they went and I caught up. &nbsp Riding down Woodward afterwards was a blast with the wind behind me.
May 26th: &nbsp That was the ride from Hell. &nbsp Remind me not to ride East Outer Drive from Gratiot any more - at least until they totally repave it. &nbsp Not only was it a bone-jarring ride, the wind was against me the whole time. &nbsp How is that possible??? &nbsp I had to start out riding out Gratiot into the wind, and it was still a little cool, so I was cold. &nbsp A west wind would have been perfect, but no. &nbsp At least it was sunny.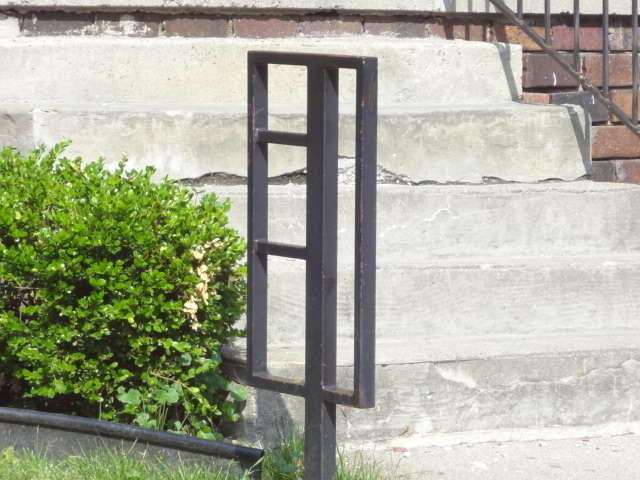 May 17th: &nbsp Someone told me that today was bike-to-work day. &nbsp It was only the 57th day that I have biked to work this year. &nbsp The temperatures have been great lately, and no rain, either. &nbsp Now if the stupid wind would stop blowing a gale every day, I'd be all set. &nbsp Today they threw up the barricades for the Gran Prix on Belle Isle, so I may start to ride elsewhere after work - but where? &nbsp I am thinking about straight out and back on Gratiot, but I will have to test it to see what the traffic and lights are like at rush hour. &nbsp Yesterday I rode the Paramount out to the Palmer Park organized ride (it takes place every Thursday at 7 pm.) &nbsp There were 35 people, but I heard there were over 200 the week before. &nbsp I got a rear flat in the parking lot before the ride even started - a tiny piece of wire. &nbsp Another cyclist told me the wire was from the steel belt of a car tire. &nbsp I was able to change tubes pretty quickly and someone loaned me his floor pump. &nbsp The meandering ride was fun - I talked to lots of people. &nbsp With the ride to and from it was 23.48 miles. &nbsp Just remind me never to ride downtown on Woodward south of Grand Boulevard again. &nbsp That was bone-jarring hell.
May Day! &nbsp May Day! &nbsp It really was on Belle Isle - the traffic was berserk. &nbsp Too bad I couldn't start my ride until 7 pm. &nbsp It was finally warm enough for me to wear nylon shorts and tank top. &nbsp I finally pulled down a couple 18 mph averages. too - today and Tuesday. &nbsp Felt pretty good.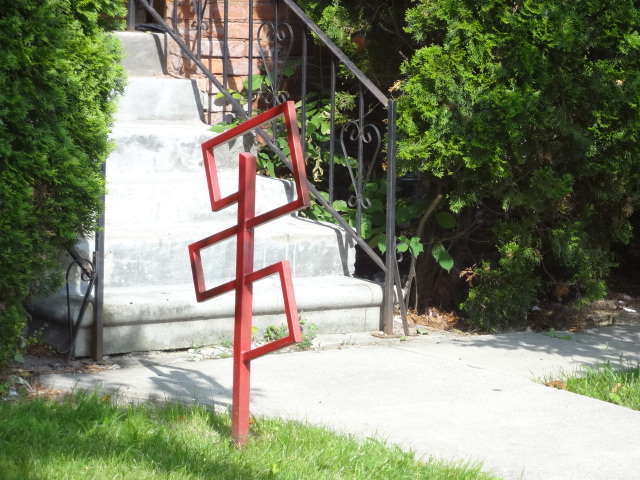 April 4th: &nbsp At 7:00 pm, went on the year's first (and my first-ever) Palmer Park ride. &nbsp There were about twenty people, and I enjoyed talking to most of them. &nbsp I learned a lot about the buildings south of Palmer Park and the renovations going on. &nbsp Of course Kathy had to be there. &nbsp The ride is slated to run every Thursday, and I intend to participate now and then.
April 2nd: &nbsp Easter Day was two days ago, and I was riding the Paramount around Belle Isle wearing shorts and my long-sleeve riding shirt. &nbsp Today, on my ride, I wore a heavy coat, long johns and a balaclava. &nbsp This cold weather just won't go away, and neither will these strong winds. &nbsp It is so unpleasant. &nbsp The temperatures have been below normal for more than a month. &nbsp I am riding everyday, however, and riding the road bike a lot. &nbsp After I painted the bike, I bought two-sided pedals, and I have only been using the platform sides. &nbsp It's time to get some cycling shoes to which I can attach the cleats - that will be a new mode of cycling for me. &nbsp The other thing I need to change is the bottom bracket axle. &nbsp The one I have is too long and the chain does not align well in the lower gears.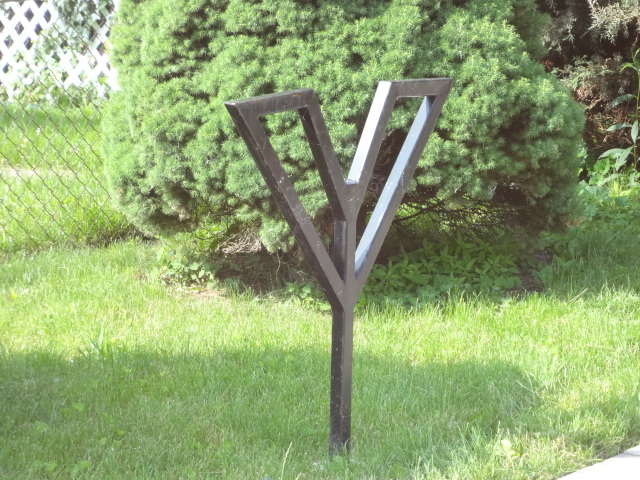 It's π day - 3.14159265358979323 - and that's from memory. &nbsp How often does one knock down a large step ladder while riding one's bike, without touching said ladder? &nbsp I did, this evening. &nbsp Because I am working until 7:30 pm on Tuesdays and Wednesdays for the next two months, I didn't start my rid in the Cut tonight until 8 pm. &nbsp I hadn't even eaten dinner yet, and it was already getting dark. &nbsp On the second lap, a young couple climbed down one of the embankments with their equipment to start some graffiti project on one of the bridge abutments. &nbsp The first time I rode by, the woman warned me to watch out for the fishing line that was laying on the pavement. &nbsp On the next lap, the ladder was set up on the opposite side of the path from the abutment, and I could see fishing line attaching to the top of the ladder and stretching to the top of the abutment. &nbsp What I didn't notice was a strand of the clear nylon line right across my path at chest level. &nbsp By the time I caught it's glint, it was too late. &nbsp It pulled tight and down crashed the ladder. &nbsp No harm done, as it turned out, but that was a weird experience. &nbsp I'm sure they were glad that it was my last lap then. &nbsp I was curious to see what sort of painting mechanism they were rigging up, but it was late and I had to go eat.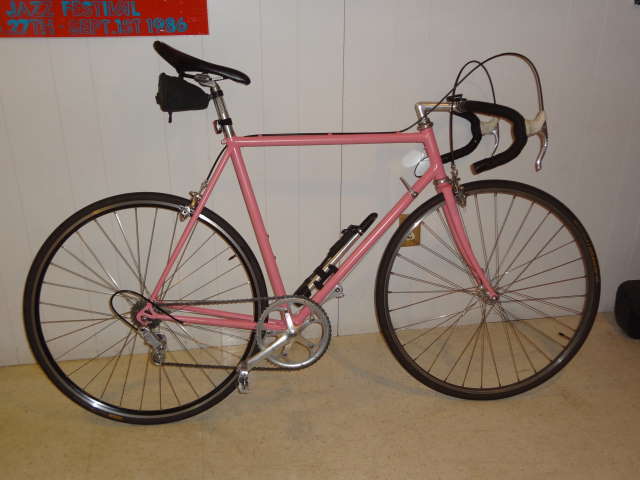 March 9th: &nbsp What a good day for riding this is - dry pavement, hazy sunshine, a little warmer, and a light south breeze. &nbsp I took my green ride to the recycling center on the Trek. &nbsp After lunch when it was a little warmer, I broke out the Paramount for the first time since I painted it, aired up the tires, and headed for Belle Isle with my adjusting tools in my pockets. &nbsp Of course I didn't adjust anything, and when I got home I found out that my back brake had been rubbing the whole time because I hadn't even tightened it! &nbsp Once back on my street, I got Nate to come out and take some pictures of me on the bright pink bike. &nbsp At one end of the street I accelerated to come by for a fast picture. &nbsp Bang!!!!! &nbsp The split link really split and all of a sudden my chain was dragging on the ground. &nbsp That was a real drag! &nbsp I couldn't find the link, of course, so now I will take apart the little chain I made of the six extra links from that chain and put one in the chain. &nbsp It might be more work, but that chain won't be breaking again any time soon. &nbsp I plan to ride the stingray, too, in a little while.
February 26th: &nbsp Wow was I lucky - and smart! &nbsp There was a typcial hyped-up dire weather forecast for this afternoon and evening, I was scheduled to teach the extended day program today until 8:30 pm. &nbsp So I did something I have only done one other time at my current school - I left at lunch time, came home, rode my bike, showered and went back to work. &nbsp The total time was about 90 minutes, which was well under my lunch hour and prep hour combined. &nbsp I rode the Trek for five laps in the Cut - a frequent winter ride choice - for a total of 10.3 dry miles. &nbsp As soon as I took my quick shower, I looked outside to see that it was raining. &nbsp The rain later turned to sleet and then snow, so it's a total mess outside now. &nbsp I kept my consecutive day riding string alive at 394 straight days. &nbsp Am I a bike nut? &nbsp Yes, I am a bike nut!
The last day I dd not ride my bike was January 29th last year. &nbsp That makes today the 365th straight day I have gone riding outdoors for a length of at least 8.7 miles (my old round trip to school.) &nbsp So I have achieved my secondary goal, and everything from here on out is icing. &nbsp Considering there was a bunch of wet snow followed by freezing rain last night, I was happy to ride on streets and in the Cut where it was just wet today. &nbsp The temperature is continuing to rise and it is supposed to flirt with the record tomorrow. &nbsp All this wacky weather resulted in a ton of schools being closed, so I had the day off, &nbsp I am going to paint the Paramount fork with primer later today. &nbsp Meanwhile, I replaced all the brake shoes on the Trek which resulted in a tremendous improvement. &nbsp On the other hand, the back tire has to be replaced. &nbsp The tire is apparently pullin away from the bead in one spot. &nbsp I am getting real tired (so to speak) of feeling that thump thump thump. &nbsp Tire replacement is also scheduled for today.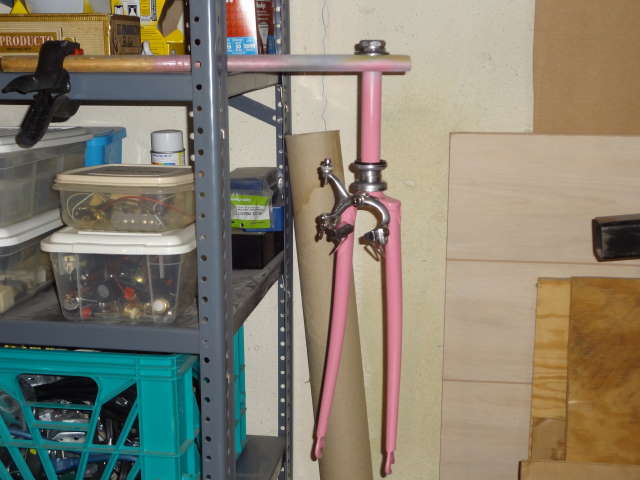 I must be crazy. &nbsp Out there riding in the cold, and now snow. &nbsp It snowed today - maybe an inch - and there were still a few flurries coming down as I rode my five laps in the Cut. &nbsp Of course the salt truck had to drive up and down a couple times spraying salt all over the path and my bike. &nbsp My poor bike. &nbsp It was caked with slush when I brought it in the house, and to add insult to injury, when I was almost home the rear tire went flat. &nbsp I'm sure glad that didn't happen earlier in the ride! &nbsp Only three more days until 365 straight days of riding. &nbsp Expect to hear about more craziness because some unfavorable weather is predicted on Sunday. &nbsp Meanwhile, I have cleaned the entire frame of the Paramount down to bare metal, but I am not done inside the bottom backet. &nbsp Now I am cleaning all the parts.
January 16th, 2013 &nbsp I have the paint, and the place to do it, and I'm even all stocked up on wire wheels. &nbsp So, I just took the Paramount completely apart and this weekend I will begin stripping the frame. &nbsp Guess I'd better get used to riding the Trek. &nbsp When I was looking through my paint for some house project, I came across the old can of pink paint that I used for my bike, and it even had a sticker with the numbers on it, so I was able to get the same color as before. &nbsp Meanwhile, I learned that the family of a deceased neighbor defaulted on the payments and the Cooperative took possesion of the house. &nbsp So I got permission to paint my bike in the basement of that house. &nbsp Perfect! &nbsp This time I might just make the move to some new pedals and shoes with cleats. &nbsp I am pretty geeked up about this project.
I did it. &nbsp I did it. &nbsp I did it - 365 days of biking outdoors this year. &nbsp Okay, so it was a leap year, hopefully eveyone will forget about that fact when I brag about 365 days. &nbsp It will be three more years until the next leap year before I have to worry about trying to beat my personal record. &nbsp I do, however, want to continue this streak so that I can achieve 365 consecutive days of riding. &nbsp That will take until almost the end of January - might not be easy. &nbsp Anyway, I'm just happy. &nbsp I topped off my last ride on New Year's Eve by "running" the 5K on Belle Isle in 35:17, and later, essentially inviting myself to a wonderful New Year's Eve dinner party with five people I had never met. &nbsp I still can't believe I did that.
This being the eve of December 21st, the old Barry McGuire song comes to mind - The Eve of Destruction, since that is exactly what this evening is from a Mayan point of view. &nbsp Anyway . . . I just rode the Trek in the Dequidre Cut for 10+ miles in a cool drizzle. &nbsp That may be the least of my difficulties if I expect to ride every day for the rest of the year. &nbsp True, there are only eleven days left, but now it is officially winter. &nbsp I really really really want to finish out the year because it recently dawned on me that even though I didn'r ride one day in January, I could still finish the year with 365 days of riding because this is a leap year ! ! ! &nbsp I can just taste how good it would feel to say that I rode 365 days this year.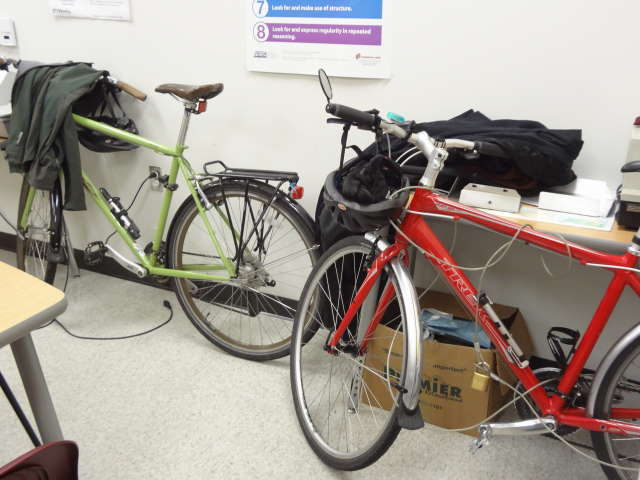 Friday, November 30th: &nbsp No Critical Mass for me - too dark and windy. &nbsp After dinner at the Green Dot, I drove up Trumbull to Warren. &nbsp There were very few cars with bike racks parked near the intersection, so I imagine that with the conditions such as they were, not many riders turned out. &nbsp Meanwhile, my school district just finished up a week that emphasized ecology, and I did my part. &nbsp On Monday and Friday I wlked to work, and the other three days I rode the Trek. &nbsp My car got a nice little rest. &nbsp Now that I have started riding the measly 1.3 miles to work, I am getting into it, and I expect that I will do it a lot more. &nbsp My inspiration came from one of the English teachers at my school, Andrew Kemp, who rides to work just about every day.
November 21st: &nbsp I rode my Trek to work today. &nbsp That's the first time I've rode to work at King High School on a regular work day - as regular as the day before Thanksgiving can be considered. &nbsp I did ride one other time on a day without students - election day - but that time I rode the Stingray. &nbsp So the round trip was 2.69 miles and took about seven minutes each way. &nbsp I found a place to store my bike in the mail room where the bike is not in the way. &nbsp Now I am thinking that maybe this is something I could do one or two times per week - to accompany my walking to work one or two times per week. &nbsp I wish I had started riding to work at the beginning of the semester.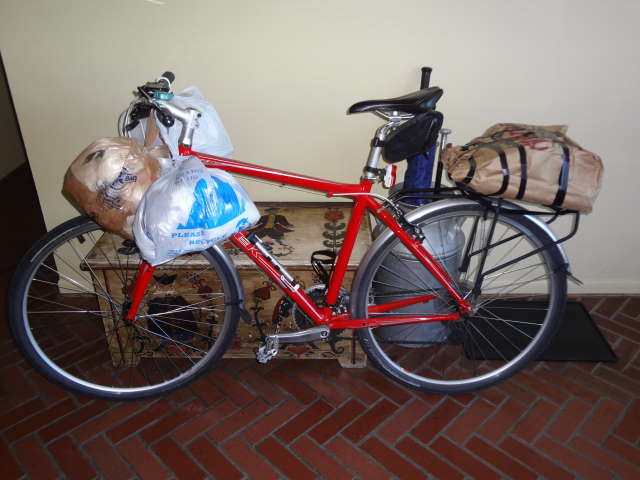 I call them my "green" rides. &nbsp For two Saturdays in a row, I have taken my recycling to the drop-off location on Holden Street via bicycle - the Trek, to be specific. &nbsp It actually makes me feel really good to do this. &nbsp I like rolling into that cavernous warehouse and riding from bin to bin. &nbsp Afterwards, I head down Trumbull to Fort and next to Joe Louis and down the Riverwalk. &nbsp This particular Saturday - the first in November - there was an anime convention, and as I came to the RenCen, I rode between humdreds of costumed people taking pictures of each other. &nbsp It was an amazing sight - so colorful and fantastic. &nbsp I even talked to "Billy Mays" with his blue Oxi Clean shirt. &nbsp I sure wish I had brought my camera along. &nbsp I finished up with a ride over my favorite hill and up the Cut, for 11.29 miles. &nbsp I also wish it had occurred to me a long time ago that I could take my recycling using my bike.
October Critical Mass ride - Friday the 26th. &nbsp Almost didn't go. &nbsp I already had done Belle Isle on my rode bike after work - cold - windy - pretty slow. &nbsp The precipitation percents didn't sound too promising, still the sky didn't look all that bad. &nbsp I was itching to ride the Stingray somewhere so I did, and I am glad that I did. &nbsp I received tons of complements on my bike which made me feel so good. &nbsp The bike was fun to ride, but the seat could use more padding and crank arms are pretty short. &nbsp Still, it was fun, and this was the perfect kind of ride for that bike. &nbsp I have to try and find a flat slick tire for that back so that I can control the wheelies. &nbsp That's essential. &nbsp Maybe I'll ride the Stingray through the Cut next.
October 19th: &nbsp It had to happen sooner or later. &nbsp For the first time since I can't remember when, I actually rode in the rain after work today. &nbsp It was just a little drizzle, and it was cooperative enough to wait until I finished walking home from work to commence. &nbsp The pavement was just damp most of the time until I came off the Island and hit Jefferson. &nbsp Then my tires started throwing the water up. &nbsp Add to that all the dirt from those dump trucks doing the site clean-up, and my bike got pretty messy. &nbsp I should have remembered to turn off before I got to that stretch ofJefferson. &nbsp Even though it wasn't cold, I wore a lot of clothing in case of hard rain. &nbsp It made for a slow 16.5 mph average. &nbsp Still, I am happy that I got the opportunity to ride - 264 consecutive days and counting.
Thursday, 10-11-12. &nbsp A cool date - key word cool. &nbsp Every fall I am reminded of exactly why I prefer warm weather riding. &nbsp Now I have to wear more clothing which means more time to get dressed, more time to put the clothing away, more wind resistance when I am riding, and sometimes even spending time trying to decide what to wear - how little clothing can I get away with and not freeze. &nbsp It makes the whole exercise window considerably longer. &nbsp Then there is that incidious wind chill factor - and a factor it is! &nbsp I like to ride fast; ride as hard as I can. &nbsp The trouble is that - in the winter - the faster I go, the colder I get, and I do not like being cold. &nbsp So I work hard against the cold winds and end up with pathetic average speeds. &nbsp At least this coldness helps me to appreciate the days when I am able to wear my shorts and a little nylon shirt. &nbsp Indian summer, where are you???
How refreshing to start off October with a calm day. &nbsp It made for a 19.8 mph average, even after working all day and amidst rush hour traffic. &nbsp Not bad.
Here's a ride I haven't done in several years. &nbsp Maybe the full moon that occurs today, the last day of September, possessed me to ride 56.17 miles after church this morning. &nbsp Actually, now that I'm done with the ride, it's not morning any more. &nbsp The route - Outer Drive from one end to the other - took three hours and nine minutes for an average of 17.9 mph. &nbsp And that was with a rest stop behind some trees in Rouge Park. &nbsp I drank a bunch of water before I left so I wouldn't be dehydrated - didn't think about the other consequences of that. &nbsp About half way through the ride it became quite overcast and I started feeling a little cold riding for so long into the east wind. &nbsp &nbsp Never-the-less, it was fun, and I'm glad I did it. &nbsp My time was decent - I remember past versions taking about 3:15.
So, on September 27th, three weeks into my new commute, I have been riding to Belle Isle after work every single day. &nbsp It has meant rush-hour type traffic every day (except on Wednesdays, when our two-hour staff meetings push my ride back even later.) &nbsp More than ever, I feel like I'm in a rut, but there are much less pleasant ones that I could be stuck in, I suppose. &nbsp Let me just be happy to have ridden on 270 of 271 days this year, and happy, as well, to have walked to work six times this year, which is five more than in any previous year.
As of Friday, September 7th, I am back to work at the school where I started my teaching career - M. L. King, Jr. Senior High School. &nbsp Got to put that "senior" in because of the "junior" in Dr. King's name. &nbsp Anyway, the school is only one mile from my house, so I don't yet know whether I will feel like it's worth riding my bike to work any more. &nbsp Either way, I will now have to ride after work every day which means more traffic, and increasing less available light. &nbsp Keeping my riding string intact is definitely going to be a challenge now.
September 4th: &nbsp Not a happy time in my life - I am laid off from my teaching job and waiting to hear if I will be called back now that students are returning to the classrooms. &nbsp So this morning I was riding my Paramount around Belle Isle at 8 am when I should have been at work. &nbsp It was overcast, quite humid, a little foggy, and any flags were hanging limp on their poles. &nbsp As I flew down the Canadian side I looked down at my front wheel and to my amazement saw something shiny on a spoke rotating rapidly - it was a magnet. &nbsp I couldn't believe it. &nbsp Here I have been using my Garmin GPS odometer for several weeks now, and I still had part of my old odometer on the bike. &nbsp Me, the king of no extra weight with unnecessary metal - metal that was using up torque, at that. &nbsp Okay, so it didn't weigh a whole lot, but it was history the second I walked in the door after my ride. &nbsp Oh, I averaged 18.5 for the 11.6 mile ride. &nbsp Of course it could have been in the nineteens if I didn't have the extra weight on the bike (if I got more sleep, actually.)
August 24st: &nbsp I have had three great Belle Isle rides in a row, the last three mornings. &nbsp Now that I have a Garmin odometer, my average speed is displayed all the time, and I can't help but look at it. &nbsp That inspired me to ride faster, on Wednesday and I ended up my normal 11.6 mile ride with a nice average speed of 19.5 mph. It felt really good to do that. &nbsp On Thursday, I didn't look at the average, I just watched my current speed and tried to keep it above 20 mph as much as I could. &nbsp I ended up with a 19.8 average - just 17 seconds over 20. &nbsp Today, Friday, I did keep my speed over 20 just about the whole ride. &nbsp My average was 20.3 - I'm so proud - and I can't even remember the last time I averaged over 20 mph. &nbsp Now I promise I will put the odometer away for most of my Belle Isle rides. &nbsp I reached my goal, and I don't want to become obsessive. &nbsp That was exactly what was happening decades ago when I finally decided to completely get rid of my first odometer and not use one anymore.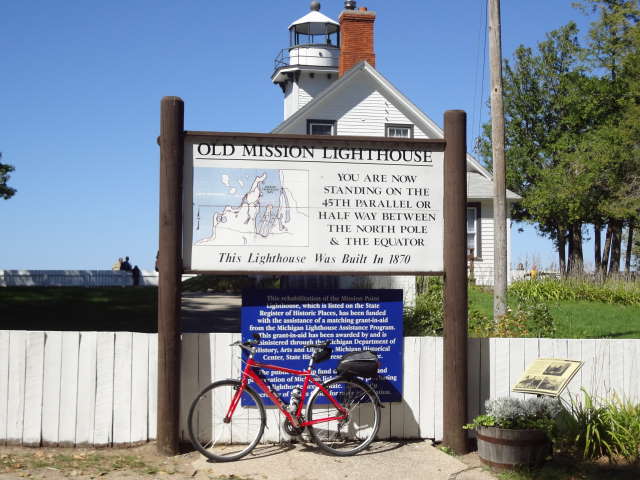 The week of August 13th: &nbsp Three nights at my brother-in-law's cottage on Lake Bellaire was just the ticket. &nbsp There were two Natural Areas to visit close by, and I just happened to have the Queen of the Bike Trails with me. &nbsp So on Tuesday, Kathy and I biked from Petosky to Charlevoix, to Petosky State Park, and back to Petosky. &nbsp There were some hills involved - our elevation gain and loss were each about 1100 feet. &nbsp The whole trail was asphalt and we encountered plenty of other cyclists and (closer to the cities) joggers. &nbsp The trail went all the way to Harbor Springs, but we decided our 46.88 miles was enough for that day. &nbsp The trouble with out-and-back routes is that you always have to multiply the distance by two. &nbsp Friday morning we left Bellaire for Traverse City where we located Einstein Cycles conveniently located right next to the TART rail-trail. &nbsp One of the bike store people told us how to get started on our Old Mission Peninsula ride and we headed out on the rail trail. &nbsp Before long we were on city streets and crossed US-31 heading north. &nbsp We crossed to the eastern side of the peninsula and rode near the shore line for a long time. &nbsp Eventually we had to go to center road with its hills. &nbsp We found a nice place for lunch (whitefish sandwiches) and refilled our water bottles. &nbsp We didn't ride all that far not to go to the tip of the peninsula, so even though it was another ten miles maybe, we decided to keep going. &nbsp It didn't help that the northwest wind had increased. &nbsp The weather said 15 mph, but I know it was at least 20 coming across the open water. &nbsp Speaking of the water, it looked spectacular in shades of green and blue as we rode back south on the western side of the peninsula. &nbsp Their were many magnificent views and plenty of gorgeous houses - lots of the built high on hill sides. &nbsp The ride back across the trail was easy with the tail wind. &nbsp Our ride totaled 47.68 miles, and like Tuesday's ride included about 2100 feet of elevation gain and loss. &nbsp The wind and hills made it a strenuous ride - but it was fun all the same. &nbsp Click here for the details of this ride from Kathy's Garmin odometer.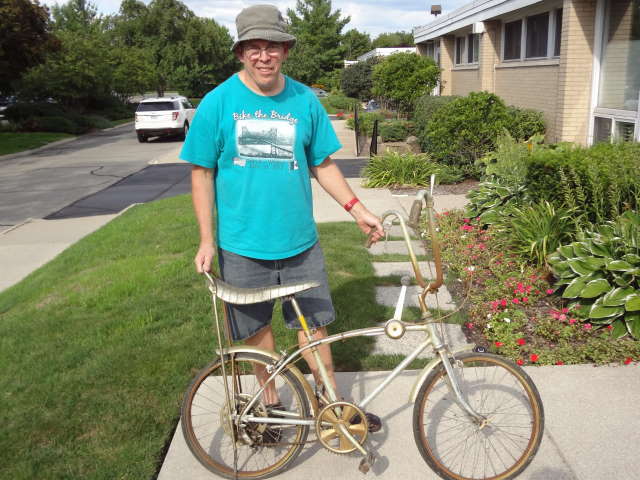 August 12th &nbsp I have finally decided to do a project that had been in the back of my mind for years. &nbsp I went to my aunt's and retieved the 20" Schwinn Stingray that I had given my cousins decades ago. &nbsp The bike is in terrible condition - I am probably going to end up throwing out everything but the frame and the shift lever. &nbsp I had the bike chrome plated, but now it is rusty, so sanding and painting is on the agenda. &nbsp It is going to be like restoring a car - a long process. &nbsp Farther down this page, there is a picture of the stingray in its heyday.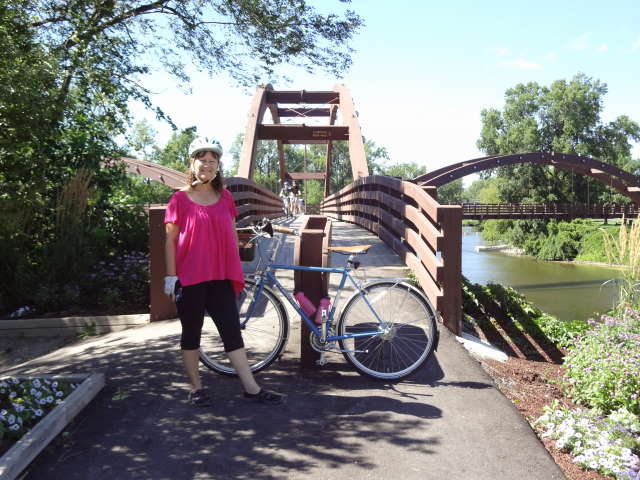 August 5th - 7th: &nbsp Here's a first - a bicycle trip. &nbsp I actually rode from one city to another, stayed overnight, and then rode back. &nbsp There was a lot of anticipation, and the ride itself lived up to all the expectations. &nbsp The weather and the route were perfect, and I had a fabulous traveling partner, Kathy, pictured at the right with her bike, Mustang Sally. &nbsp On Sunday we crossed Midland's famous tridge and rode to the Chippewa Nature Center - a great warm up for the big adventure to come. &nbsp Kathy's Garmin odometer provided all the ride statistics - the ride measuring 18.15 miles. &nbsp On the way back, we ate dinner downtown at Pizza Sam's (highly recommended). &nbsp We were surprised at the number of bicyclists we saw, including whole families bicycling to restaurants for dinner. &nbsp It seems that bicycles are an important part of Midland's culture. &nbsp The next morning at 10 am, we packed our panniers. and headed out, knowing we weren't coming back that day - a pretty exciting prospect. &nbsp Though we were undertaking a ride of fifty miles, we stopped plenty of times to look at wildflowers, birds, and other displays. &nbsp The trip to Clare was entirely into the wind, and included a rise of 432 feet in elevation. &nbsp By the time we rolled into Clare, Kathy said, "I really wish we were staying here", and I was thinking the same thing, but we had another fifteen miles to go before we arrived at Crooked Lake. &nbsp The total distance was 51.59 miles in 11 hours and 23 minutes, but that included a whopping 5 hours and 21 minutes of "stop time" and that, in turn, included a dinner stop and an ice cream stop. &nbsp The ice cream was consumed at the counter of Leah's Korner Kafe in the town of Coleman. &nbsp The little diner was just a stone's throw from the rail trail and had a nice old-fashioned feel. &nbsp The waitress was a trip - I could easily picture her starring in a B movie. &nbsp As for the trail itself, it consisted of smooth asphalt, well marked with maps and well maintained. &nbsp We agreed that it was the trail to compare all others against. &nbsp Though our trip to the west took a long time, we arrived at the cabin on Crooked Lake while it was still light, and I swam out to the diving raft a couple times in the water which was actually pretty warm. &nbsp As I was bobbing in the water near the dock, two black blobs emerged from the water looking just a little too much like eyes. &nbsp They turned out to be spiral shells that had floated up from the bottom. &nbsp That was creepy. &nbsp Next morning, the ride back to Midland was much easier and much quicker - 7 hours and 14 minutes which included 2 hours and 41 minutes of stop time and lunch. &nbsp Now we want to explore the trail even further west of Clare on another trip - it goes for at least seventy miles. &nbsp See the nature page for a rundown of wildflowers, birds and other animals observed on this adventure.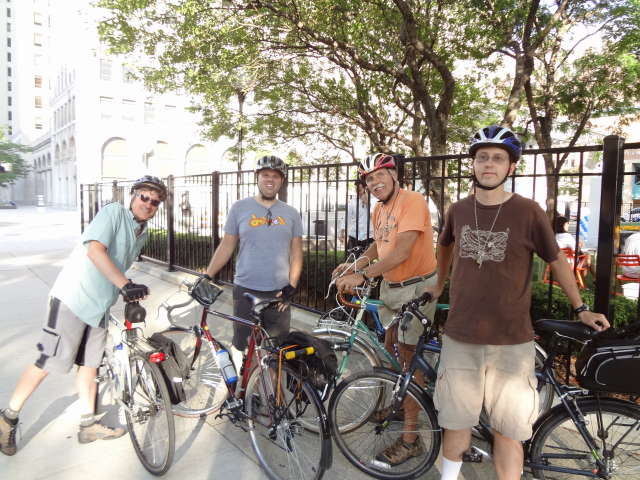 Tuesday, July 31st - Just one week to election day, and there was a rally in the New Center Park to raise awareness of the need to vote YES in support of the DIA. &nbsp I rode the Trek up there, of course. &nbsp It was just like riding to work at my previous school - the exact same route. After the event I enjoyed trading bike stories with the Ferndale Four in the picture, Todd Scott, Everett Kaiser, Tom Dusky, and Jacob. &nbsp Todd told me about the bike lanes on Second Avenue that had just been painted that very day, so I used the southbound bike lane on the way home.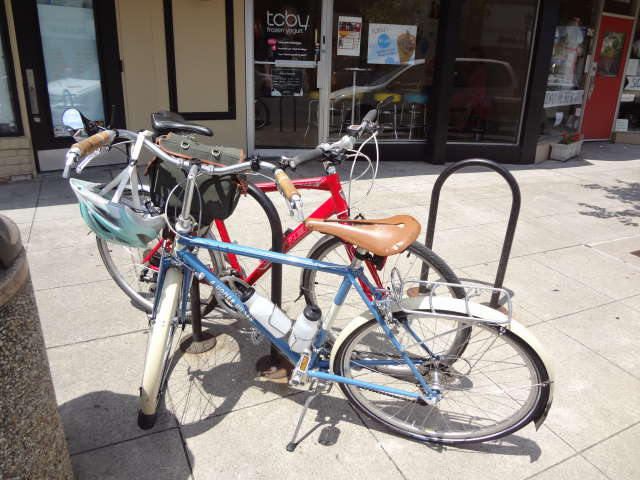 Great ride on Sunday, July 29th with Kathy. &nbsp From Commerce Township, we rode around Walled Lake and onto a rail trail which we took to South Lyon. &nbsp After delicious sandwiches at the Tuscan Café at 101 S. Lafayette, we headed back with a detour onto the trails at Lyon Oaks. &nbsp It was fun riding the long trail through the woods. &nbsp Throughout our ride we saw lots of different wildflowers - I listed them on the Nature Page. &nbsp The weather was perfect and we came in at 40.07 miles. &nbsp Lots of fun!
Wednesday, 7-18-12: &nbsp I just rode home from teaching summer school. &nbsp At this rate - and if I can continue at my current school in the fall - I will set a new personal bike-to-work record in 2012. &nbsp Today was already number 99. &nbsp When almost home from school, I turned from the park onto my street, and encountered a large black bug which crashed right into my chest and disappeared. &nbsp I brushed around myself in case the insect was still on me, but didn't see it anywhere. &nbsp Still, I had this feeling that it hadn't left. &nbsp Then my gaze fell on my shirt pocket, and there it was, inside. &nbsp I hurried home, ran to the back yard, and rapidly took off my shirt. &nbsp After shaking the shirt a bit, the insect fell out and promptly flew into my neighbor's yard. &nbsp It turned out to be a big cicada - sure glad it wasn't a wasp!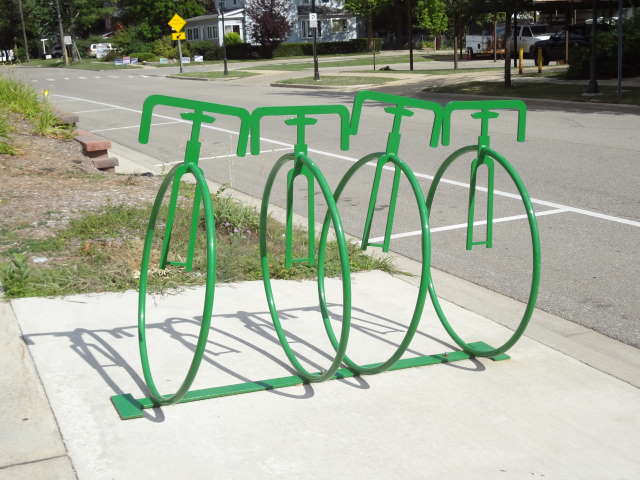 Sunday, July 15th: &nbsp I cranked out a hot and humid 50.1 miles on Belle Isle, along side the Boat Race crowds. &nbsp I got rolling at 8:30 am - later than I had wanted to. &nbsp Unlike my last 50, I remembered to drink some water before I left the house. &nbsp Besides the sticky heat, there was a little too much wind to suit me. &nbsp The ride took 2 hours and 50 minues for an average of 17.6 mph. &nbsp As usual, I took no water with me and never stopped - feet on pedals from driveway to driveway. &nbsp I was disappointed that there was no boat action the whole time that I was on Belle Isle, and I can't imagine why not. &nbsp Recalling the boat races from many years ago, the following Monday I would be riding around Belle Isle, and along with all the debris left behind there would inevitably be a couch or two that people had brought for their viewing comfort and subsequently abandoned. &nbsp I was hoping to see a couch today, but there was not even an easy chair in sight. &nbsp Oh, well. &nbsp So what possessed me to go on a fifty mile ride today, when I just rode 31.7 miles the day before? &nbsp It was my pal Kathy's fault. &nbsp In her e-mails she is always nonchalantly saying, "Oh I rode 40 miles this day and 30 miles that day and 70 miles yesterday." &nbsp Without even trying, she is making me question whether I really am a bike nut. &nbsp So now I feel better. &nbsp Just kidding, Kathy, hon, I know you're a bike nut, too.
For some time now, the outgoing message on my home answering machine has had a bicycling theme. &nbsp If you call my house and I do not answer, you will hear the following: &nbsp Hi, sorry I'm not available. &nbsp Please call back during non-bicycling hours (if such a time even exists) or leave a message. &nbsp I enjoy it when callers leave messages that reference my implication that I am always bicycling. &nbsp (An implication that is not all that far removed from the truth, BTW.)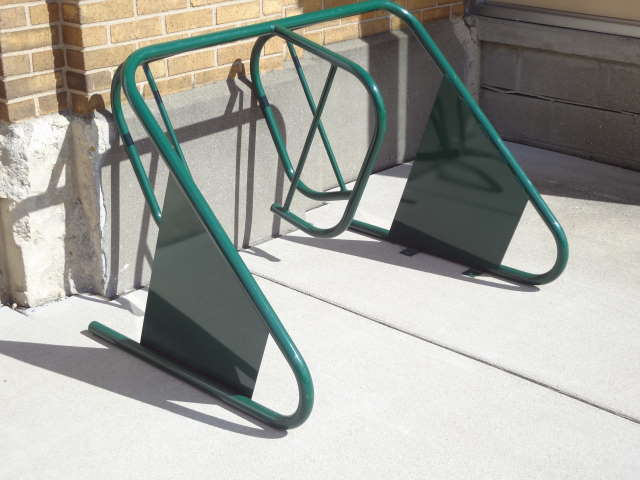 The last Friday in June at 6:30 pm I rode to the corner of Warren and Trumbull where thousands of bicylists were converging for the Critical Mass ride. &nbsp It was great fun. &nbsp There was that heady feeling of power that comes when thousands of bicycles take over busy streets filling them from curb to curb. &nbsp Talking to other cyclists was fun, of course, and I got to see such an amazing variety of bikes, I couldn't begin to describe them. &nbsp But I will mention the giraffe bike, bikes powered by stair climber mechanisms that had no seats, and a bamboo-frame bike. &nbsp Just about every kind of bike I had heard of or could imagine was represented. &nbsp It was truly a visual feast. &nbsp I guess that I'm giving the ride Critical Acclaim, eh? &nbsp Anyway, I am looking forward to the next one on the last Friday of July.
6-17: &nbsp Biking the Ambassador Bridge was fun, as usual. &nbsp When it was time to return from Amherstburg, it looked (and sounded) like we might get poured on, but we just encountered a few minutes of light drizzle and a small stretch of wet pavement. &nbsp My only equipment failure was the frame of my sunglasses breaking, but I was still able to use them well enough. &nbsp Most of us didn't have to show our passports or answer questions reentering the U.S. - that was refreshing. &nbsp I rode my Paramount, including to and from the Welcome Center at the Bridge. &nbsp Back home, the odometer indicated 49 miles for the day's total. &nbsp Now I am ready for another group ride, and maybe it will the Critical Mass ride on the last Friday of the month. &nbsp Kathy Cannon, whom I enjoyed conversing with durng the Bridge ride, encouraged me to participate and promised that it would be fun. &nbsp Okay!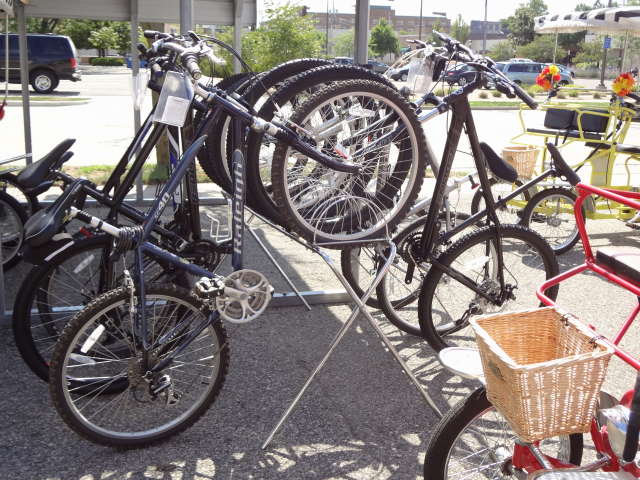 June 16th &nbsp My road bike seems in good enough condition now with its new rear rim (a $150 job) and my repair to the bottom bracket threads. &nbsp My only worry is about how tight the tire fit on that new rim. &nbsp It took Nick and me pushing as hard as we could with all four of our thumbs to pop that tire over the rim. &nbsp What if I get a flat on the trip? So I am agonizing over which bike to ride for tomorrow's Bike the Bridge event. Once again the plan is to bike to Amherstberg and they are talking about a "speed" of 12 mph. &nbsp I will probably want to ride there by myself (or maybe I can round up some others) at a much faster speed. &nbsp Or should I be totally social and ride along with the tour in both directions on my Trek? &nbsp It will probably be a game-time decision. &nbsp If there is any prediction of rain, the Trek (with its fenders) it will be.
Arrrrgh! &nbsp I went to the bike store today. &nbsp They didn't have any rims in stock so they have to order one. &nbsp Randy said it would probably be a week before my wheel is ready, and the cost would be a little more than twice what it cost the last time (five years ago.) &nbsp It's only been one day, but just the thought of not riding my road bike has me going through withdrawal. &nbsp Seriously, I have to find myself a used wheel to keep as an emergency spare.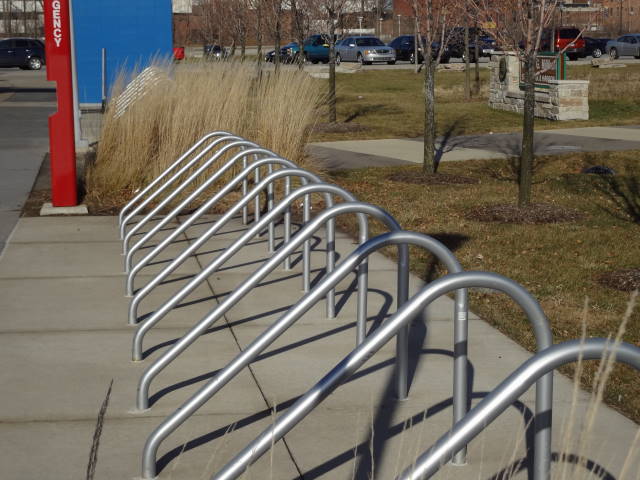 It couldn't have happened at a better time - if it had to happen at all. &nbsp Memorial day weekend was hot so I decided to get up early on Sunday and ride before Church. &nbsp I left at 7:30 am on the long loop of 31.7 miles. &nbsp There was an annoying cross wind that slowed me down in all directions, seemingly. &nbsp When I started up the little incline that comes just before my own street, I stood on the peddles to speed up a bit and all of a sudden the back wheel was rubbing on the brakes big time. &nbsp I didn't hear a spoke pop, so I correctly guessed what that meant. &nbsp One of the spokes pulled a piece of the rim up, that is, back wheel ruined. &nbsp I guess I am just too strong for all of this equipment. &nbsp (At least that's the way I like to think of it.) &nbsp So no road bike until I buy a new wheel or buy a rim and have it built up. &nbsp I just thank God that I didn't stand on the peddles when I was sixteen miles from home. &nbsp So today, Monday, I rode the Trek all over the place. &nbsp It is already too hot. &nbsp I am sure I will go out and ride again later.
Finally some days in the upper 80s. &nbsp I like my weather hot! &nbsp Today, Sunday, May 20th, the heat came at a price - a brisk south wind that made riding a real chore. &nbsp This morning, after Church, I headed for Belle Isle to ride four laps. &nbsp Before long, the annoying crosswind had me ready to cut the ride short, but I stuck it out for the 26.4 miles. &nbsp It was that kind of wind that slows me down when I am going either east or west (about 80% of the ride.) &nbsp When I got home, I could feel the ride in my leg muscles, but I didn't even get to have a good average speed to show for it. &nbsp Far be it from me to complain, though. &nbsp I rode all three of my bikes some today, so what more could I ask?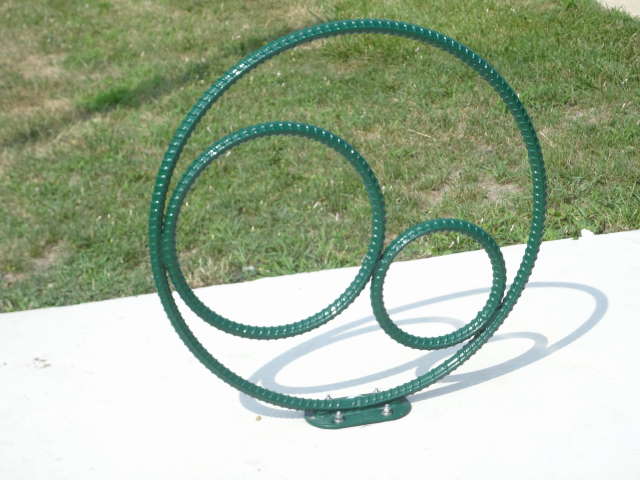 Monday, April 30th: &nbsp Between the dentist appointment and the persistent rains, a bike ride was looking highly unlikely, but it finally did stop raining at 10:00 pm and I was already getting myself ready for a wet ride before the rain even stopped. &nbsp The mid-fifties temperature was pretty balmy, but I wore some heavy clothing so I wouldn't get too wet with all the puddles and the humidity practically falling out of the air. &nbsp I headed out at 10:33 on the Trek, of course, intending to do my usual inclement-weather five laps in the Dequindre Cut for 10.4 miles. All was going well until the security people - one in a car and two on bikes - came to tell me that the "park" was closed after 10:00 pm, and I had to leave (as if I was bothering somebody.) &nbsp That really irked me, but I left anyway at the Gratiot end after having ridden 2.5 laps. &nbsp So I headed east on Vernor, intending to ride a loop down Mt. Elliott and Jefferson. &nbsp I soon realized that wouldn't be enough miles so I decided to go to Grand Boulevard for the loop. &nbsp Then I thought I might as well ride onto Belle Isle and do a short loop near the entrance. &nbsp By the time I was approaching the Island, I already knew I was going to ride the whole perimeter - there was no talking myself out of it. &nbsp From some distance on Grand Boulevard I could see the flashing lights of a police car, and I correctly guessed that they had closed the Island for the night. &nbsp None-the-less, the police car let me ride by, and I had the Island to myself. &nbsp There have been several times in the winter when I have travelled the entire perimeter without a single car passing me, but never before have I seen Belle Isle completely deserted. &nbsp There was not one single car moving or even parked anywhere on the entire perimeter. &nbsp It was just me. &nbsp There were a couple long stretches (as usual) with no street lights so I was glad I had my little headlight that I pointed down to light up the street. &nbsp And, of course, it helped that I know the pavement on Belle Isle like the back of my hand. &nbsp That ride was my idea of fun. &nbsp 2013 Update - on the Words page I immortalized (or should I say, immoralized) this ride in a poem.
Only two more days in April but it seems like February. &nbsp Hello, it's the normal low that is supposed to be 44°, not the high. &nbsp I went out on the road bike early wearing balclava, long underwear and the like. &nbsp After lunch I went out on the Trek and stopped by the bike store at Rivard Plaza. &nbsp Two mechanics were outdoors working on bikes. &nbsp One of the bikes was a white Smith and Wesson of all things. &nbsp The mechanic told me it belonged to the Border Patrol and was probably only available for purchase to enforcement agencies. &nbsp Does it have a "police interceptor" engine? &nbsp Or perhaps a detachable turret that mounts on top of the stem?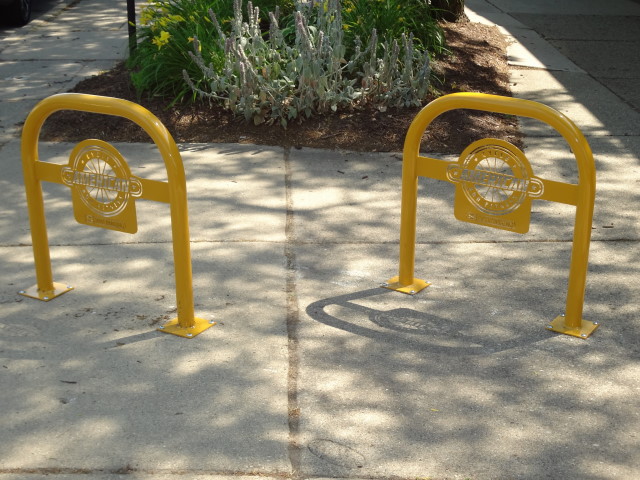 It's Sunday, April 23rd and the wind has been blowing in my least favorite direction for the last two days - out of the northeast. &nbsp On my Belle Isle rides yesterday and today, it seemed like forever before I got any help from the wind. &nbsp Today was the worst with the wind speed at 22 mph. &nbsp Yesterday I saw an unusual site as I rode acrosss the MacArthur Bridge onto the Island - a young lady standing on the wrong side of the guard rail at the top of the bridge. &nbsp Two motorists had stopped and got out of their cars, presumably to talk her out of jumping. &nbsp Since I didn't hear anything about it on the news, I guess they must have succeeded.
Okay, I officially take back any complaining I ever did about the weather. &nbsp After a week of low temperatures that were above the normal highs, and the forecast of another seven days of the same, I think I've died and gone to bike-rider heaven. &nbsp It is such a pleasure to be able to ride in shorts and short sleeves - and in the morning, no less - in the middle of March. &nbsp The day before my birthday, to be exact. &nbsp I did four laps on Belle Isle - about 26.4 miles with the ride to and from. &nbsp I caught up with another cylist and rode three of the laps with her. &nbsp Nice riding and conversing with you, Diane.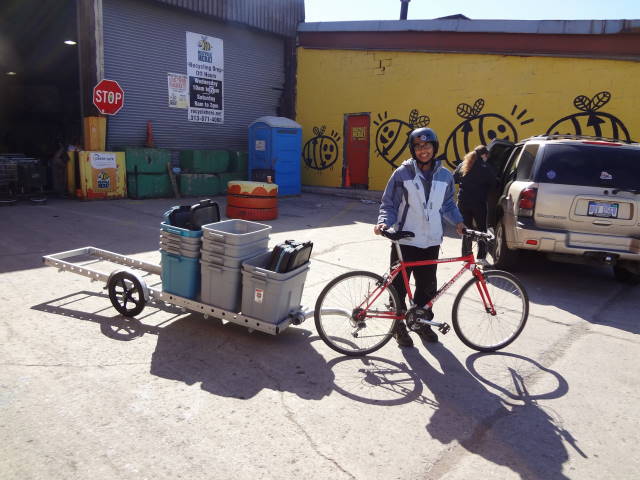 3 - 11 - 12 &nbsp Someday you might see a young girl riding a bike that is connected to a long trailer loaded down with plastic storage bins. &nbsp You no longer have to wonder what that's all about. &nbsp For a small fee she will pick up your recycling items and even sort them for you. &nbsp Then she transports it all to the recycling center via bicycle - talk about green. &nbsp I don't know her name, but her business is called Detroit Greencycle and she operates mostly in corktown - that's green, too, of course. &nbsp Check out her website for more details.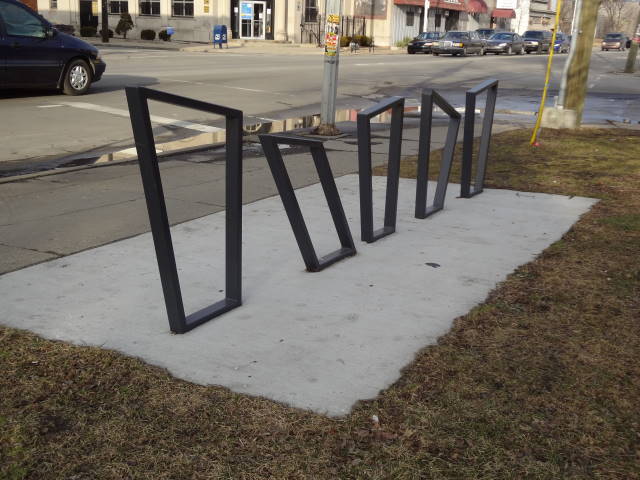 Man did I do something stupid. &nbsp I just needlessly blew my streak of 53 consecutive days riding. &nbsp From December 6th to today, January 29th, I rode outdoors every day. &nbsp So this morning, after Church, it was partly sunny and the streets were dry - perfect riding weather. &nbsp But did I go out right then? &nbsp No, I wasn't in any hurry. &nbsp Then came the snow, and it kept on coming. &nbsp Now it's dark and icy, so it's a wrap. &nbsp Actually I am quite fortunate to have been able to ride the first 28 days of January, but there is a part of me that feels greatly disturbed when a day goes by without me hitting the pavement (so to speak.) &nbsp Did the accident mentioned immediately below, put a dent in my bike riding? &nbsp No, I was riding the very next day, and haven't missed a day since then to now, the sixth of January. &nbsp In 2010, I blew away my previous record for days of riding with 354. &nbsp Last January I promised myself that I wouldn't try to break that record in 2011, but I did anyway. &nbsp Now, in 2012, I am telling myself the same thing, but I already know that I am going to try and ride every day - record or not. &nbsp I'm just a bike nut!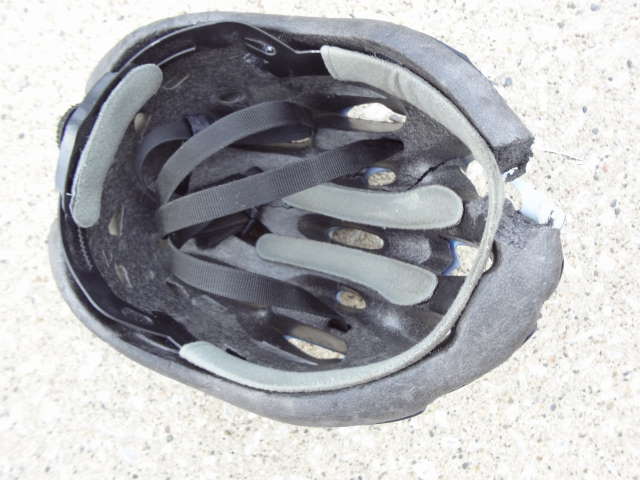 December 15th found me on a typical after-work ride around Belle Isle. &nbsp As I returned home, riding up Orleans, looking down at the pavement, lost in thought, I side-swiped a parked car and fell hard onto the asphalt. &nbsp First the important part - the bike is okay. &nbsp I wasn't so lucky. &nbsp I hit the side of my face on the street, and my right eye is pretty messed up. &nbsp I went to a medical clinic to have my eye looked at. &nbsp The doctor said he though it would be okay. &nbsp Now it's one day later, and I have so many aches and sore parts that I am trying to think if there is any part of me that feels normal. &nbsp Oh yeah, my helmet wasn't too lucky either - there is a big chunk of it that broke out. &nbsp It might have saved my life. &nbsp Glad that I have two other helmets that I can press into service.
On Thanksgiving it was so cold that I wore long underwear, heavy gloves, and balaclava, when I did my mandatory lap around Belle Isle, and I was still cold. &nbsp Today, one day later, I rode two laps on Belle Isle sporting shorts, and just a long-sleeved shirt. &nbsp On the first lap, I heard a familiar bang sound and knew instantly that I was going to have to replace a spoke. &nbsp Glad it was the front wheel, because those are always easy to deal with. &nbsp Now it is already dinner time and the only store I have visited on this notorious shopping day is the grocery.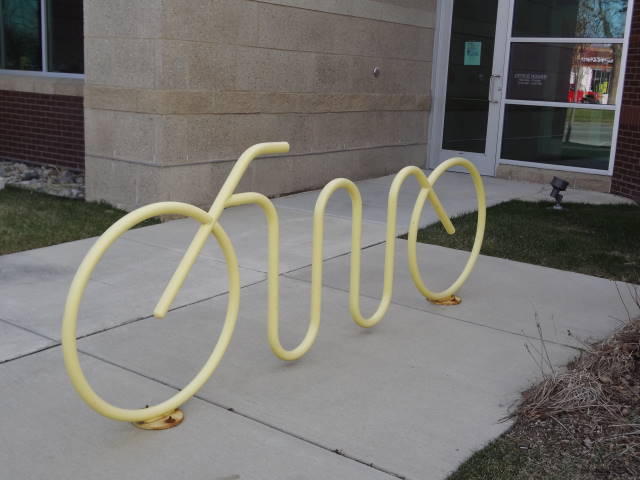 All Saints Day, 2011 - bad news! &nbsp Twenty-seven years ago, it was during November when I ordered the road bike that I still ride today. &nbsp A structural failure in my previous bike precipitated that purchase, and now I am facing the same thing again. &nbsp Lately there had been occasional noises from the Paramount's bottom bracket and sometimes I could feel some sort of unusual movement as I pedaled. &nbsp Today it was more pronounced, so after my Belle Isle ride, I inspected the area between the crank arms, and I could see that the cup that held the sealed bearing unit was loose. &nbsp I took off the front gear and tried to tighten the cup. &nbsp I found, to my dismay, that the threads in the frame were stripped. &nbsp I haven't talked to anyone about the situation, but I am sure that this is a death sentence for the bike frame. &nbsp This comes at a time when I am not in a position to buy a new bike, but eventually I will have to find a way. &nbsp After reassembling the crank, I found that I could ride the bike without any real problems. &nbsp Here's hoping that I will be able to do so indefinitely.
See the top of the nature page for another October ride.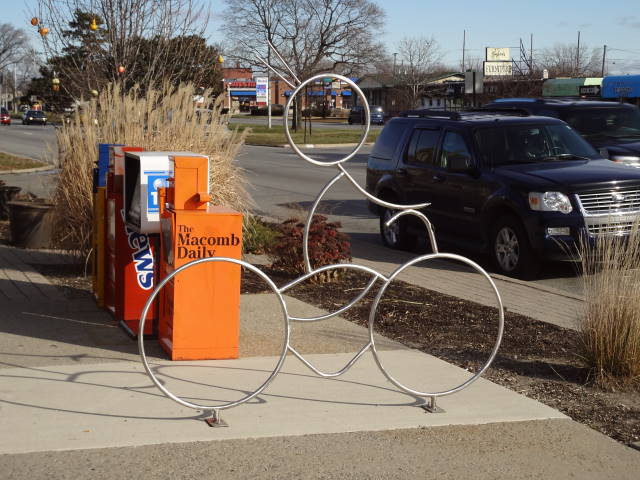 Saturday, the Ides of October: &nbsp Well I don't know about my bike, but I am certainly ready to be painted. &nbsp That's because I just got sand-blasted as I rode past the beach on Belle Isle. &nbsp With the winds blowing out of the northwest at 34 mph and gusting higher, I could feel the beach sand stinging my face and my legs. &nbsp I was wearing shorts because the temperature was 57°, though with the windchill factor, it was probably closer to 46°. &nbsp At the six mile point, my average speed was 19.7 mph, but by the time I got home it had dropped to a measley 15.2 mph.
When a compound (notably carbon dioxide) goes straight from a solid (dry ice) to a vapor - bypassing the liquid state - it's called sublimation. &nbsp When the weather goes straight from summer to winter - bypassing fall - it's called annoying. This is only the first day of October, so what's with these twenty-two mph winds out of the north? &nbsp I went for a frigid ride around Belle Isle at an average speed that was too dismal to mention. &nbsp The one bright spot was finding that all the little pot holes on Belle Isle right before the Dossin Museum were all nicely patched. &nbsp I figured out that it was because the Free Press Marathon is coming right up, and the runners will be traveling that way.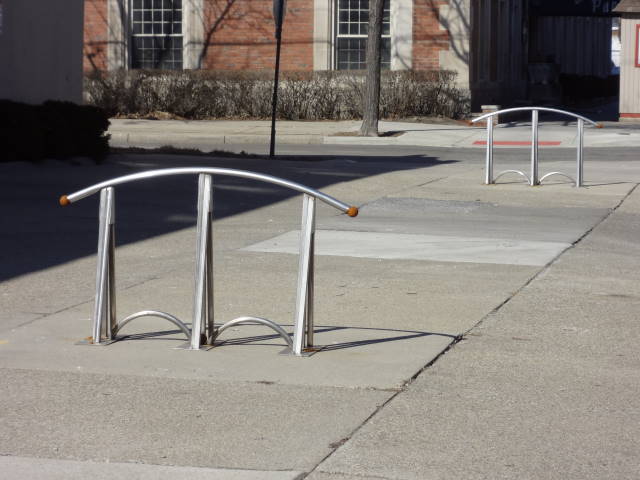 New school - old habits. &nbsp Only the second week of school and I rode to work every day but Thursday (because I had to take to Nate to the dentist.) &nbsp It's a nice ride measuring out at 4.43 miles on the way to work, and 4.25 on the way home. &nbsp I ride on Lafayette, through Campus Martius, out Michigan Avenue, through the dark via duct next to the old train station, and out Vernor just past Clark Park. &nbsp I haven't been watching the time carefully, but it is always under 20 minutes. &nbsp The brick portion of Michigan Ave. is annoyingly bumpy in a few parts, but other than that it's a breeze.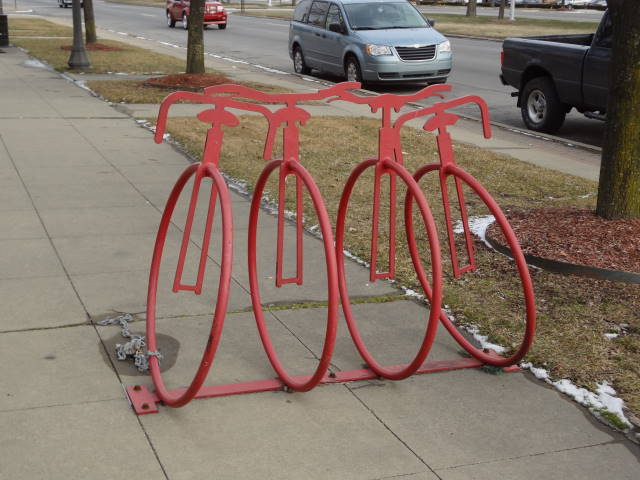 The "RAT" is the organized Ride Around Torch Lake that takes place in mid-July each year. &nbsp On Tuesday, August 9th, I took my own disorganized ride around Torch, using a map that the people who put on the RAT were kind enough to supply. &nbsp My elapsed time from start to finish was 3 hours, 30 minutes and 45 seconds for a distance of 61.4 miles. &nbsp I might have finished in a little less time had it not started pouring rain at the 48 mile mark with lots of lightning thrown in, too. &nbsp Then it turned out that my bike's front tire was flat the next morning, so it's quite possible that I may have finished the ride on lower than normal air pressure. &nbsp Even so, my average speed was 17.4 mph, which considering my three brief stops and the hilly terrain, wasn't too disappointing. &nbsp My road bike is set up for flat Detroit, with only a 52-tooth cog in front. &nbsp One steep hill on the west side of the lake found me struggling along at walking speed. &nbsp I was even considering bailing out, but I did stay on the pedals to the top somehow. &nbsp Later in the ride I did something that could be categorized as a stupid cyclist trick, so I wrote about it below in the section with that title. &nbsp At 8:45 am (should have left one hour earlier, in hindsight) I started this ride at the southeast corner of Torch Lake, heading south through the town of Alden, and all was going well. &nbsp The weather was good and I turned onto Crystal Beach, the road that skirts the south end of the lake. &nbsp Immediately I came across the sign that appears at the top right of this page - I drove back later to take a picture of it. &nbsp Heading up the west side of the lake, I traveled roads for miles with no traffic at all. &nbsp I soon rolled into Kewadin - a town that is known for its casino.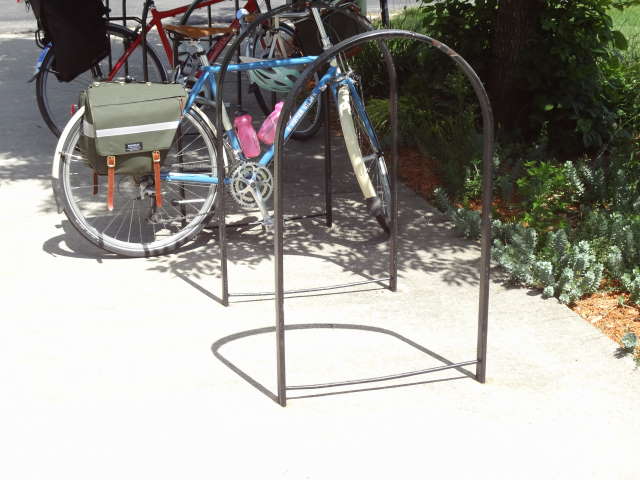 &nbsp Now the organized RAT always begins and ends at a high school in Elk Rapids and is designed to be a metric century, that is, 62 miles in length. &nbsp I decided to skip the Elk Rapids detour from Kewadin, except that I missed the turn and ended up riding all the way to Elk Rapids anyway. &nbsp I had expected tiny Kewadin to be a much bigger town, and didn't even start looking for the street to turn on until it was too late. When I returned to Kewadin, I turned on Cairn Road and found the missing Indian Road just one block from where I had been. &nbsp Indian Road consisted of brand new asphalt and featured a huge hill that curved down to the left. &nbsp A few seconds down the hill and my odometer was screaming 37 mph. &nbsp I wasn't pedaling, and I didn't see how much higher my speed went - watching the condition of the pavement became top priority. &nbsp That was too much fun. &nbsp Once the rains came and I started down the long east side of Torch Lake, I looked at the addresses to see where I stood. &nbsp (On Monday I had memorized the address, 5416, that came right before the road where I needed to turn away from the lake.) &nbsp I almost wished I hadn't checked the address because the first address I noticed was in the 3500s, but an odd number! &nbsp I knew what that meant - I had to go from 3500 all the way down to zero and then back up to 5416. &nbsp It seemed like it took hours, but it was really about fifty minutes. &nbsp The time it took for everything to dry out was much longer.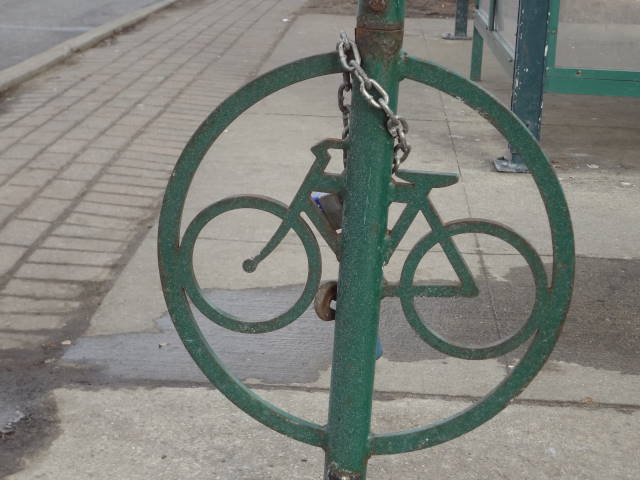 My summer school ride to work is about 3.5 miles each way these days. &nbsp Today, July 20th, I actually rode my 24" mountain bike to work. &nbsp The ride to work went fine. &nbsp I just don't like riding "without a net" - no tools, no patch kit or tube.
Independence Day + 1 - Tuesday morning and another early ride. &nbsp I probably have retina burns from the sun which was blasting just over the horizon on Vernor. &nbsp This time only five cars passed me on the whole trip, including heading into downtown! &nbsp Under the street lights on Belle Isle there was this crunching noise as I ran over tons of fishflies.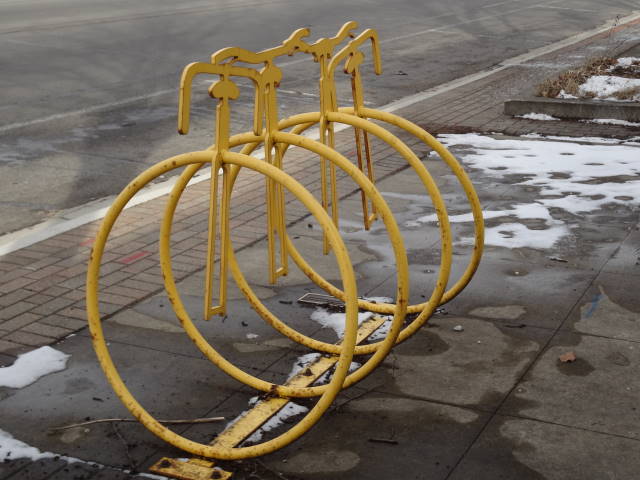 I just remembered what I liked about summer vacations. &nbsp It's Monday morning and school is over for this year. &nbsp I hit the road at 6:10 am heading east into the sun which was a big fiery red ball just laying on Vernor in front of me. &nbsp But I didn't have to worry about the drivers behind me being blinded, because there were none. &nbsp I made it all the way to Belle Isle, across the bridge, around the Island, and back across the bridge with only one car passing me - on Grand Boulevard. &nbsp Nice. &nbsp There were four other "cyclists" on the Island - all carrying large bags of empty bottles. &nbsp I averaged 19.6 mph for my usual 11.6 mile ride. &nbsp What a pleasant way to start the day.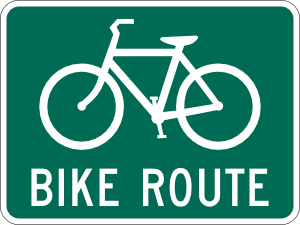 Sunday, June 12th: &nbsp Bike the Bridge saw me put 60 miles on my bike. &nbsp The day was cloudy and there was a north breeze the whole time. &nbsp With two short sleeve shirts (I put the event shirt on, too) I was a little cold sometimes. &nbsp That wind propelled me coasting down the Bridge towards Canada. &nbsp I hit 31.6 mph without pedaling. &nbsp I would have gone even faster if I hadn't begun braking because I was unsure of the pavement conditions on the customs plaza. &nbsp After breakfast at the park, I led a group of about 140 riders on a 45 mile tour through Wayne State and then off on a big loop through the Grosse Pointes. &nbsp Though we didn't go especially fast, two groups of slower riders split off to the rear, and didn' t rejoin us until much later. &nbsp I had lots of nice conversations, and a bunch of people complemented me on the route that I had devised. &nbsp We learned things that will make the next ride even better. &nbsp The ride from the park, across the bridge and back was 13.0 miles - I got a few complements on that route back to the park, too. &nbsp I am such a social person, I might just have to ride in my first Tour de Troit this fall.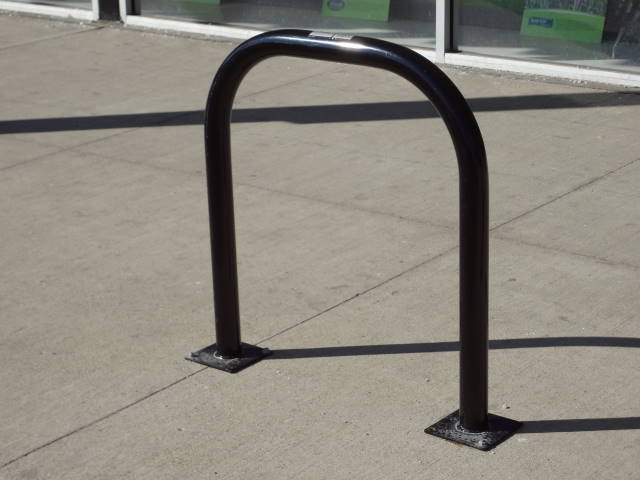 The last day in May. &nbsp Rode to work today - that's ten work days in a row. &nbsp After work I rode my loop through the Cut including over the big hill. &nbsp My poor crank (bottom bracket) bearings. &nbsp Every day it seems they make new noises. &nbsp I have tightened them up and they are still so messed up that the left crank arm is hitting on a bolt on the brakes sometimes. &nbsp Riding up that steep hill, I was afraid to push as hard as I needed to because I have already broken the drive train doing exactly that. &nbsp I want to remove the bearings and see if Randy at Continental can match up a sealed unit for the poor bike, but I don't want to take the bike off the road for even one day. &nbsp I ride it to work every day. &nbsp I almost wish it would rain (key word: &nbsp almost).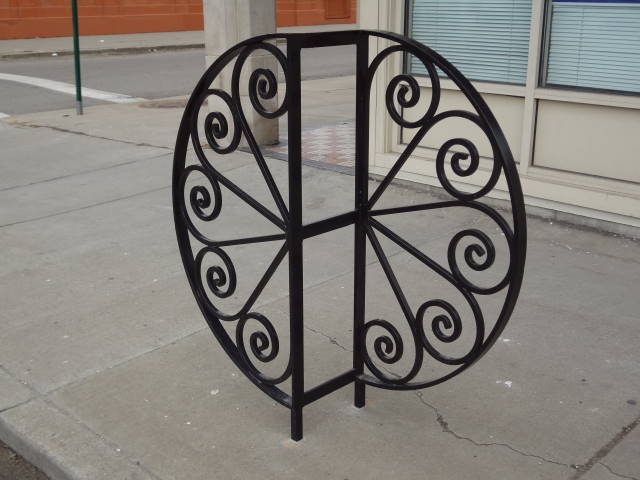 I have been riding my Sierra "mountain" bike to work a lot now. &nbsp On Thursday, April 14th, the bike incurred a front flat tire on the way home with about one and a half miles to go. &nbsp I tried to pretend that it was just low, but I knew it was flat. &nbsp I finally stopped and looked at the tire, and decided to keep right on riding. &nbsp I was surrised at how well it rolled on a front flat as long as I was going straight. &nbsp When I got home I replaced that old tire with the spare tire I already had (not to be confused with that other spare tire) because the old one had been looking pretty cut up for a long time. &nbsp I took the bike right out for a ride through the Dequindre Cut to try it out, and it felt good.
Well, not to jinx anything, but here it is the second week in April already and my Paramount still looks like it was freshly painted. &nbsp I have managed to keep it pretty clean. &nbsp This spring I hope to go on a few group rides (I can't believe I said that), and I would like my bike to look nice for those events.
March - Belle Isle bridge bikers beware. &nbsp There are a bunch of nasty potholes between Jefferson and the beginning of the bridge when you are travelling south onto the Island. &nbsp Also on that side is a big crevasse three expansion joints past the top of the bridge, and a huge depression at the base of the bridge on the Island side. &nbsp The pavement coming off of the Island is okay.&nbsp P.S. &nbsp Since I wrote that, most of the holes were patched - the notable exception being the one half way across the Bridge.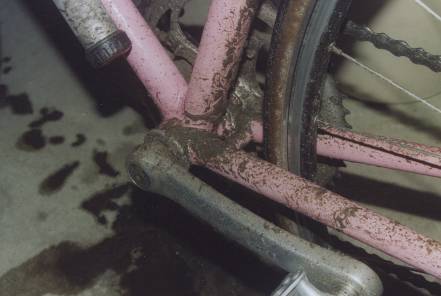 January 30th: &nbsp My poor bike. &nbsp Never before in my life has the Paramount been so filthy. &nbsp I rode in the Dequindre Cut on Sunday afternoon, and there were lots of puddles, but I had no idea how much dirt was sticking to my bike and clothes until I got home. &nbsp The bike looked so ugly, caked with mud and dripping brown streams onto my basement floor, that I had to take pictures of it. &nbsp It looks as though it could never be clean again, and since I am planning on painting over winter break in February, I am not inclined to even try.
On Friday, January 12th, I headed to Belle Isle on the Sierra mountain bike in spite of predictions of afternoon snow. &nbsp Soon after I was on the Island, a snow squall blew up. &nbsp Visibility dropped to almost zero, and the snow quickly began sticking to the pavement. &nbsp The rest of the ride was treacherous. &nbsp I slowed my pace way down, and it didn't help anything that my biking glasses kept fogging up on the inside and getting wet from snow on the outside. &nbsp Riding west along the river, the view to the right was total white - the river was invisible. &nbsp Once I was across the MacArthur Bridge I moved across the lanes to the left, and not being able to see anything, allowed my front tire to get grabbed by one of those pesky gaps between the sections of concrete. &nbsp Down I went and landed mostly on the side of my leg. &nbsp I was so mad at myself. &nbsp I put the glasses in my pocket and rode home through the remaining turns at a snail's pace. &nbsp A week later, my left leg, left shoulder, and right calf still hurt a little.
Detroit received a record six inches of snow on Sunday, December 12th and the temperatures took a nose dive thereafter. &nbsp That was the first day in over 200 straight that I didn't ride. &nbsp The next day, Monday afternoon, I noticed that the Dequindre Cut had already been plowed - sort of. &nbsp I hauled out my mountain bike and rode down Orleans through the slush to the Cut. &nbsp Once in the cut, I was treated to the 24 mph winds blowing out of the northwest. &nbsp Those winds were channeled by Cut, making the northbound laps torturesome. &nbsp With the 16° temperature, the wind chill was -4°, and that didn't count my bicycle speed. &nbsp I rode four laps for 8.44 miles, and my fingers were blocks of ice by the time I got home. &nbsp It's these sort of rides that make others (and me) think I'm nuts.
On Thursday, November 4th I noticed that the odometer on my Paramount was reading 9992 miles. &nbsp I had been wondering what would happen when it reached 9999. &nbsp Would it return to zero, or keep on going? &nbsp When I got back from my ride I checked the mileage and found 10004. &nbsp I guess it will be a little while before I turn this odometer over. &nbsp Since I write the odometer reading on my calendar at the beginning of each month, I want to go back through the calendars and see when I started with zero miles.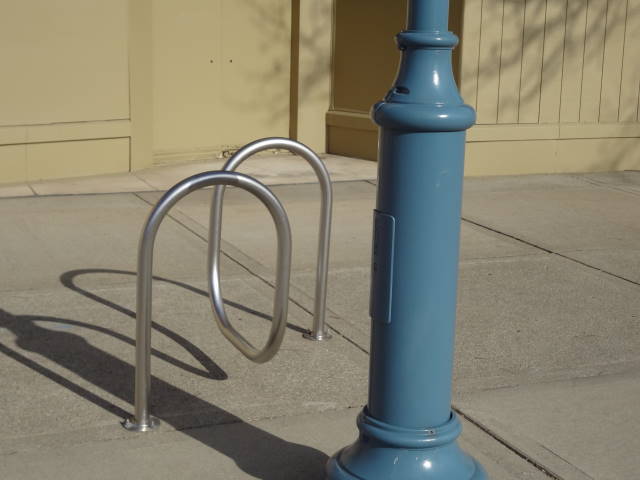 Unpleasant noises had been coming from the freewheel area of my Sierra (mountain bike) for about a week. &nbsp They started after I rode the bike over the huge hill on the RiverWalk between the marina and the wetlands park. &nbsp I tried lubricating the gears, but the grinding noises persisted. &nbsp I half expected the bike to die on the way to work one day last week, but the death of my freewheel came after work on Friday, October 15. &nbsp Once again, I was riding my Dequindre Cut loop, and as I began to pedal up the big hill there was a large bang, and all of a sudden I was pedalling, but the bike wasn't going anywhere. &nbsp My powerful (ahem, ahem) leg muscles had sheared off the last of the ratchets inside the freewheel. &nbsp Instead of riding over the hill, I was faced with coasting all the way home side-saddle style (standing on the left pedal with my left foot, and pushing off the ground on the left side of the bike with my right - not my idea of fun. &nbsp Apparently one of the other ratchets had broken on the last ride over the hill. &nbsp Come to think of it, I do have to pedal extremely hard to make it up that hill, and I'm always out of breath when I reach the top. &nbsp My bike may not like that hill, but I do!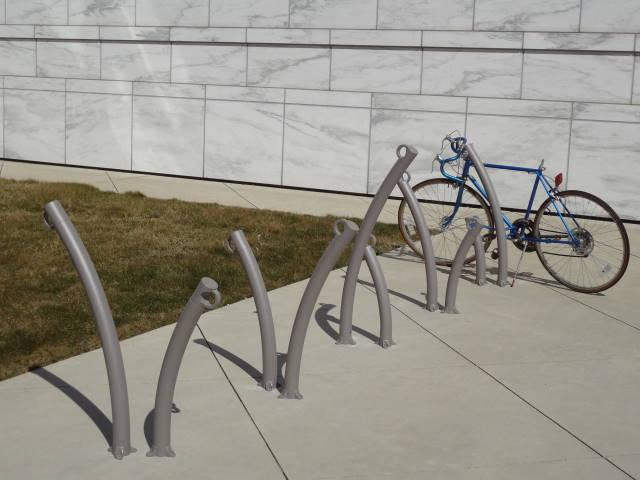 Even though I have been riding my bike to work every day this week, I don't really count that as exercise. &nbsp It's only four miles each way, and I am riding my "mountain" bike. &nbsp So after work I will usually alternate days jogging or going out on my road bike for an auxiliary ride. &nbsp Thursday, the last day of September, as I rode the Paramount around Belle Isle I was surprised and pleased to see that a crew was repainting the bike lane stripe, and painting little bicycle icons on the lane. &nbsp Previously there would be a bike picture just following every intersection, now they are placing them about every fifty yards - tons of them. &nbsp Even though I personally do not ride in the bike lane, it's nice that someone is thinking about us bicyclists.
It was a beautiful sunny late-summer day in Presque Isle County. &nbsp (If you are using your right hand as the map of Michigan, it's right at the tip of your index finger, 25 miles north of Alpena.) &nbsp Sunday the 12th of September, Lisa and I set out to ride the 25.2 miles around Grand Lake. &nbsp I was riding my Sierra and the bracket for the frame pump was broken, so I used duct tape to tape it to the frame. &nbsp Good thing! &nbsp About seven miles into the ride, Lisa's bike had a rear flat tire. &nbsp I patched the hole in the tube without much trouble, and actually it wouldn't have mattered had I not brought my pump because no less than three people stopped and practically begged us to use their air compressors. &nbsp I declined, however, and used my pump to inflate the tube. &nbsp The first person to stop came back about five minutes later to offer us water, and then about five minutes after that to make sure we were ok. &nbsp The kindness of those strangers had Lisa and I saying we should move up there. &nbsp The rest of the ride went fine except for the wind. &nbsp I kept saying that the next time we changed directions the wind should be behind us - it never was. &nbsp How can it have blown against us all the time when we were riding a big circle? &nbsp Anyway it was fun, and Lisa surprised me with her strength. &nbsp I almost rode over a little green and yellow snake.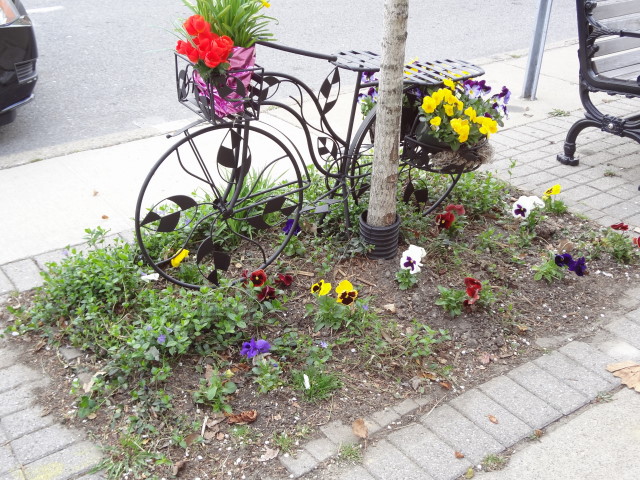 Sunday, August 15th as I headed towards Belle Isle on my Paramount, I had a number stuck in my head and the number was fifty. &nbsp When that sort of thing happens, I know that it's useless to try and reason myself out of it. &nbsp Too bad that I was out late the night before (I was on the town with lovely Lisa, had too much to drink, and didn't get home until after 2:30 am.) &nbsp Too bad that it was a hot day, and I don't ever carry any water with me, and I didn't even remember to drink a bunch of water before I left the house. &nbsp The only good thing was that I slept in until 10 am. &nbsp I left the house at 10:30 and returned home about two hours and forty-five minutes later with 50.1 miles under my belt, and my feet never left the pedals. &nbsp My average was 18.1, overall, but it was still 18.6 when my mileage was in the thirties. &nbsp The southwest wind picked up towards the end and made some of the riding (including the final ride home) quite strenuous. &nbsp More than once, I found myself wondering whether I had enough energy to do this thing. &nbsp When it was over, I didn't know which has worse: &nbsp my exhaustion or my dehydration. &nbsp I started downing cold water and orange juice. &nbsp When I tried to eat something, I couldn't because it kept sticking to the inside of my mouth. &nbsp I finally figured out that I needed to go straight to bed and after sleeping felt much better. &nbsp Though I had a little soreness in my leg muscles, it was the kind that feels good. &nbsp No doubt, this will end up being my longest ride of the year, but with an occasional break and some liquid refreshment, I could have easily rode much farther.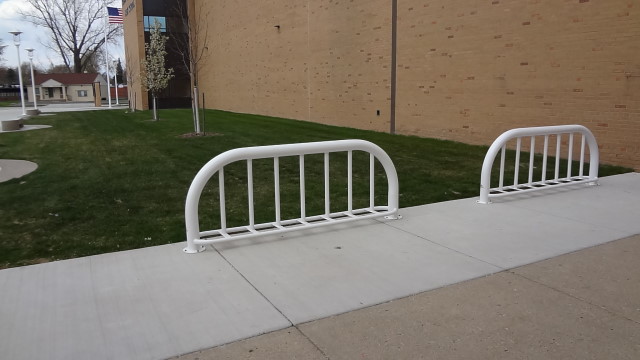 On days when I ride to work, I have taken to supplementing the eight mile distance by riding a loop through the Dequindre Cut before or after dinner. &nbsp Doing so adds on 3.5 miles, and it's fun, too. &nbsp Occasionally I will come home from that ride with pieces of Queen Anne's lace or red clover stuck in the bike's derailleur from riding through the vegetation on the big hill - it looks kinda cute. &nbsp On Monday, July 26th as I reached the top of the hill, I was pedaling so hard that the chain pulled the back wheel right out of the drop outs. &nbsp I had recently replaced the chain and freewheel on the Sierra, and I guess I hadn't tightened the quick release as much as I should have. &nbsp I replaced the chain as soon as I noticed that it had stretched so much that the links were barely lining up with the gear teeth on the way back to the front cog. &nbsp Removing the freewheel was far more difficult than I expected. &nbsp I had to take the axle out and run a bolt through the removal tool to keep it from slipping while I turned the wheel. &nbsp Of course that operation meant cleaning and regreasing the bearings. &nbsp Oh yes, I just remembered that I had to remove the freewheel anyway, because I had broken a spoke on that side of the wheel.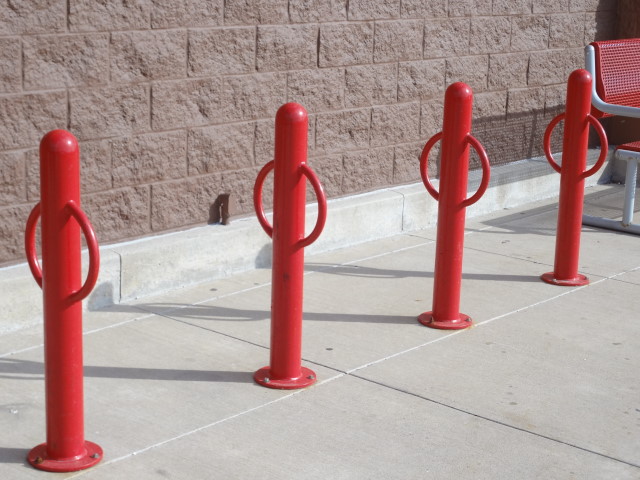 Bike the Bridge part two. &nbsp Though its usually against my religion to go on organized rides, I did so on Sunday, June 13th for the second year in a row - and I had fun. &nbsp I felt a little guilty bicycling right past my own Church to get to the starting point of the ride at the Rivard Plaza of the RiverWalk, but that feeling quickly evaporated. &nbsp When we rolled out at 7:00 am, it was quite overcast and the cool air felt, oh, so good. &nbsp Since I was on my road bike with only a large front sprocket, I was mildly concerned about how I would handle the uphill portion of the bridge, but it turned out to be no problem at all. &nbsp I coasted the downhill side and got up to 27 mph at the bottom. &nbsp About half of the group rode to Amherstburg - a thirty-six mile round trip - via the back roads. &nbsp We toured the grounds of the fort in Amherstburg, and headed back to Windsor. &nbsp The group was riding way too slow for me, so I rode back to Windsor by myself via the route I had taken in the past. &nbsp If there is a third edition of this ride next year, I'm going, and I will volunteer to lead a faster ride to Amherstburg. &nbsp For lunch, everyone ended up at the festival that was taking place on the riverfront. &nbsp Coming back to the U.S., we loaded our bikes onto a truck, and rode on two buses. &nbsp Though I had a lot of fun on this cycling event, it's actually the bus ride back that has become the highlight for me. &nbsp On the bus, I enjoyed meeting Scott Harrison whom I sat next to, and a pretty blonde named Lisa Abbey who was sitting in front of him. &nbsp Through our conversations I learned just enough about Lisa to track down her work e-mail using the Internet. &nbsp We quickly became best friends and more.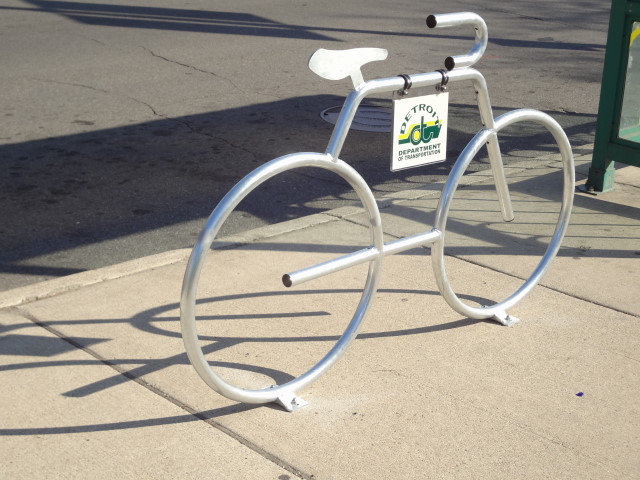 When I go out for a fun ride in the Dequindre Cut, I ride the Sierra (mountain bike), head across the park, and down Rivard to the RiverWalk. &nbsp After I visit our three memorial bricks west of the carousel in section C, I ride over to the Cut and up to the Gratiot end, and home. &nbsp The whole ride is about three and one half miles. &nbsp In mid-May the City decided to repave Atwater and its sidewalks and turned the entire street into a mud pit. &nbsp There was no way I was riding either bike through that. &nbsp The only way to get over to the Cut became going over the huge "man-made" hill that runs all the way from the street to the waterfront. &nbsp That hill has now become the favorite part of the ride for me. &nbsp They since put a temporary asphalt sidewalk in, but I still look forward to riding over the hill without touching down. &nbsp On May 29th, the first time I tackled the hill, I put the bike in one of its lowest gears and rode straight at the hill. &nbsp Half way up my tire started spinning on top of the vegetation and I had to walk the rest of the way - duh! &nbsp On Wednesday and Friday I rode the same hill, but veered toward the river before I got to the steep part. &nbsp By going at a large angle to the face of the hill I was able to ride all the way to the top. &nbsp In describing the ride up the topmost and steepest part of that hill, exhilarating is the word that comes to mind. &nbsp Just writing this makes me want to go ride that hill again, and I think I will do so.
During the week of April 19th my mind was elsewhere as I rode across the bridge to Belle Isle, and I stupidly hit the only pot hole on the bridge. &nbsp When I got home, I looked at my wheel to see if it needed truing, and it was quite out of alignment in one spot. &nbsp As I adjusted the spokes, I noticed that one of them had pulled up a section of the rim. &nbsp I did manage to get the wheel straight, but the next couple of rides I was being extra careful to watch for bad pavement, half expecting the spoke to pull even farther out of the rim. &nbsp On Monday the 26th, I dropped the wheel off at Continental, and groaned when they said the rim I was buying wouldn't be ready until Friday. &nbsp Now the weather is getting nice and I am stuck riding my mountain bike. &nbsp I'm in agony.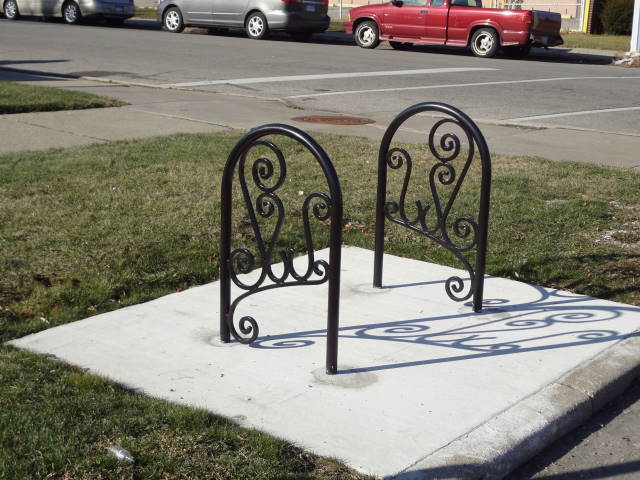 Wednesday, March 17th: &nbsp It is fortunate that I work a mere 3.97 miles (as the bike rides) from home. &nbsp That, coupled with a lunch hour that is a little more than one hour makes it easy to drive home at lunch and then ride my bike back for the duration of the school day - I have done it many times. &nbsp True, it doesn't help save any gasoline, but it is handy when I want to bike to work at the times of year when the overnight lows are just too low for my school attire, or it is just too dark in the morning to suit me. &nbsp My favorite part of riding to work is cruising through the frequently deserted streets between Eastern Market and Woodward. &nbsp This Saint Patrick's Day I took such a ride to work at lunch time. &nbsp As I headed down Watson, just west of Brush, an unusual animal ran across the street right in front of me, from one empty field to another. &nbsp It was a muskrat! &nbsp What a comical sight - its short little legs moving 90 miles an hour trying to get across my path ahead of me. &nbsp I was seriously worried that it might suffer a heart attack at any moment. &nbsp I had to steer around it to avoid hitting it.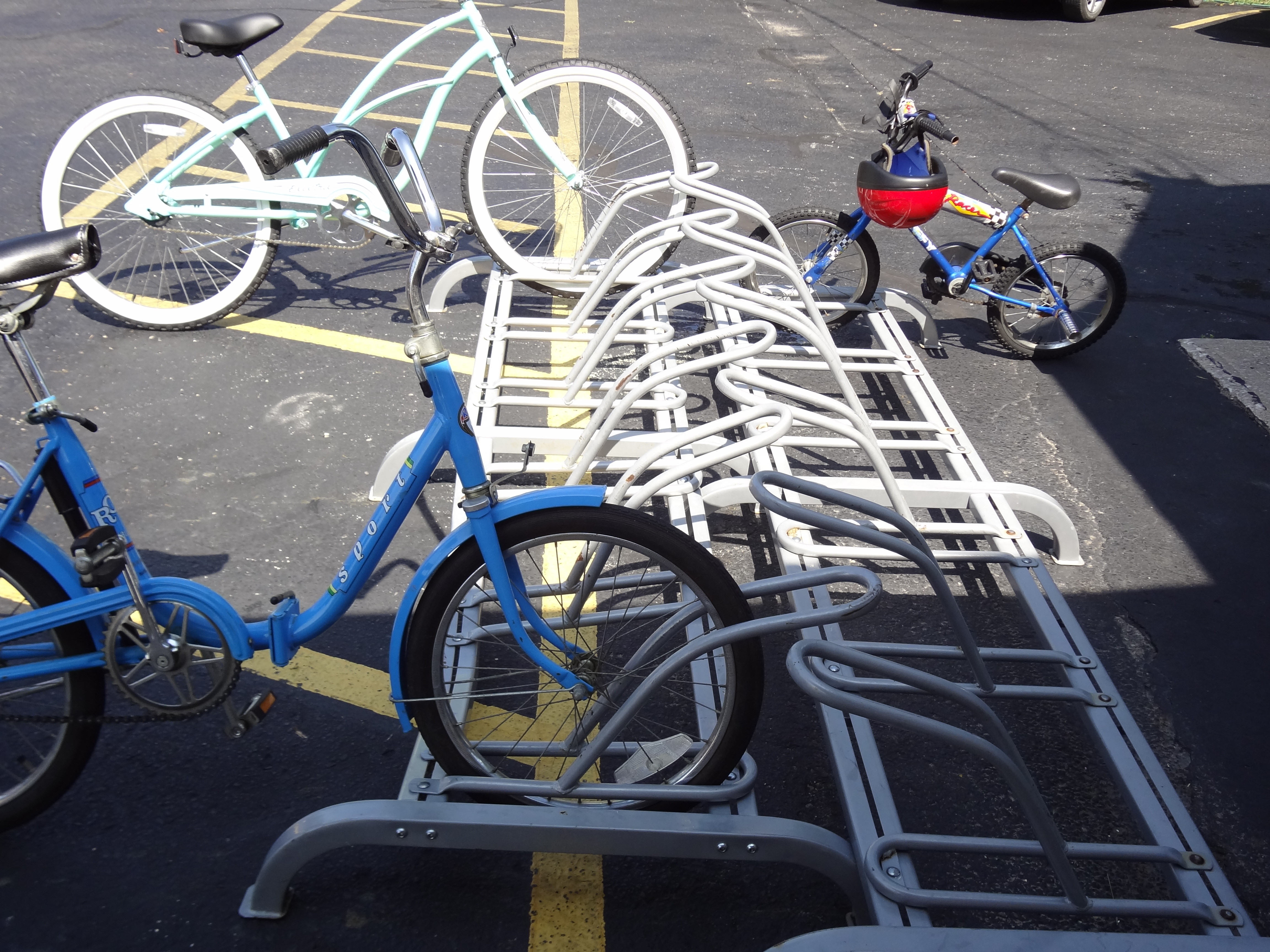 Wednesday, February 10th: &nbsp I didn't hold out much hope for riding today after all the snow we got yesterday and last night. &nbsp I drove my car along my usual bike route to Belle Isle. &nbsp Some of the streets were OK, but there were big snow drifts on the Island itself. &nbsp Maybe conditions will improve by the end of the day tomorrow. &nbsp On the way home, I looked down into the Dequindre Cut to see that the pavement down there was totally clear. &nbsp Though it was already 5:30 and getting dusky, I jumped on my Sierra and rode over to the Cut. &nbsp I did four laps from end to end. &nbsp Each lap was about 1.8 miles, so the whole ride was about 8.5 miles. &nbsp I will have to remember this option when conditions prohibit riding around Belle Isle.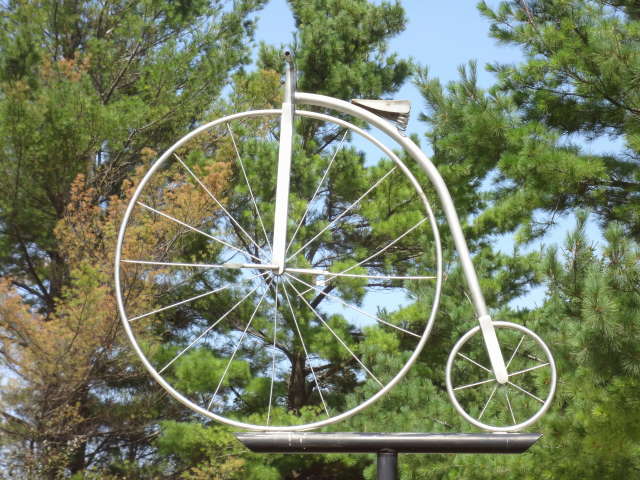 Sunday, January 24th: &nbsp As rainy as the day started, I was happy to be able to ride for the 13th day in a row. &nbsp However, my elation soon turned to deflation. &nbsp I had a flat tire by the police mini-station on Belle Isle. &nbsp Though the temperature was a relatively balmy 49°, I was on my Sierra because the pavement was just too wet. &nbsp I had recently cleaned my Paramount, and I couldn't see letting it get filthy again right away. &nbsp From winter riding, the Sierra was already quite dirty, and by the time the tire went flat the bike was even more dirty, and wet, too. &nbsp Then everything that could go wrong with a tube-changing procedure did go wrong. &nbsp The highlight was the plastic tire iron breaking off inside the tire so I had to take it completely back off of the rim to get the broken piece out. &nbsp In the end, somehow, I made it all work, but my fingers were getting mighty cold as well as covered with grease, and I hated to put back on the gloves which I had recently washed. &nbsp When I finally got home, I washed my hands with hard soap (granular) three times and my fingers still didn't look clean - reminded me of the Oil Company years. &nbsp From the time I left and the time I returned and the time on my bike "computer" I figured that it took about 18 minutes to change the tire - more than twice as long as usual in the summer. &nbsp I'm glad it wasn't way colder or I might just have walked the 3.3 miles home.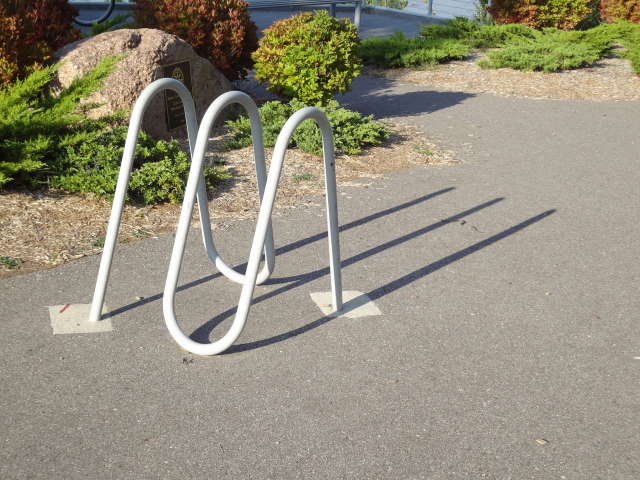 Wednesday, December 9th: &nbsp Detroit became the Windy City. &nbsp The winds blew a minimum of 38 mph continuously for the entire day and throughout the next day, as well. &nbsp There were frequent wind gusts over 45 mph. &nbsp It was time to test out my mantra: "The wind has yet to be invented . . .". &nbsp With the temperature for the day peaking at 31°, I hopped on my road bike and headed for Belle Isle. &nbsp Literally, I could have ridden there without pedaling - propelled by the gale out of the west. &nbsp Here is the telling detail. &nbsp All down the Canadian side of the Island, I was cruising at 25 to 30 mph, and my scarf was blowing in front of me ! ! ! &nbsp Not behind; in front. &nbsp Needless to say, the ride home was an arduous task, especially on a bike sporting only one large cog in front. &nbsp My average speed for the trip was a pathetic 14.2 mph, but I was just happy that I was able to ride over five miles into that wind. &nbsp It couldn't stop me. &nbsp Enough bragging.
---
The Early Years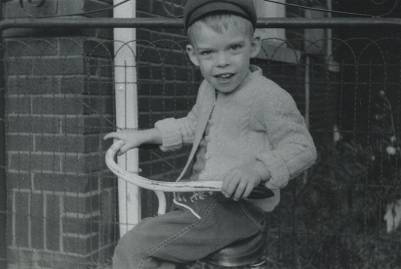 I like to think that I came out of the womb on a bicycle. &nbsp However, the earliest evidence that I have available is this picture of me at age four in the back yard of 65 W. Hildale. &nbsp Are those Cinelli bars on that trike???
My first 26" bike was a standard black Schwinn one-speed with fenders. &nbsp I used to have fun riding it all over the neighborhood. &nbsp I remember things like getting up speed, putting my feet up on the handlebars and riding through long puddles. &nbsp We used to ride along the curb through people's piles of leaves, too, even when they were on fire. &nbsp I miss burning leaves in the streets - I miss the smell, I miss wrapping potatoes in foil and cooking them in the leaves. &nbsp Sometimes I would go on bike rides with my older friends, and I attribute my strong leg muscles to having to keep up with Ronnie Olink and Mickey Alesi, on their three-speeds bikes. &nbsp Eventually my black bike became motorized. &nbsp My best friend, Bill Frank, and I bought a small non-functional 2¼ HP gas engine from the local lawnmower shop. &nbsp We took it completely apart, cleaned and painted it, and discovered that all it needed was an inexpensive magneto coil.
Once we had the engine running, we clamped it to the picnic table in Bill's back yard and would enjoy just listening to it run. &nbsp That's Bill's younger brother, Tim, standing on the table. &nbsp Sometimes we would drip oil in the carburetor and create a huge smoke screen that would blow into the Bulanda's back yard. &nbsp The next thing we did with the engine was to mount it in my red wagon, and bolt a pulley to one of the back wheels. &nbsp We quickly found out that the wagon wouldn't move on any surface, not even snow or ice. &nbsp Bill's dad had a metal shop in his basement. &nbsp He fabricated a platform and supports for the engine, and turned a wooden pulley on his lathe that fit the contour of the back tire of my bicycle. &nbsp We didn't know how or even whether it would work, but we mounted the engine on my bike. &nbsp Fortunately, the engine was light enough that the bike's kick stand would support the contraption. &nbsp Being a direct-drive system, you had to pedal the bike to start up the engine, but once it was going, it worked fine. &nbsp It would go up to about 25 MPH, but you had to reach back with one hand all the time to hold the throttle open. &nbsp When you wanted to stop, you put on the bike's coaster brake which stalled the engine. &nbsp Not exactly ideal operating conditions, but it was fun to ride. &nbsp Later, I bought a minibike frame and moved the engine onto it. &nbsp Even though the engine was pretty small, I really enjoyed cruising around on that machine. &nbsp My enjoyment was short-lived, however, because the minibike was "stolen" from our garage. &nbsp I have always suspected that my parents had something to do with that theft.
Bill and I had lots of fun together, and it wasn't always about combustion engines. &nbsp Sometimes it was blow torches. &nbsp We would burn magnesium ribbon, melt down lead shot to make weighted wooden clubs, and play with Estes model rockets. &nbsp We also constructed and painted model cars. &nbsp From there we branched into slot cars - a hobby that I truly regret is no longer available. &nbsp Slot cars were tons of fun, and besides were my first real engineering experience. &nbsp After racing cars on a little toy track in Bill's house, we gradutated to The Groove. &nbsp The Groove was on the East side of Main Street a bit past Ten Mile, in Royal Oak. &nbsp They had a huge 8-lane slot car track with banked curves. &nbsp We used to ride our bikes through the alleys behind Woodward from Eight to Ten Mile, carrying our fishing tackle boxes with our cars and parts. &nbsp It was definitely a high-tech scene at the Groove. &nbsp We began fabricating our own slot cars, soldering copper tubing to make the frames and using clear plastic bodies painted from the inside and held on by straight pins inserted into the copper tubing. &nbsp We soldered ball bearings into the frames for the axles, experimented with different gear ratios, and bought motors that turned so fast that they had to have epoxy on the armatures so the wires wouldn't be torn off by centrifugal force. &nbsp The Groove sounded like a dentist's office with those little motors screaming. &nbsp My first store-bought slot car was a white Avanti. &nbsp (There's a picture of a real such car on my links page.) &nbsp I realize, now, that you never know what you will someday wish you had saved. &nbsp Slot cars are certainly on my list. &nbsp I also wish I had saved all of those WKNR music guides. &nbsp I had a couple complete years of those. &nbsp Back to bicycling . . .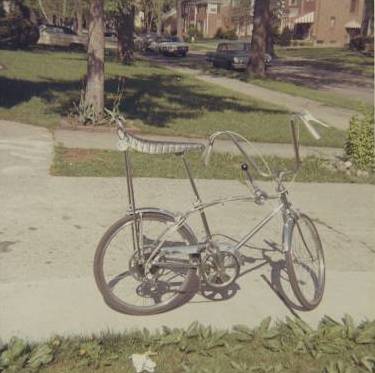 Eventually I got my first multi-speed bike: &nbsp a five-speed Schwinn Collegiate. &nbsp (There's a picture of it on the page with my cars.) &nbsp I remember racing my friends and other kids from the neighborhood on Hollywood (two blocks south of Seven Mile.) &nbsp We would race from Charleston towards John R. &nbsp Nobody could touch me. &nbsp I would take about two pedal strokes in first gear, then slam it into fifth, and I was gone. &nbsp Ever since that time I've been a "stomper" - I love the high gears. &nbsp When I got my Paramount, I only installed one front cog, and that was a 54-tooth! &nbsp Since then, in deference to my knees, I have softened to a 50-tooth gear, but I still only have the one gear in front. &nbsp No extra cog, no front derailleur, no cable or shifter means the bike weighs less, too. &nbsp I have tried "spinning" but it just doesn't work for me. &nbsp Anyway, with the five-speed bike I gained hand brakes, and the ability to try new things. &nbsp When riding around the neighborhood, every flattened pop can in the street (and there were plenty in those days) was a challenge. &nbsp As soon as our front tires would make contact with a can, we would hit the front brake, and pedal as hard as we could to see how far we could ride skidding on the can. &nbsp Then there were back-wheelies. &nbsp You would ride fast, lean forward, and put on the front brake just hard enough to cause your back wheel to come off the ground, but not hard enough to go over the handlebars.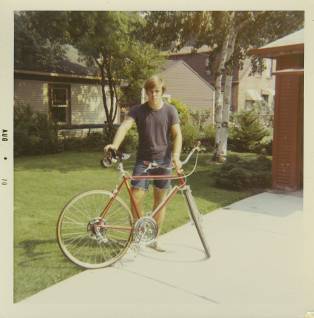 Speaking of wheelies, two Schwinn Continentals later, I reverted to a 20-inch Stingray, just because they were so much fun to ride. &nbsp I rode my 5-speed Stingray on rides of over twenty miles, but it was riding around the neighborhood that was the real fun. &nbsp All I had to do was sit back on the banana-seat, pull up on those tall handlebars, and I could do a wheelie all the way down my block, and then some. &nbsp The Stingray was purple when I got it but I later had it chrome plated. &nbsp With the silver seat and handlegrips, it looked pretty sharp. &nbsp Here it is sitting in the driveway at Bill Frank's house.
The reason I ended up having two Continentals is because one got stolen. &nbsp When my freshman year was over at U of M, I decided that I was going to ride my bicycle home from Ann Arbor to Detroit. &nbsp I have since done that a bunch of times, but this was going to be the first time. &nbsp The route I had planned was about 57 miles, and I was pretty geeked up for this new ride. &nbsp I got up early and came down to the bike rack in front of South Quad to find my front wheel locked securely to the bike rack just where I had left it. &nbsp Unfortunately, the rest of the bike was nowhere to be seen. &nbsp Instead of a fun ride, I got to go to the Police Station and make a report, and call my mom to come get me. &nbsp If I remember correctly, our home-owner's insurance paid a whole $7.00 - the $57 for a new Continental minus the $50 deductible. &nbsp I miss those kinds of numbers.
---
The Paramount
On my Paramount
So connected to the road
Cycling is my life.

Yes, I love my bike
Girls know they're in second place
That's the way it is.

Biking every day
Way beyond fanatical
I'm a flat-out nut!
---
Okay, enough Haikus. &nbsp I'll say it in prose - my bicycle is my number one love. &nbsp My former girlfriend, Tish, was the first to point that out; she said that she could never compete with my bike. &nbsp If you were to ask my family today, they could tell you that I have actually modified family vacations around my need to ride my bike every day. &nbsp My main ride is my Schwinn Paramount road bike. &nbsp I ordered it in November of 1984 at (the former) Jake's Bike Shop on Kelly Road in Harper Woods. &nbsp During its best years, Jake's was simply the best bike store. &nbsp I have yet to meet anyone more knowledgable about bikes than John Trexler who worked there.
| | |
| --- | --- |
| | |
My first Paramount, however, was just the frame (with bearings) that I bought from Mike Walden's Continental Bike Shop on John R in Hazel Park. &nbsp You might do well to ask exactly where on John R is the store, because it has been at three different addresses on that street. &nbsp In 1974, when I bought my the Paramount frame for $550, the bike store was located in a big white house at 26545 John R, near 11½ Mile. &nbsp From there the store moved to 23262 John R, across from the [then] Farmer Jack grocery store, just north of Nine Mile. &nbsp Currently, the Continental Bike Shop is at 24436 John R, south of Ten Mile. &nbsp It is, once again, my bike store of choice. &nbsp If you visit Continental, talk to Randy. &nbsp He is extremely knowledgeable and helpful.
When I bought the frame in 1974, it was Schwinn's bright blue color with chrome highlights. &nbsp I moved all the equipment to it from my former bike - a Schwinn Sports Tourer. &nbsp Eventually I had the bike painted twice - the first time a black metalflake, and the last time green with yellow pin-striping. &nbsp I can only blame myself for a rust-through of that bike frame, and I had no choice but to replace my Paramount it 1984. &nbsp When my current Paramoount bike frame arrived from the factory in Wisconsin - in April of 1985 - it was a reddish-purple color called "neon orchid."
| | | | | | | | | |
| --- | --- | --- | --- | --- | --- | --- | --- | --- |
| Apr 1985 | Mar 1997 | Mar 1999 | Feb 2001 | Apr 2003 | Feb 2005 | Feb 2007 | Aug 2008 | Mar 2011 |
After a number of years, I started repainting my bike regularly. &nbsp My Paramount has been (in this order) purple, green, clear, yellow, red, blue, orange, pink, and yellow-green - its current color. &nbsp For visibility, I try to choose bright colors. &nbsp Now that I have used up all of the primary and secondary colors, I am leaning toward unusal colors for future paint jobs. &nbsp Changing the color of my bike is a big job that I usually tackle during winter break when I am more likely to be riding my other bike. &nbsp Once I decide to start, I can take the bike totally apart, including the derailleur, in less than 30 minutes. &nbsp I dump all the nuts, bolts and other parts in one container. &nbsp I know where every one of them goes just by looking at them. &nbsp Then the hard work starts - the sanding off of the old paint down to the bare metal. &nbsp There are so many hard-to-reach places between the tubes. &nbsp One tool that I have found useful is a round wire brush that plumbers use to clean out copper pipe. &nbsp I cut off the handle and put the twisted wire shank in the drill. &nbsp It is great for getting into small places and cleaning inside tubes and the bottom bracket, etc. &nbsp The other big job is cleaning all of the little parts that I took off the bike. &nbsp The painting phase is easy. &nbsp From start to finish, the process usually takes about one week.

There is something so satisfying about putting all the bike's parts onto a freshly painted frame. &nbsp If only there were an easy way to keep my bike clean all of the time. &nbsp Really, though, if three certain areas of my bike are clean, then I feel like the whole bike is clean. &nbsp The most important spot (and always the first area I clean) is the bottom bracket. &nbsp When I'm riding and I look down between my pedals, I want to see clean surfaces where the lugs attach to all of the bike's tubes. &nbsp If they are all clean, then I'm happy. &nbsp The other two areas that I am fussy about are the top of the fork, and where the seat post enters the down tube. &nbsp Normally I spray a liquid cleaner on the bike and wipe it off thoroughly.
The Bike Formerly Known As Pink

. If you used to see a guy riding a pink road bike on Belle Isle, it was probably me. &nbsp When I decided on bright pink for a color, I looked for spray paint everywhere, and found absolutely nothing. &nbsp Luckily, I eventually thought of Painters Supply at the corner of Fort and Southfield in Lincoln Park. They have hundreds of automotive paint charts for all models of cars going back many years, and they can mix any of those colors. &nbsp Best of all, they can put any paint color that they mix into spray cans for you while you wait. &nbsp In addition to the cost of the paint, the charge is $7.00 per spray can filled. &nbsp I bought one quart of paint and that was enough to fill two spray cans with a little left over in the quart can. &nbsp My two current vehicles appear to the right. &nbsp I have now painted my bike again, and this time it is a bright yellow-green color. &nbsp I would call it chartreuse, but the paint chip was labeled "sublime." &nbsp In real life, the color looks much brighter than in this picture.
By the way, it's back to pink, again. &nbsp I liked that color so much, I bought the exact same color and painted the frame starting in late January, 2013 and ending in early February. &nbsp As of this writing, the paint is starting to look like it needs some serious touching up.
---
The Sierra
My other bike is a blue and chrome Schwinn Sierra that I purchased in September of 1988, also from Jake's. &nbsp I consider it to be a mountain bike, and refer to it as "the blue bike." &nbsp That is actually a misnomer now. &nbsp After a number of years and scratches to the paint, I noticed that there was chrome under the blue paint, too. &nbsp It dawned on me that the whole bike was chrome-plated, with the blue painted over the chrome. &nbsp I am gradually scratching the blue paint off with a razor knife. &nbsp The chrome plating is such good quality, that the knife isn't even scratching it. &nbsp The Sierra is great for tooling around downtown and for riding to work. &nbsp It is quite sturdy, yet not overly heavy. &nbsp The Sierra has eliptical front gears for better leverage. &nbsp I outfitted the bike with full plastic fenders, so it is perfect for riding on wet pavement.

On Nick's first bike ride, pictured at left, I took him on the Grand Boulevard loop from West Fort Street around to East Jefferson by Belle Isle. &nbsp It was a cold winter day so we were both bundled up, and Nick had me to help shield him from the wind. &nbsp I was in tour-guide mode, talking to Nick all the way. &nbsp After I crossed I-75 and started up the hill over the railroad tracks out of Milwaukee Junction, I was telling Nick where the tracks went, and I noticed that I wasn't getting any response. &nbsp I turned around to see that Nick was sound asleep in his bike seat. &nbsp I guess I need to work on my delivery! &nbsp I found it pretty funny that I was doing all that talking to nobody. &nbsp Once Nate got a little older, I would have to take two bike rides so that each of my sons would get a share of the agony (I mean fun.)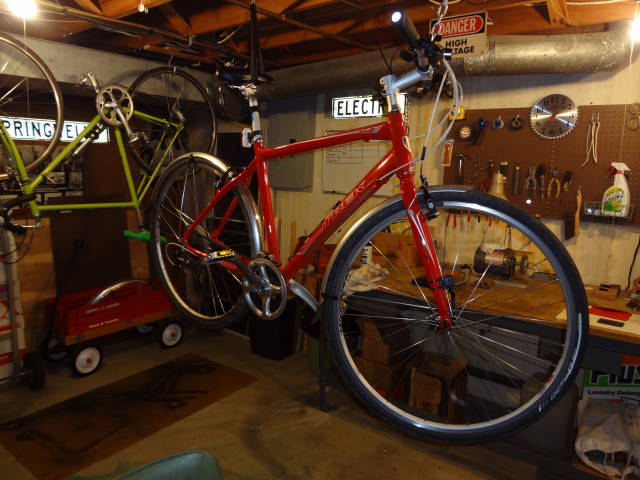 Post Mortem:
On Monday, July 18th, 2011, my Sierra was stolen at school from a room that I thought was locked. &nbsp I was so sad. &nbsp On August 2nd, I purchased it's replacement - a red Trek 7.2FX. &nbsp No bike could hope to replace what the Sierra was to me, but I am gradually warming up to the Trek. &nbsp It's aluminum frame is very light and has taken some getting used to. &nbsp Shifting is so easy, and I have come to think of the bike as "easy to ride". The Trek is just the bike for riding to work, and that is what I am doing frequently.
---
The Stingray
When I bought the Stingray it was purple. &nbsp After I had it chrome-plated it looked awesome. &nbsp You can see a picture of it in its glory just above in the section titled The Early Years. &nbsp In July of 2012, I retrieved it from the garage of a relative. &nbsp The bike had sat there unused for years. &nbsp Now I am restoring the Stingray from abandonment and layers of rust. &nbsp Many major parts will end up being replaced, including both wheels, chain, seat, handlebars and stem, grips, brake levers and cables. &nbsp Is there anything left? &nbsp Yes.
My first project was to thoroughly clean the fork. &nbsp I also cleaned the crank and its Mag gear, the bearings and cups for the headset and bottom bracket, and even the kickstand (I haven't decided whether I will use it or not.) &nbsp I am currently cleaning both brakes, the shifter, and the derailleur. &nbsp A week ago, I painted the fork with white primer and then, two days later, painted it with the "pink" paint that I had bought to use on my road bike. &nbsp They did not get the color the same as it was before, and it ended up being an ugly light purple color. &nbsp I sanded it a little, painted it with white primer again, and picked up some Rustoleum for the final coat. &nbsp The color will be apparent when I paint it again and upload a picture.
I went to Al Petri's bike store in Lincoln Park intending to buy just a stem and handlebars, and ended up buying everything else I needed except those two items. &nbsp I bought two wheels, rim tape, tubes and tires, seat, seatpost and clamp, hand grips, and brake levers. &nbsp The seat I decided upon is the same size as the original and a metal-flake version of the color I am painting the bike. &nbsp I am so fortunate to have found that seat. &nbsp The store owner, Al Petri, Jr., was extremely helpful. &nbsp He even knew the history of when Schwinn changed dimensions of various parts for the Stingray and what all those dimenions were and are. &nbsp So now that all the parts are clean except the derailleur - and that is almost done - I am thinking that maybe I will be painting the bike frame within a couple weeks. &nbsp The thought is getting me excited.
On Sunday, September 23rd, I took the frame out on my front steps and brought out the drill and all the wire wheels. &nbsp After a one-hour session, the frame is starting to look decent. &nbsp Very little rust is left. &nbsp I need to go to the hardware and get a larger diameter wire wheel that might do a better job of reaching into the crevasses. &nbsp Meanwhile, when I tried to put the front wheel into the fork, I found that the hub was too wide and the axel diameter was too large, too. &nbsp Back to the store with the wheel so they could rebuild it with a different hub. &nbsp Now both wheels are sporting new hubs. &nbsp I finished cleaning the derailleur, so the frame is all that is left to clean, and I have to buy a stem, handlebars, and three shift cables.
I finished painting the frame with Rustoleum Green today, October 13th, and it looks good. &nbsp I will let it dry until Monday and start assembling the bike. &nbsp The first task will be to press the bearing cups into the head tube and the bottom bracket. &nbsp I can't wait. &nbsp It is now six days later and the entire bicycle is assembled. &nbsp I have been riding it in the basement and trying to adjust it as much as I can. &nbsp It is too wet outside or I would ride it out there right now at 2:00 am. &nbsp I can't wait to ride it around.
---
I love riding!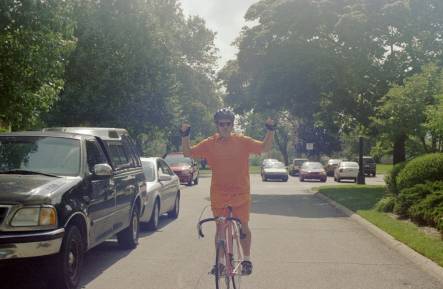 I'm a happy boy if I can do just two things every day: &nbsp play my piano and ride my bike.
I have put tens of thousands of miles on my Paramount and had much fun doing it. &nbsp When it comes to riding, I'm a loner. &nbsp Rarely do I ride with a group or partner. &nbsp Sadly, the one person I did like to ride with, Bruce McKenzie, moved from Windsor to Toronto. &nbsp My typical daily ride for fun and exercise is the 11.6 mile ride from my house to Belle Isle, around the perimeter of the island and back home. &nbsp I frequently will do that ride after work. &nbsp On weekends, especialy in warmer weather, I try to go for a variety of longer rides. &nbsp The 354 days that I rode in 2010 are my personal record - one that I have no intention of ever trying to break. &nbsp In 2008, I set my personal record for consecutive days of riding with 226 straight days from April 3rd to November 14th. &nbsp (I have passed that number this year, and I am still adding to it!) &nbsp I will ride in light snow, light rain, any kind of wind, and in any temperature - even single-digit temperatures accompanied by a strong wind. &nbsp I am fond of saying (to myself, when I'm riding) that the wind has yet to be invented that can stop me. &nbsp When it's very cold, I wear my double-nylon pants. &nbsp Though they are thin and light, the layer of air trapped inside will keep me warm enough in any temperature. &nbsp I'll come back from a ride to find my legs sweating when the thermometer reads 4°. &nbsp Mainly it's my hands that give me problems in cold weather.
Have you ever experienced the hot-cold shower phenomenon? &nbsp Unless you exercise outdoors in the winter, you haven't. &nbsp After my typical winter ride, which lasts from 40 to 60 minutes, with a constant wind, my body temperature has dropped way down. &nbsp As soon as I'm home, I will usually jump right into a hot shower. &nbsp As the hot water hits my cold body, and runs down, my body instantly turns the water ice cold. &nbsp As a result, the lower parts of my arms, and my legs and my feet simultaneously feel the hot water from the shower and the icy water running down. &nbsp It's such a strange feeling - really invigorating.
Through my daily Belle Isle rides, I am keenly aware of the wind conditions on the Island. &nbsp Although the prevailing winds are supposed to be out of the southwest, in the summer there are times when the wind will blow out of the east every day for weeks straight. &nbsp When I asked my nephew, Matt Pruski about this phenomenon, he offered the following theory. &nbsp The high concentration of concrete in the streets and buildings of downtown causes large masses of warm air to rise over downtown. &nbsp The resulting vacuum sucks the cool air over Lake St. Clare eastward past Belle Isle and into downtown. &nbsp Even though the area may be experiencing winds from the west or southwest, a local east wind exists from Belle Isle toward downtown. &nbsp I sent an e-mail to Channel 7's weatherman, Jerrry Hodak, asking him if that theory made sense to him. &nbsp He send back a nice note agreeing with Matt's theory, and asking if he had ever considered a career in meteorology. &nbsp Way to go, Matt!
Now that I ride almost every day, I have noticed that it seems like the wind is always blowing hard out of some direction or another. &nbsp Didn't there used to be calm days? &nbsp It seems like they no longer exist. &nbsp If the wind just has to blow, then I always prefer to start my ride off with the wind behind me, and finish into the wind. &nbsp If I start off into the wind, then by the time I finally have the wind behind me, I will be too tired to enjoy it as much.
Since I frequently take my daily bike ride after work, the length of the day is of concern to me. &nbsp Not only is it safer to ride while the sky is still light, there is some psychological factor that makes riding in the dark less fun and seem colder. &nbsp As I write this, it is Christmas Day. &nbsp Though winter is just beginning, the shortest day has passed and the days are finally getting longer, albeit slowly. &nbsp This year, 2011, the shortest day was December 22nd. &nbsp The day with the earliest sunset, however, was two weeks earlier on the fourteenth. &nbsp The day with the the latest sunrise will occur about two weeks after the shortest day, that is, the seventh of January. &nbsp This phenomenon occurs because as the solstice approaches, the change in the sunset time is faster than the change in the sunrise. &nbsp In effect, the day shifts slightly later as it gets shorter and then longer again. &nbsp The same sort of thing happens in June at the longest day of the year.
Some of my favorite riding memories are from rides to and around Windsor Ontario. &nbsp In the old days, they used to let people walk or bicycle across the Ambassador bridge, but have since suspended the practice due to insurance costs. &nbsp You were supposed to walk your bike on the sidewalk, but of course we would always ride. &nbsp One time riding alone, on the way back to the States, I got off the sidewalk and rode in the traffic lane at the far side of the bridge. &nbsp I didn't realize that the gaps in the expansion joints were wider that my bike wheels. &nbsp When I came rocketing down the bridge, I had to cross the expansion joints at a big angle so I wouldn't drop in one of the gaps and wipe out.
Most of the group riding that I have experienced occurred in the 1980s, when I was one of several ride leaders giving historical tours of downtown and its surrounding neighborhoods. &nbsp These bicycle tours were sponsored by the Detroit Parks & Rec. Department, and I was actually on the City of Detroit's payroll. &nbsp Out of that scene arose a bicycle club known as the Detroit Freewheelers. &nbsp Between the tours and the Freewheelers, I met a bunch of wonderful people including Connie and Vern Ramsey, Linda Potter, Woody Miller (see the links page for his website, The Detroiter), Greg Abdoo, Reg McGhee, Walter Johnson, and my pal, Maureen McDonald. &nbsp I still fondly recall a torrid ride that Greg, Walter and I took one particular Monday evening. &nbsp Detroit Parks & Rec. instituted a weekly after-work ride on Mondays starting from Grand Circus Park. &nbsp On the very first ride, the three of us decided to break off from what promised to be a too-slow group of cyclists. &nbsp We picked Grosse Ile as a destination and took off flying down Fort Street. &nbsp Having just met that evening, neither Greg, Walter nor I wanted to be perceived as the slowest of the group, so we burned up the pavement all the way down to Grosse Ile, across the free bridge, around the eleven-mile perimeter, and back downtown. &nbsp I was exhausted, but it was a great ride. &nbsp That was the last time I rode 40+ miles after working all day. &nbsp Greg had brought his fixed-gear bike on that ride, and we switched bikes for awhile. That was the first time I had ever had the pleasure of riding one of those bikes. &nbsp I am sad to say that Greg died in a bicycle accident, and Woody has also died. &nbsp Two great losses for the cycling scene in Detroit.
| | |
| --- | --- |
| | |
Riding in the 24-hour Wolverine Marathon has been a pleasant tradition for me. &nbsp The marathon is held on the third Saturday of May every year, however it was changed to a 12-hour format a couple years ago. &nbsp I have participated many times, completing the whole 200 miles twelve of the times. &nbsp My best overall time was fourteen hours, twenty-five minutes in 1992. &nbsp My actual riding time was about twelve hours. &nbsp The shirtless wonders above are my cousin Gerry, Jack Shereda, and me, at the 1978 marathon. &nbsp The following year was the first time that I completed 200 miles at the event. &nbsp When I finished that ride, Mike Walden (who owned the Continental Bike Shop, and trained the Wolverines) wrote "200 Miles in 16½ hours a Very Good Ride" on my number bib and signed it - my favorite bicycle souvenir. &nbsp That's Mike in the other photo with Olympic cyclist, Sheila Young behind him in the gold jacket. &nbsp It was the year with the highest level of participation - 8000+ if I remember correctly.
| | | |
| --- | --- | --- |
| | Seated on the curb are my sister Lex and Jack Shereda. &nbsp Sitting on my 1974 AMC Hornet are my cousin, Gerry Prokopowicz, and my good buddy, Neal Clinthorne. &nbsp At U of M, Neal and I would occasionally walk down to the tracks and watch the evening freight train go by. &nbsp One night the train didn't come, and we started walking down the tracks as we waited for it. &nbsp We walked the tracks all the way to Ypsilanti - never saw a train - and then walked back to Ann Arbor on Packard. | |
In August of 1985, I was on vacation, staying in Harbor Springs. &nbsp One day, I bicycled up the middle of Emmet County to Mackinac City, and took the ferry over to Mackinac Island. &nbsp After a quick lunch, I rode my Paramount around the eight-mile perimeter of the Island. &nbsp While taking the ferry back to the mainland, it started raining. &nbsp I had to ride the entire 37 miles back to Harbor Springs in the pouring rain - my shoes were full of water. &nbsp It's fun to remember it now.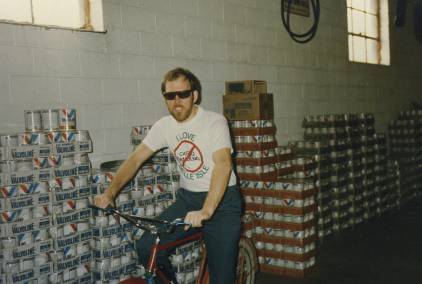 I used to have a ten-thousand pound one-speed bike with metal fenders. &nbsp I bought it just for riding to work in the rain. &nbsp In the days when I was working in the warehouse at our family's business, I would ride to work even when it was raining hard. &nbsp One time I was riding home during a thunderstorm. &nbsp As I rode between the tall buildings of downtown Detroit, there was a bolt of lightning, and I actually got a shock from my handlebars. &nbsp That was a little too scary. &nbsp I am guessing that the year was 1986, because it was that year that I rode to work the most days. &nbsp I made the thirteen-mile round trip on 161 days in 1986.
I miss the days when a couple hundred deer used to roam free on Belle isle. &nbsp They were fun to watch, and sometimes they would run along next to me as I rode. &nbsp I also miss those summer vacation days when my sons were very young and I would go for my daily rides before Theresa went to work. &nbsp I used to see a red fox on the Island in the pre-dawn darkness. &nbsp One time I saw two of them - at opposite ends of Belle Isle. &nbsp Other animals that I have enjoyed spotting on the Island include chipmunks, racoons, egrets, herons, and my favorite birds, those pretty red-winged blackbirds. &nbsp Though I haven't seen any, I should add skunks which I have detected using a different one of the five senses.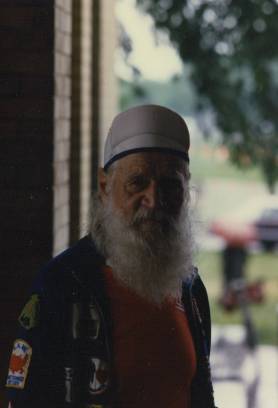 There are certain days when I let almost nothing get in the way of a Belle Isle bike ride - mainly Thanksgiving, Christmas Eve and Day, and New Year's Eve and Day. &nbsp One year when I was riding on New Year's Eve (AKA the seventh day of Christmas) I spotted some swans as I rode by Lake Okonoka. &nbsp I had to count them, of course, and their were seven! &nbsp I'm not making it up. &nbsp It was on those special days that if I saw even one other cyclist on Belle Isle it would have to be the legendary Nick Feldman, AKA "cycling grandpa".
One summer quite a few years ago on an especially hot Sunday I just wanted to be on my bike so that the wind could cool me off. &nbsp I headed out Gratiot with the SW wind behind me. &nbsp It felt so good to ride that I just kept going. &nbsp I rode all the way out through Mt. Clemens to Hall Road (Twenty Mile.) On the long ride back, the heat was radiating up from the black asphalt street surface. &nbsp It was so hot, I stopped at the McDonald's at Seven Mile, went through the drive-through on my bike and got a milk shake. &nbsp I rode the rest of the way home sipping on that cool drink.
On most of my rides, I try to maintain as high an average speed as possible, but I have a secondary goal: &nbsp not to touch the ground (even with my shoes) for the entire ride, and I usually succeed with that goal. &nbsp I've gone on many long rides - even as long as fifty miles - without ever touching the ground.
Once when one of Nate's classmates was having a birthday party at Point Pelee on the Canadian side of Lake Erie, I decided to ride my bike the twenty miles there. &nbsp I parked in front of Bruce's house on Askin Street in Windsor and set out on the Paramount. &nbsp Most of the ride took place on a two-lane-blacktop road with a fair amonut of traffic squeezing by me as I rode at the far right of the lane. &nbsp On this ride I wore a backpack so I could carry a couple snacks with me. &nbsp About half way to Pelee, I decided to retrieve a banana from the pocket of the backpack, a maneuver that I was attempting to do while steering one-handed. &nbsp It just wasn't working, so I slipped the backpack off one shoulder and around to the front where I could get at it. &nbsp Then, with the banana in my right hand, and also steering with that hand, I swung the backpack to my back and tried to get my left arm through the strap. &nbsp I didn't realize that the strap was twisted as I slid my arm through. &nbsp After pushing harder and harder, not only wouldn't my arm go in, it wouldn't come out either - it was stuck behind my back! &nbsp As these difficulties were occurring, I was riding next to a drainage ditch full of water with only a narrow dirt shoulder that was full of ruts in between. &nbsp Steering with one hand that was also clutching a banana that I was trying not to squish, it was a minor miracle that I was able to pull off the pavement onto the rough shoulder, and come to a stop without plunging into the water. &nbsp It would have been a very long way down with one hand tied behind my back. &nbsp(The banana did not survive the ordeal.)
I think I was in my thirties when I was returning from a Belle Isle ride with a strong east wind at my back. &nbsp As I crossed Mt. Elliott, I began accelerating and was going over 25 mph when a motorist whose car was sitting in the curb lane decided to pull a U-turn just as I was beginning to pass his car. &nbsp I slammed into the car's rear fender, but managed to turn with the car, and actually remained on my bike without falling. &nbsp The car wasn't so lucky. &nbsp My hip put a huge dent in it's rear fender. &nbsp The driver got out and started yelling at me as if it was somehow my fault and said he was going to make a police report. &nbsp Then another motorist pulled up and asked me if I was okay and whether I needed a witness. &nbsp That was helpful because then the U-turner shut up and took off.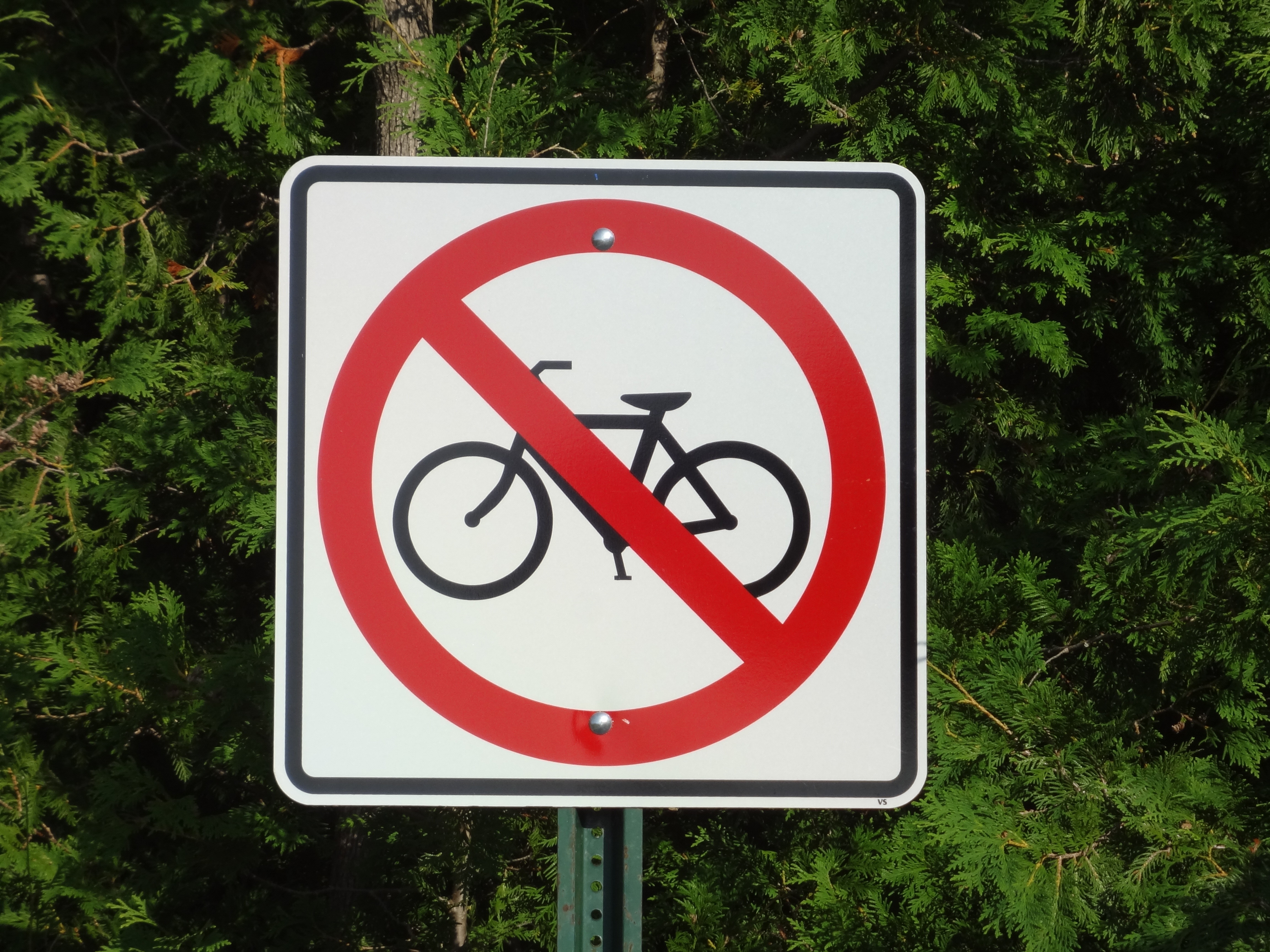 As if riding the roads wasn't challenging enough, I eventually took to the freeways. &nbsp It takes good luck and careful timing to ride a bicycle on a freeway, but most importantly, it takes the freeway being closed. &nbsp The timing part is important because the Highway Department in notorious for reopening freeways, unannounced and ahead of schedule. &nbsp Newly rebuilt southbound I-75 was scheduled to reopen on a Sunday night, so I planned to ride it on Sunday morning. &nbsp Those plans went out the window when I drove by I-75 on Saturday and observed cars already flying down the freeway. &nbsp I don't want to plan my ride too early, because the road may be cluttered, dirty, or torn up. &nbsp I try and find out when the road is scheduled to reopen, and ride the day before. &nbsp It's a thrill to ride up and down exit and entrance ramps, and to have three or four smooth lanes all available - especially if the other side of the freeway is open so that all the motorists over there can see me having fun. &nbsp Many years ago, when the northbound Lodge was resurfaced, I rode from downtown out to Six Mile, where the project ended. &nbsp My next ride was on I-696 when the freeway was newly constructed. &nbsp I parked at a relative's house in Pleasant Ridge, and rode down the up-ramp onto I-696. &nbsp From Dequindre to Telegraph, I rode on the westbound side, and on the way back I took the eastbound lanes. &nbsp Afterwards, I rode two levels under the freeway on a stretch of Woodward Avenue which was also under construction. &nbsp A couple of years ago, I rode on two different sections of northbound I-75. &nbsp First it was Warren Avenue up to Davison (up and back on the same side.) &nbsp There were actually workers on the freeway while I was riding. &nbsp Later that same summer, the stretch of I-75 from Davison up past Eight Mile was closed. &nbsp That was my favorite freeway ride because I came onto the freeway off of the Davison ramp which soars high over I-75. I know some of those drivers on the southbound side must have done a double-take when they saw a bicyclist on the ramp up over their heads. &nbsp Now I find myself wondering what construction projects are on the slate for this summer. &nbsp I did ride on the "Gateway Project" section of I-75 before they reopened it. &nbsp I also rode across the cool looking pedestrian bridge although the ends of it were not completed.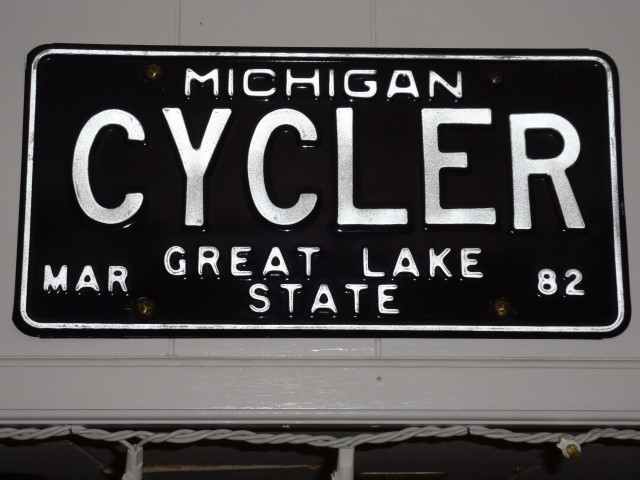 Since 1976, I have had personalized license plates on my car. &nbsp I went through a period when I was changing the inscription every year. &nbsp This plate, from 1982, was during that time, so I only used it for one year. &nbsp In those days, Michigan only allowed six characters on a personal plate, so I had to settle for CYCLER, when I would have preferred CYCLIST, of course.
Throughout my teaching career with Detroit Public Schools, I've taught at five different schools, all located a fairly short distance from my house. &nbsp My current school, however, is the only one to which I have commuted via bicycle, and I've done it a lot. &nbsp Last summer, I biked all but one of the twenty-nine days of summer school. &nbsp My riding to work isn't limited to warm weather, though. &nbsp I will ride in temperatures as low as the mid twenties. &nbsp The distance to work via bike is just over four miles for a round trip of about eight miles. &nbsp The one-way ride is short enough that I don't freeze when it's cold and I don't get overly sweaty when it's hot. &nbsp The longest stretch of my ride home is down Woodward (I usually go up Cass in the morning.) &nbsp I ride just at the edge of the rightmost traffic lane, where the pavement is a little better, and I have a little more space between me and the parked cars. &nbsp It's a space I reluctantly share with buses as we both question each other's right to exist. &nbsp One warm day as I was heading home down Woodward a bus pulled up next to me and the door opened. &nbsp I was expecting to hear some unkind words from the bus driver but instead got, "You have some students on this bus who want me to run you over." &nbsp I managed to stop laughing long enough to yell back, "Tell them they're all getting "F"s." &nbsp Only once, to my recollection, have I ridden my road bike to school. &nbsp It required me to carry a change of shoes in my backpack - too cumbersome. &nbsp A couple years ago when our building was undergoing heating/cooling renovations, we relocated our program to the closed Dewey School on the corner of the Lodge Freeway service drive. &nbsp We ended up staying in that former K-8 school for almost a year. &nbsp Dewey was just close enough to home that my best time for driving my car to work was identical to my best time for bicycling there - about nine minutes. &nbsp That was cool. &nbsp I liked riding my bike around the halls of that cavernous school after the students were gone for the day. &nbsp Now that I have fine tuned my route, my bike ride to and from work ranges from fifteen to twenty minutes, depending on the wind. &nbsp I have plenty of time on my lunch hour to drive home and ride my bike back, or bike home and drive my car back. &nbsp This has allowed me the flexibility to get bike rides in on days when it rains for only part of the day. &nbsp 2011 update - DPS closed my school in June, so who knows where I may be teaching in the fall, and whether it will be in riding distance.
Update from Jaunary, 2012. &nbsp I now teach at a school in southwest Detroit. &nbsp I characterize my bike ride to work as delightful. &nbsp It is about 4.4 miles there, and 4.25 miles back. &nbsp I don't always pay attention to how long it takes to get to work, but it seems to be just under twenty minutes when I do look. &nbsp The route is about one third to and through downtown; one third on Michigan Avenue, and one third on West Vernor. &nbsp Traffic is not really a factor (it never is for me anyway.) &nbsp I am so fortunate that I have the opportunity to ride to work - it makes my days more fun. &nbsp From the start of this school year in September up to the Christmas break, I biked to work 47 times - a great start.
---
Favorite Routes
St Aubin - Gratiot - Forest - Cadillac - Warren - Mack - Kerby - Jefferson - St Aubin &nbsp &nbsp &nbsp 19.8 miles

St Aubin - Gratiot - Outer Drive - Mack - St Jean - Charlevoix - Vernor - Chene - Antietam - St Aubin &nbsp &nbsp &nbsp 17.3 miles

Gratiot - Russell - Service Drive - Wilkins - Brush - Watson - Woodward - State Fair - Outer Drive - Van Dyke - Gratiot - St Aubin &nbsp &nbsp &nbsp 21.9 miles
(including a four-block detour down Grixdale and up Hildale, my street)

Same ride as above but from Gratiot add: &nbsp Grand Boulevard - Belle Isle lap - Jefferson - St Aubin &nbsp &nbsp &nbsp 30.4 miles

Lafayette - Bates - Cadillac Sq - Woodward - Fort - W Grand Blvd - E Grand Blvd - Jefferson - St Aubin &nbsp &nbsp &nbsp 16.7 Miles

St Aubin - Gratiot - 11½ Mile (Martin) - Jefferson/Lakeshore - St Aubin &nbsp &nbsp &nbsp 31.6 miles

Gratiot - Russell - Service Drive - Wilkins - Brush - Watson - Woodward - Peterboro - Cass - Warren - WSU Pedestrian Mall - Second - Milwaukee - Lodge Service Drive south - Holden (Recycling Center) Holden - Trumbull - Fort - Cabacier - Jefferson - Atwater - Riverwalk - over the big hill!!! - Atwater - Deqiomdre Cut - Gratiot Sidewalk - Service - Russell - Lafayette Park &nbsp &nbsp &nbsp 11.2 miles
---
"It's Only a Flesh Wound"
Whenever the temperature is over 60°, my cycling garb usually consists of a pair of light-weight nylon shorts and a nylon tank-top, which yields a lot of exposed skin. &nbsp When the summer is over and those yellow-jacket wasps are seemingly everywhere, I'll occasionally feel them bouncing off my body as I ride. &nbsp It's a rare year when I don't experience at least one sting, and anyway, why do they always have to sting me at the beginning of my ride, rather than when I'm almost home? &nbsp When I remember the worst incidents, they are the times when I hadn't been stung yet, but knew that it was inevitable. &nbsp One of those times I was coming fast down the bridge onto Belle Isle when a yellow-jacket hit me in the throat and slid down inside my tank top. &nbsp As I was flying along, I could feel it crawling around on my stomach. &nbsp I began furiously hitting myself throught my shirt, but by the time I squashed him, he had stung me in the middle of my stomach. &nbsp Another time one flew into one of the holes in the top of my helmet and got trapped there by the wind. &nbsp I could feel it on top of my head. &nbsp As I was riding, I took off my helmet as fast as I could, but, alas, too late. &nbsp That hurt! &nbsp One windy day I was riding with the wind on the Canadian side of Belle Isle - close to 30 mph. &nbsp A yellow-jacket hit me in the arm so hard it gave me a big bruise as well as a sting. &nbsp That really hurt. &nbsp A different kind of animal encounter made me feel bad about what happened. &nbsp I was riding fast (as ususal) and approaching a large flock of sea gulls in my path. &nbsp I was used to those birds always getting out of the way just in time, but this time there was one seagull who didn't figure that out. &nbsp By the time I realized the bird wasn't going to move, I was too close to swerve around it. &nbsp My collision with the sea gull gave me a flat tire, and it served me right.
It's no fun flying over your bicycle's handlebars. &nbsp I know - I've done it three times too many, and I pray to God that I never reach number four. &nbsp The first time was on July 1, 1988. &nbsp I was starting out on a long ride, heading out Gratiot Avenue. &nbsp As I was riding past the Faygo bottling plant, I was overcome with the smell of grape pop. &nbsp I turned my head to the left to look at the Faygo headquarters, and in that instant hit a big piece of wood. &nbsp I landed on my right shoulder, and as soon as I tried to move my arm, I knew that something wasn't right. &nbsp One-handed, I managed to get my bike's chain back on the gear, and rode the one mile back home, again one-handed. &nbsp I called Tish and she drove me to the hospital, where I was diagnosed with a separated shoulder. &nbsp Nothing to be done for it, except to wear a sling for a while and practice some exercises walking my fingers up the wall as high as I could. &nbsp In football it is a common injury - players will say their shoulder is (or their shoulders are) "down." &nbsp I was worried that this injury would mean that I wouldn't be able to play tennis or volleyball, but, thank God, my shoulder healed quickly and has never really bothered me to this day. &nbsp Regardless of whether I am cycling or driving a car, watching the road has always been a challenge for me (just ask Theresa!) &nbsp I want to see everything that is going on around me, and that is one of the beauties of bicycling: &nbsp it can be sight-seeing and exercise at the same time.
The second time I went "bar-hopping" was the 24th of June, 2006 in Grosse Pointe Farms turning from Mack onto Kerby next to the Belle Tire. &nbsp I was accelerating as I rounded the corner, and hit a spot where the the concrete had shifted causing a huge step-up which was practically invisible with the high sun not casting any shadow in it. &nbsp As I went over the handlebars, my feet threw the bike which landed even farther down Kerby than I did. &nbsp Fortunately, both my bike and I came out of the incident with little damage - I was just bleeding a little. &nbsp At that point, I was about halfway through the twenty-mile loop which was my favorite weekend ride, and I had planned on adding a lap around Belle Isle on the way home to put the distance at 26.5 miles - a little more than a marathon. &nbsp Typical Chris: &nbsp even though I was injured, I still rode the loop around Belle Isle on the way home. &nbsp On Monday I called G.P. Farms, and that week they filled in the sunken pavement with asphalt.
The last time I wiped out (and I hope that it really is the last) was in Gloucester Massachusetts. &nbsp I finally memorized how to spell that state correctly, instead of putting a double-s and a single-t. &nbsp The wedding of (my ex) Theresa's nephew, Matt Pruski, to Erika Normand on August 25th, 2007 was the occasion that brought us on vacation to the ocean and Gloucester. &nbsp We stayed in an artist-colony town called Rocky Neck which was situated on a little bay crowded with docks and sailboats and yachts - just the sort of picture you'd see on a jigsaw puzzle. &nbsp One of those sailboats, a 37-footer, belonged to Erika's father, Bob Normand, and he was kind enough to take a bunch of us landlubbers out onto the ocean one afternoon. &nbsp We all had to help hoist the sails - a fairly complicated operation. &nbsp Sailing was a thrill, but before we got back, the rolling waves had me feeling a bit seasick.
&nbsp Meanwhile, back on shore, the first order of business was to find the local bike shop and rent a bike, which I did. &nbsp Fortunately, the rental included a helmet. &nbsp I mapped out an eighteen-mile loop through the town of Rockport that I began riding daily. &nbsp One morning I decided to ride out to the lighthouse at the end of the bay where we were staying. &nbsp The only road to the public lighthouse park was a semi-private drive that curved along between the ocean and a bunch of huge "old money" mansions. &nbsp As I rode along was I watching the road? &nbsp Of course not! &nbsp I am a slow, (no, make that no) learner. &nbsp Large waves were crashing on the rocks just to my right, and that's what I was watching. &nbsp The private drive on which I was riding had huge speed bumps, and I hit the first one so hard that my left hand turned the handlebars 90° so they lined up with the front wheel. &nbsp It was a miracle that the wheel survived that impact. &nbsp Both brake levers were twisted way around on the handlebars. &nbsp Meanwhile, I went sliding face-down on the asphalt which featured lots of loose gravel-like pieces that tore up my right hand. &nbsp Note to self: &nbsp put bike gloves on my packing list for the future. &nbsp I was a bloody mess, and both of my wrists hurt. &nbsp My lip, my elbow, both knees and both hands were bleeding. &nbsp After I wrestled the handlebars back into alignment, I rode back home - about two miles - garnering plenty of stares from the people I rode by. &nbsp Theresa, put tons of gauze pads and bandages on me, and we all set off for the picturesque town of Rockport for shopping as we had planned. &nbsp At Rockport, I decided that I really should to go to a hospital, so I took Nick with me and went. &nbsp There, they properly cleaned my wounds, and wrapped my knees, elbow and hands with wide strips of white gauze. &nbsp I ended up looking like a refugee from a Monty Python skit - all I was missing was the bandage around my head. &nbsp When I returned to Rockport to catch up with my family I got even more stares. &nbsp One stranger came up to me and said, "I'd hate to see the other guy." &nbsp So anyway, the day after my accident I resumed riding my eighteen-mile loop and even rode out to the lighthouse, too - a little more carefully. &nbsp The scar on my elbow took forever to heal, and it looks as though I will always have a scar on my hand from the deepest of the wounds.
Over the years I have incurred many technical difficulties while on bike rides. &nbsp I'm sort of proud of the fact that I have broken a crank arm two times - I like to attribute those breakages to my powerful leg muscles! &nbsp One time as I was riding to work, my handlebars came off in my hands - the "goose neck" that holds them had broken. &nbsp I was able to maintain contol and stop. &nbsp I slowly rode the rest of the way to work, steering with my left hand grasping the little goose neck, while carrying the handlebars (still attached by the brake cables) in my right hand. &nbsp Back in 1984, I was on a Belle Isle ride. &nbsp On my way home, something about my bike felt weird - the bike felt sloppy in some sort of way. &nbsp As I rode across the bridge off of Belle Isle, I looked down at my bike and was amazed to see that the down tube was swaying side to side in time with my pedaling. &nbsp The pipe had rusted totally through just above the bottom bracket. &nbsp I rode home gingerly expecting my frame to collapse at any second. &nbsp I promptly drove to the bike store and ordered the bicycle that I still ride today. &nbsp Turns out it was my own fault that the pipe had rusted. &nbsp I had put some spongy foam inside the pipes to keep dirt out of the bearings. &nbsp Whenever water would get in the area, the foam soaked it up and held it against the metal.
---
Stupid Cyclist Tricks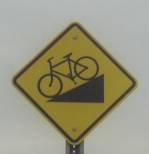 At U of M, while I was living at West Quad, I occasionally rode my bike up to the top of the Thompson Street Parking Structure, across the street. &nbsp One day, I decided that I was going to try to ride down from the top level, without using my brakes at all. &nbsp After each ramp down there would be a level stretch to the other end of the structure, and I figured that on the level stretches I would slow down enough to cancel out the speed that I picked up on the down ramps. &nbsp Wrong! &nbsp I kept going faster and faster. &nbsp About three ramps down, as I leaned through the turn at the bottom of the down ramp, my bike's tires hit some sand and it was all over. As the bike went sliding, I jumped off so I wouldn't land on top of it, and landed on my palms instead. &nbsp Apparently the little finger of my left hand had curled under my hand . &nbsp My finger really hurt. &nbsp When it still hurt just as much the next morning, I went to the University Health Service, got it x-rayed, and found out it was broken. &nbsp The break was between the last knuckle and the tip of my baby finger. &nbsp They bandaged my finger to a little aluminum splint, and told me to keep it on for six weeks. &nbsp I asked if I could play the piano and was told not to. &nbsp After two weeks I was playing the piano with it, and after four weeks I went canoeing with my gang of U of M friends. &nbsp It was November as we drove to Hoxeyville to canoe on the rapid Pine River. &nbsp None of us knew a thing about canoeing. &nbsp The river took a 90° turn to the left, and we broadsided a tree sticking out over the water. &nbsp It flipped us upside-down in the frigid water. &nbsp In the confusion of trying to get out from under the inverted canoe and out of the water, my splint got ripped off, and I did not bother to replace it. &nbsp That was my only broken bone, and there is a little lump on my finger where it occurred. &nbsp On the Me page, you can see the bandage holding the splint in the group picture taken in Windsor.

In the days when I was riding a Schwinn Continental, I liked to think of any excuse to ride the nine mile round trip out to the big white house that was the Continental Bike Store, because I liked the ride and I liked the store. &nbsp One time I rode to Continental to buy a generator light for my front wheel. &nbsp After making my purchase, I just couldn't wait to install the light, even though it was broad daylight and I wouldn't have any need for a light on the ride home. &nbsp Using the portable tools I carried in my bike bag, I clamped the one-piece generator/light unit to the front fork of my bike. &nbsp Can't you just guess what's coming? &nbsp About half of the way home I hit a bump and the generator unit slid down to the narrower part of the fork and into my wheel. &nbsp Spokes were popping like crazy. &nbsp End result: &nbsp the wheel was ruined the generator was ruined, and to add insult to injury, I had to walk a couple miles home holding the front of my bike up in the air. &nbsp I hope I learned something that day.

August, 2011 found me riding my bike around Torch Lake. &nbsp Forty-some miles into the ride as I was more than half way up the west side of the Lake, my route took me across Barnes Road and onto northbound US-31. &nbsp I was pleased to see that the highway had a paved shoulder almost as wide as the traffic lanes. &nbsp I also noticed rumble strips at the left edge of the shoulder to warn drivers if they veer out of the traffic lane. &nbsp Now a normal bicylist - a sane one - would make a mental note to stay to the right and avoid the rumble strips. &nbsp I, on the other hand, said to myself, "Rumble strips! &nbsp Let's try them out." &nbsp I purposefully rode over the first set, which was a huge mistake. &nbsp My chain instantly came off my front gear and I almost lost control of the bike. &nbsp Who knows what other damage that bone-jarring vibration did to my poor bike. &nbsp What was I thinking? &nbsp I would have been better off trying to ride my bike down my basement stairs.

Self-defense, I have learned, means: &nbsp Who is going to defend us against ourselves? &nbsp I still recall an incident from my teen years. &nbsp My best friend's younger brother attached a self-defense mechanism to his bike. &nbsp He took a steel bar about a foot long that had a hole in one end and used a thin rope to hang it from one end of his bike's handlebars. &nbsp The first day that he rode his bike with this new appendage, he flew down our street and leaned into the turn onto the sidestreet at the end of the block. &nbsp Naturally, the iron bar leaned into his wheel, and took out about half of the spokes. &nbsp My friend and I found this to be funny and thought that his brother was stupid. &nbsp Now it's my turn to feel kind of stupid. &nbsp Even though I've never needed one, I decided to attach a little weapon to my bike for self-defense purposes. &nbsp Since I don't use any bottle carriers, I used that mounting place to screw on a piece of a plastic bracket with a small hole drilled in it parallel to the frame. &nbsp In that hole I inserted a three-inch screwdriver whose blade I had ground down to a very sharp point. &nbsp So one day after riding on wet pavement, I was wiping off my bike frame a bit with a rag. &nbsp My bike was in its usual storage place - hanging upside down from the basement ceiling in my workshop. &nbsp Forgetting that there was anything in the spot where a water bottle would go, I slid the rag quickly down that tube toward the seat, running my screwdriver weapon about an inch deep into my hand at a low angle. &nbsp It hurt like hell, and I had to wipe blood off of everything. &nbsp If someone had told me, back when I was grinding down that screwdriver, that I would be the first to be stabbed by it, I might have stopped right then - nah.

It's been some time since I added anything in this category - I guess that's good. &nbsp On the first day of June, 2017, I was riding the Paramount to South Lyon from my Ann Arbor home. &nbsp The route included a 2.5 mile out and back on Nine Mile to bring the total mileage to a little over twenty. &nbsp Going out on Nine Mile, I incurred a front flat tire, and set about to fix it. &nbsp I turned the bike upside down on some nice grass at a subdivision entrance, and got to work. &nbsp I put the bike in high gear, opened the back brake, took off the wheel, and started to let out any remaining air, thinking to myself: &nbsp "wow, there's still a lot of air in here". &nbsp Well, duh! &nbsp That's because it wasn't the tire that was flat. &nbsp I was so used to fixing rear flats, that I was resigned to doing the more difficult tire - apparently whether it needed fixing or not. &nbsp The moment of realization really hit hard. &nbsp I'm lucky I stopped before I let too much air out of that poor rear tire. &nbsp So silly!
---
Extreme Chris
(This section rated PG-13)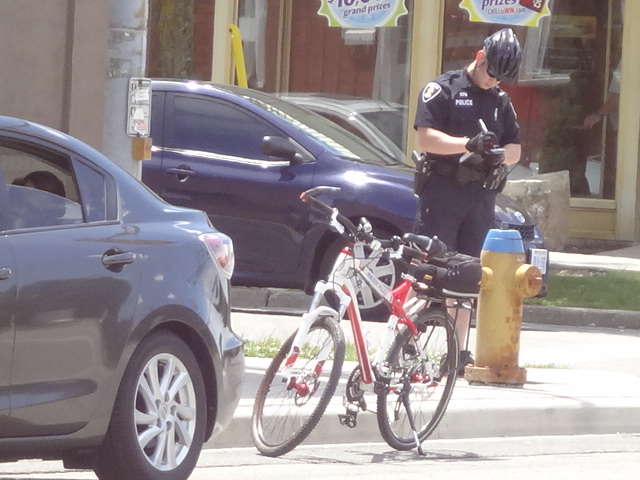 I align my cycling philosophy with that of the Queen of Hearts in Alice's Adventures in Wonderland:&nbsp "All ways are my ways." &nbsp When I'm on my bicycle, the rules are simple: &nbsp I always have the right of way, and I don't stop for anything. &nbsp I don't stop for stop signs, yield signs, red lights, pedestrians, ambulances, fire engines, police cars, funerals, Thanksgiving Day parades, animals, nuh-thing. &nbsp &nbsp When I encounter opposing traffic at an intersection, I may slow down a little, or I may ride in a tight circle until I see a gap in the traffic that is big enough to scoot through, or I might just intimidate a driver into yielding to me. &nbsp I view any hesitation on the part of a motorist as a sign of weakness. &nbsp The second that I see the slightest lowering of a car's front bumper I'm gone. &nbsp I will never repay hesitation with hesitation; I just go. &nbsp The only things that will cause my foot to touch the ground are equipment failure or a direct order from a police officer. &nbsp Such as the bicycle riding police officer in the picture who is giving a ticket to the motorist in the gray car. &nbsp My son spotted this on University Street in downtown Windsor, across the street from Sir Cedrick's where we were about to have lunch and enjoy the best fish and chips in the universe.
Over the years, I've been stopped by the police a number of times in places including Detroit, Windsor, Highland Park, and the City of Grosse Pointe, but so far I have received no tickets (thank God!) &nbsp One time on Belle Isle, I was coming fast off the bridge and as I approached the first side road towards the fountain, a police car in the center lane, cut me off to turn left on that street. &nbsp I almost ran into the police car, and I instinctively yelled in a loud voice, "Watch where you're going, asshole." &nbsp When I saw the police car make a U-turn, I knew that I was about to get a lecture.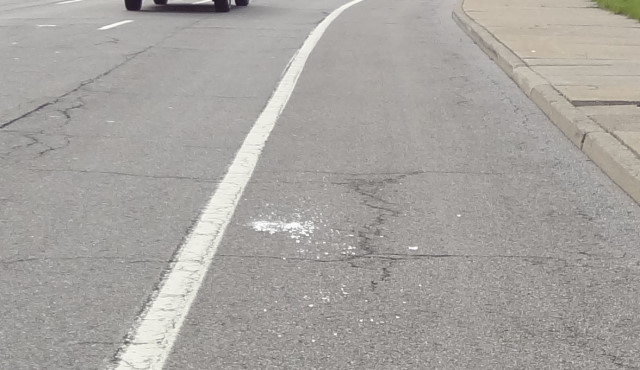 Belle Isle now has a bike lane all the way around the perimeter and on both sides of the MacArthur Bridge, too, but I don't use those lanes. &nbsp They have too much glass for one thing (see broken bottle at right), but the real reason is that nobody tells me where to ride - including bike lane signs. &nbsp I ride just outside of any bike lanes, reserving them as a place of retreat in case of emergency. &nbsp Yes, from time to time I do get people yelling at me to get in the bike lane, but they are just wasting their breath. &nbsp If those drivers stick around long enough, I will inform them that it is against my religion to ride in bike lanes. &nbsp If someone inquires what my religion is, it's Two White Guys on Bicycles. &nbsp (Thanks, Nate, for that idea.) &nbsp You can see one of the Belle Isle bike lane signs at the top left on this page. &nbsp If you want to be technical, the signs only tell motorists that they cannot use that lane, not bicyclists that they must.
I remember a Belle Isle ride on a hot summer day. &nbsp The cruisers were out, and as I rode down the backside of the island, I suddenly felt a spray of water. &nbsp Some teenaged girl blasted me with her super-soaker from a passing car, but I really didn't mind. &nbsp On a similar Belle Isle ride, a bunch of old-school cars had started a "conga line" pattern snaking from one curb to the other. &nbsp There were a bunch of cars stacked up behind them that couldn't get through, but I went flying through the formation causing a couple of the conga drivers to yell some unpleasant words at me. &nbsp Theresa's family used to have a picnic at Stoney Creek every summer, and once, about twelve years ago, (against my better judgment) I decided to ride my bike out Van Dyke Road to the affair. &nbsp Though I left quite early, by the time I got out to the teen Mile Roads (where there is no room for bikes at the edge of the right lane) the traffic was pretty heavy. &nbsp I got honked at and yelled at by a whole lot of motorists, but for some young adult males in a pickup truck, honking wasn't enough. &nbsp As they passed me, from two lanes over, one of them threw a full two-liter pop bottle at me just grazing my left arm. &nbsp (Don't you know it had to be Mountain Dew?)
And speaking of drivers honking . . . Why do drivers honk at you on your bicycle when there is no place for you to go, but there is some place for them to go? (besides Hell, that is) &nbsp Sometimes I'll be riding along in the right lane of a street for miles, and in my mirror I'll spot a car way behind me coming up. &nbsp There will be nobody in the lane next to us, still the driver will stay in the lane behind me, and once he or she catches up, start honking at me. &nbsp Then I wonder what sort of brain that person has. &nbsp It must be somewhat smaller than that of a squirrel, I imagine. &nbsp One time on the way home from Belle Isle someone driving a pickup truck came up behind me in the curb lane of Jefferson, apparently intending to turn right on Mt. Elliott. &nbsp This time there was traffic in all of the lanes. &nbsp I was moving fast, hoping to blow off the red light ahead at Mt. Elliott, which is usually pretty easy to do. &nbsp A block or so before the light the driver of the truck behind me honked his horn. &nbsp I reached my right hand behind my back and pointed to the next lane over (in other words, go around me.) &nbsp The driver honked some more. &nbsp This time I pointed at my rear end, as in: &nbsp kiss that. &nbsp When the honking still continued, I reached back, grabbed the waist of my nylon shorts and pulled them all the way down, displaying the full moon for a good five seconds. &nbsp This was just as I arrived at the red light at Mt. Elliott where there were a bunch of cars waiting at the light. &nbsp I just know some of those drivers must have seen what happened - I wish I could have seen how they reacted. &nbsp On only one other occasion have I ever pulled that maneuver.
Actually, I don't let the occasional honk bother me. &nbsp Only when the honking is persistant or totally uncalled for, will I loudly shout: &nbsp Shut the F*** up, stupid A**H***.
In the days when I was riding to work at the Oil Company in southwest Detroit almost every day, my route took me westbound down Fort Street under the Ambassador Bridge. &nbsp There was a steady stream of trucks coming off the Bridge onto Fort and heading west to Clark Street to get on I-75, and some of the trucks that were empty would get going pretty fast - especially if they made the light at West Grand Boulevard. &nbsp With the wind usually blowing out of the west, I was only too happy to slide into the slipstream of a fast truck and be pulled along. &nbsp However, knowing that empty trucks could stop fast, I was careful not to ride directly behind them. &nbsp I would ride at the back of the truck, but just to one side (whichever side the wind dictated), in view of the truck's mirror. &nbsp I'm sure I annoyed a few truck drivers, but it was fun latching on. &nbsp Best of all was when we made the light at Clark Street, and I could continue flying on as the truck turned.
Though I don't particularly like riding after dark, there have been a few times I have started my Belle Isle ride after dark - even as late as 11:00 pm. &nbsp I attribute those rides to my desire to keep my days-riding string intact and to the fact that I crave exercise. &nbsp The street lights on Belle Isle are notorious for being non-functional and I have had to ride long stretches where I could hardly see the pavement. &nbsp Luckily I know that all of that pavement by heart. &nbsp It is quite peaceful in the dark at the far end of Belle Isle when there isn't another soul around - and there usually isn't. &nbsp It's the riding on Jefferson and Vernor that is most scary. &nbsp I am always afraid my little flashing red and white lights will be inadequate. &nbsp From driving in my car, I know how hard it is to see at night with all the competing lights and shadows flooding my eyes. &nbsp I am always so happy to turn off of Jefferson on the way home.
There is one person who knows better than to tell me not to ride my bike - my doctor. &nbsp Doctor G. knows that I can be as sick as a dog and I will still go out. &nbsp On those occasions when I actually am sick enough to visit the doctor, I will go through the formality of asking if it is OK to ride, but the doctor and I both know it's just a rhetorical question. &nbsp The last time I had pneumonia (I've had it three times), I only laid off from riding for two days. Do I let medical procedures slow me down? &nbsp Not much. &nbsp Heart catheterization? &nbsp I rode around Belle Isle an hour before I left for the hospital. &nbsp Colonoscopy? &nbsp Same thing - and that was after all the preparation, of course. &nbsp Talk about working without a net. &nbsp I had mentally rehearsed what I was going to do if I got a sudden urge, but I'm not going to go into that. &nbsp BTW, the heart x-rays were because of a positive on a stress test that apparently was a false positive. &nbsp My great cardiologist, Dr. Subhi Sbahi, said that my x-rays looked great. &nbsp Whew! &nbsp Bicycling after the procedure was another story. &nbsp I told Dr. Sbahi that nothing ever keeps me from riding, and he told me that if the plug came out of my femoral artery I would bleed to death in two minutes. &nbsp He won that argument - no riding for two weeks. &nbsp It was torture.
When I see people outfitted with water backpacks and hoses, and that on top of two water-bottle carriers on their bikes, I laugh to myself and feel somehow superior. &nbsp That's because I never carry any liquid with me on any ride of any length in any weather. &nbsp Just call me a camel. &nbsp Just call me crazy. &nbsp I do my drinking when I am done riding. &nbsp It's just the way I am.
Now it may seem ironic to go straight from a description of my own wild riding habits to the topic of bicycle safety, but I actually consider myself to be a safe rider. &nbsp I make no claims, however, to being a good role model. &nbsp "Do as I say, not as I do." was never more applicable.
---
Bicycle Safety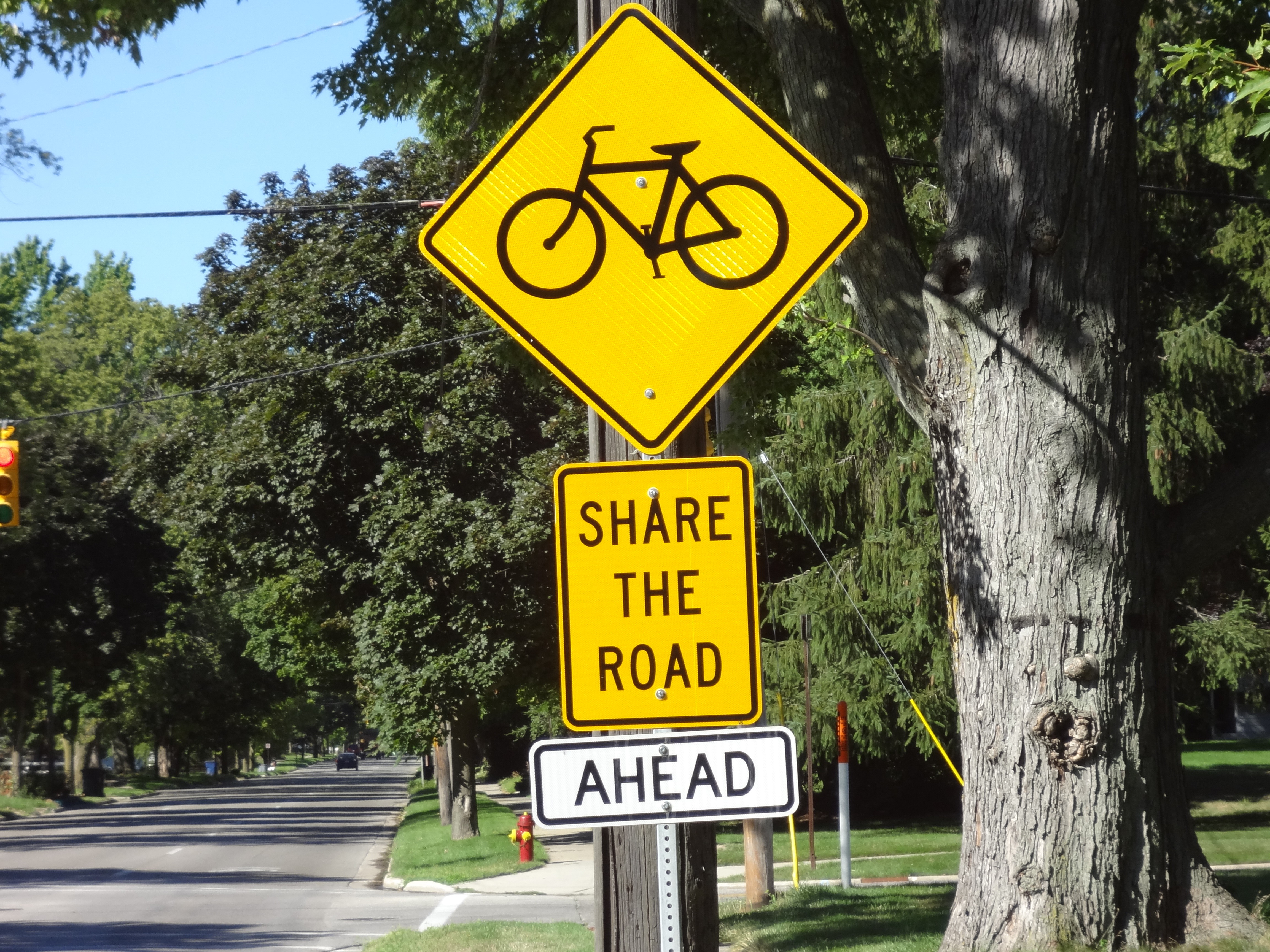 Not until ahead? &nbsp What's wrong with sharing the road right now?
Helmets: &nbsp If only I had a dollar for every family bike ride I've observed where the kids were wearing helmets, but not the parents. &nbsp Do those parents really think that their hard heads are immune to injury? &nbsp Accidents happen to people of all ages, particularly when not you, but some motorist is the one who loses control. &nbsp It is commendable that those parents enforce helmet use for their children, but I would ask them to send a less hypocritical message to their offspring, as well. &nbsp I consider myself a skilled cyclist, yet there have been times (see above) when I have been glad that I was wearing my helmet. &nbsp I even have one helmet to which I have attached a flashing red light in the back. &nbsp Though I do not like to ride in traffic after dark, on the occasions when I do ride in the dark, I wear that helmet to provide increased visibility. &nbsp It is true that helmet use can elevate a "bad hair day" to the disaster level, but that's small potatoes compared with the possible outcomes of sustaining a closed-head injury. &nbsp Please wear your helmet. &nbsp Furthermore, if you plan to participate in an organized ride, almost all of them now specify helmet use as a requirement for participation.
Mirrors: &nbsp A rear-view mirror is indispensible to anyone who rides even occasionally on streets with vehicular traffic. &nbsp Looking over your shoulder to see if a car is coming up is awkward at best, and downright dangerous when you are faced with the necessarily quick decision of whether to veer into the traffic lane to avoid, say, a car door that some idiot threw open without looking. &nbsp Both of my bikes have mirrors, and I use them all of the time. &nbsp The mirrors that I recommend are both in the REI catalog and the links follow. &nbsp However, if your straight bars are narrow, the model that I recommend will not connect to them. &nbsp Click here for drop bars and here for straight bars. &nbsp Once you install a rear-view mirror on your bicycle, you will wonder how you ever did without one. &nbsp Get a mirror for safety's sake.
Greetings: &nbsp I hope that you are a friendly cyclist and not one of those many bike snobs who flies past, refusing to acknowledge the existence of "lesser" cyclists. &nbsp It doesn't cost anything to be friendly and say "hi" to those whom you encounter - or at least wave. &nbsp Just don't sneak up and scare anybody with your greeting. &nbsp Not all bikes are equipped with mirrors, and those who have mirrors might not be looking in them. &nbsp When I am riding on Belle Isle, for instance, I might not consult my mirror for a long time. &nbsp Afer all. I'm riding in my own little universe with no one else nearby. &nbsp Then nothing is more disconcerting than to suddenly hear a voice talking to me from less than two feet away. &nbsp Besides scaring the hell out of me, it always takes a second to get oriented and figure out what's going on. &nbsp When you overtake another cyclist, it is polite (and may avoid some heart attacks) to vocally alert the cyclist while you are still a couple bike lengths behind. &nbsp If you do desire to pass without warning, at least wait until you are in the cyclist's field of vision and then say "hi" (or "bye.") &nbsp BTW, saying "on your left" or "on your right" is a total waste of time. &nbsp More often than not, the other cyclist will get it wrong, and pull in front of you anyway. &nbsp Just say "coming up" in a loud voice, and say it well in advance of passing.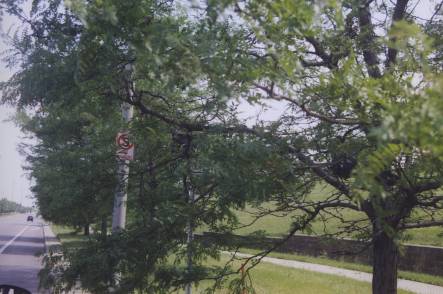 Bike Lanes &nbsp On a road where there is no parked-car lane and cars would otherwise be driving right next to the curb, a bike lane is a handy thing. &nbsp Watch, though, because those lanes have a nasty habit of suddenly ending before the road does, and then what? &nbsp One more thing to beware of: &nbsp glass and debris tend to congregate in the bike lane. &nbsp Car tires redistribute glass every time they run over it, but once the glass makes it into the bike lane, there are no cars driving in there to scatter it back out. &nbsp The bike lane on Belle Isle, in particular, seems to attract the glass bottles of that lower class of people who throw stuff out their car windows. &nbsp In this picture you can see the newly designated bike lane on the east side of St. Jean south of Mack Avenue. &nbsp What you can't see (and neither can any motorists!) is the bike lane sign strategically placed behind the tree branches. &nbsp If you look closely, you can barely see the sign's post to the right of the street light pole. &nbsp I wonder if the people who installed it were laughing to themselves as they planted that invisible sign.
Keep right? &nbsp Riding at the right edge of the road is normally a safe thing to do, but many times there are conditions which make it better to move away from the right edge of the road. &nbsp (more to come)
Hold your line &nbsp Ride in a straight line without swerving right or left. &nbsp (more to come)
To draft or not to draft &nbsp The pros and cons of riding with about one inch separating the front tire of your bike and the rear tire of the bicycle that you are following. &nbsp (more to come)
After you &nbsp Be wary when a vehicle stops at a green light to let you go. &nbsp (coming)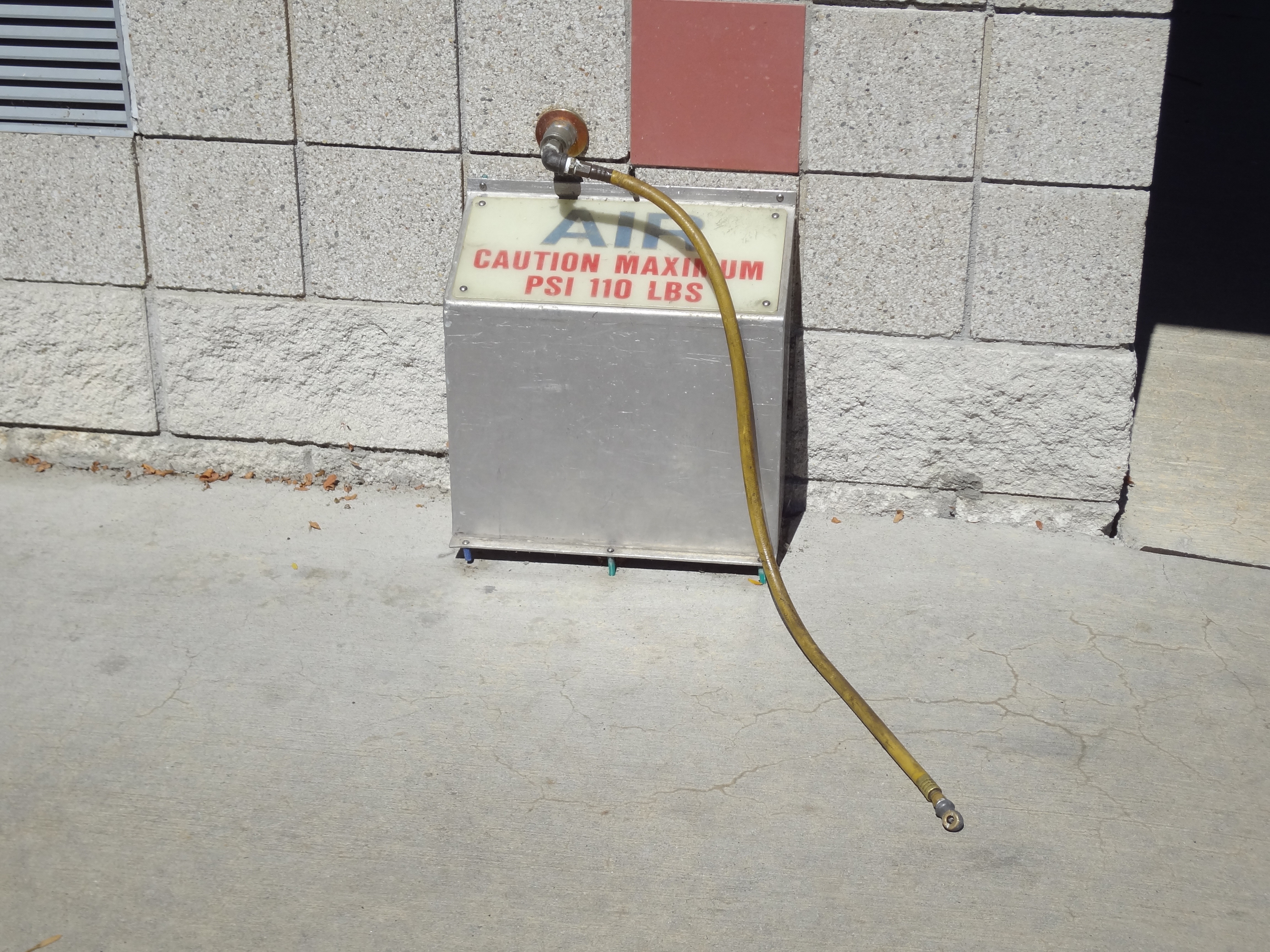 Tire inflation &nbsp Keep 'em at the max! &nbsp Embossed on bicycle tires (in a manner such that it is next to impossible to read) is the maximum air pressure rating. Fill your tires to that pressure or maybe five pounds less. &nbsp Fully inflated tires get less flats, and make riding so much easier. &nbsp BTW, if the tube's valve stem is protruding from the rim at an angle, that is a good indication that the bike has been ridden with the tire woefully underinflated. &nbsp When the valve stem does not stick out at a right angle to the rim, putting air in the tire may be more difficult. &nbsp The best thing to do is let all the air out, and re-install the tube properly.
You will find that as the tire pressure goes up, the rolling resistance goes down. &nbsp That is part of why I greatly prefer riding my road bike with 110 psi in the tires to my Trek with 70 psi in the tires. &nbsp If you go on long rides, it is a good idea to have a frame pump mounted on your bicycle, in case you do experience a flat tire. &nbsp Most of the pumps these days fit both presta and schraeder valves (and do a poor job of each.) &nbsp Test your pump out and make sure it fits and works well - before it has to. &nbsp I recommend that you carry a spare tube in a saddle bag. &nbsp When conditions are poor, you do not want to be messing with patches. &nbsp Just wear the tube home and fix it in the convenience of your own home.
Which way? &nbsp Do you ride your bike with or against vehicular traffic? &nbsp Many people think that because it makes sense to jog toward on-coming traffic, that the same applies to bicycling, but it does not. &nbsp I can (and will) give you a whole list of reasons why it makes more sense to ride "with" traffic.
It's the law! &nbsp In almost every State of the United States, the laws articulate that bicycles will ride with traffic, keeping to the right, and obeying the same laws as do the motor vehicles. &nbsp I list this reason for those who feel a duty to obey the traffic laws. &nbsp I will admit that I do not do well at obeying any traffic laws, but I do always ride with traffic for the other reasons that I am about to list.

It adds up &nbsp When you ride against traffic, your speed is added to that of approaching vehicles, but when you ride with traffic, your speed is subtracted. &nbsp Here is a simple, and realistic example. &nbsp Say the cars are travelling at 40 MPH, and you are tooling along at 15 MPH. &nbsp Against traffic, the car approaches you at 55 MPH, while with traffic, the car approaches at 25 MPH. &nbsp Which situation gives the motorist more time to react?

Chicken? &nbsp There really are some drivers who not only fail to think warmly of cyclists, but will go out of their way to intimidate them. &nbsp When you ride at traffic, you give the drivers the opportunity to play "chicken" with you - to intimidate you right off the road. &nbsp When you ride with traffic, the drivers cannot see your eyes, and with no eye-contact its virtually impossible to play chicken.

Collision course &nbsp When cyclists ride on a busy street, they have precious little room to call their own. &nbsp Often there is two feet or less of width between the parked cars and the cars driving by in the right-most traffic lane. &nbsp It is quite annoying, not to mention dangerous, to be riding along on your bike and see another cyclist coming directly toward you in the same space. &nbsp If both of the cyclists don't rapidly come to a complete stop, one (or both) of them will have to make the quick decision to veer out into the traffic lane. &nbsp It is a dangerous proposition for either cyclist. &nbsp This problem dissapears entirely when cyclists obey the law and ride with traffic.

Collision course for real &nbsp It is not just wrong-way bicyclists that might force you into the traffic lane and onto a collision course with a car or truck. &nbsp One of the common perils of urban cycling is the car door flying open just as you are riding by. &nbsp Whatever the cause, does it make a difference which way you are riding once you are forced out into traffic? &nbsp You bet! &nbsp If you are riding with that traffic, to avoid a collision, the approaching car only needs to slow down to your speed, and the collision is avoided - no slow down is required of you, the cyclist. &nbsp On the other hand, if you are riding against traffic, both you, and the motorist have to come to a complete stop. &nbsp Collision avoidance is so much easier if you are riding in the same direction as the cars.

Visibility &nbsp Of course it's nice to be able to see traffic unfold - it gives you a (false) sense of being in control, but which is more important - that you see an approaching car, or that the driver of that car sees you? &nbsp Who is driving the vehicle with the potential to kill? &nbsp You are not likely to kill anyone with your 20 pound bicycle! &nbsp On the other hand, it is vitally important that you are seen by the drivers of the motor vehicles anywhere around you, and drivers do not expect or look for traffic to be coming towards them on the right side of their vehicle.

Are you really in control? &nbsp So why do so many people apparently think that they are doing the right thing by riding against traffic? &nbsp Where does this misconception come from? &nbsp I believe that it's an idea that is borrowed from the walkers, joggers, and runners for whom travelling against traffic actually does make a little sense. &nbsp When you are on foot, you have the ability to quickly bail out of the street by jumping sideways up onto the sidewalk or grass. &nbsp Also, pedestrians - even runners - aren't travelling fast enough that the adding versus subtracting of speeds makes that much difference. &nbsp On the other hand, bicyclists are travelling much faster, and bicyclists can't jump sideways up curbs. &nbsp The sole two reasons why those on foot can afford to travel against traffic do not exist for bicyclists. &nbsp Therefore, you can just forget what applies to pedestrians, because it does not apply to bikes!

Sidestreet Mergers &nbsp I saved the most important reason for last. &nbsp Today there are many motorists who treat STOP signs as YIELD signs. &nbsp Not only do they not stop at the corner, they slow down as little as they can get away with. &nbsp Here is a scenario that happens all the time. &nbsp A motorist speeds down a side street towards a through street, such as Jefferson, intending to turn right. &nbsp Just before reaching the corner, he or she will slow down and look to the left to see whether any traffic is coming or whether there is a gap in the traffic. &nbsp If the through street is clear or even clear-ish, the motorist immediately hits the gas pedal again, and begins the right turn. &nbsp Only after their car is a good ways around the corner does the motorist finally look to the right. &nbsp Meanwhile here comes you, riding on the wrong side of the street, and arriving at the corner at the same time as the car that doesn't stop. &nbsp Guess what? &nbsp You get run over by a driver who never even looks in your direction. &nbsp You have no time to get out of the way, and nowhere to go, anyway, unless you make a quick decision to dive off your bike onto the sidewalk. &nbsp When you ride on the wrong side of the street, every single side street that you pass has the potential to present this extremely hazardous situation. &nbsp More than once I have seen bicyclists come within inches of being mowed down.
---
What Every Cyclist Must Know
The State of Michigan publishes its famous book, What Every Driver Must Know, as a study guide for those applying for a drivers license. &nbsp In that booklet is a page devoted to two-wheeled vehicles. &nbsp I have reproduced it here in its entirety.
Bicycles and Mopeds
&nbsp &nbsp &nbsp Much of the advice about motorcyclists also applies to bicycle and moped riders. &nbsp Bicycle and moped riders are allowed to ride in a traffic lane, but must stay as far to the right as practical, obey traffic signals, not ride more than two abreast in a single lane, and must ride in the same direction as other traffic.
&nbsp &nbsp &nbsp Bicyclists entering a roundabout are encouraged to ride in the center of the lane, traveling at or near the speed of circulating traffic. &nbsp Motorists who encounter bicyclists in a roundabout are urged to use caution, be courteous, and share the road.
&nbsp &nbsp &nbsp A bicycle or moped ridden after dark must have a front headlight and rear reflector. &nbsp But these may be hard to see. &nbsp A person riding a bicycle on a sidewalk meant for pedestrians must yield the right-of-way to pedestrians and sound a horn or bell before overtaking and passing a pedestrian.
&nbsp &nbsp &nbsp Watch the side of the road for slow-moving bicyclists and mopeds without reflectors. &nbsp Be ready to dim the headlights. &nbsp While it is safer not to, you may drive beside a bicycle or moped in the same lane. &nbsp Leave plenty of room. &nbsp A rider may turn sharply to avoid something in the road or a door being opened from a parked vehicle.
&nbsp &nbsp &nbsp The Michigan Vehicle Code does not require vehicles such as go-peds and scooters to be registered. &nbsp Some municipalities have outlawed the use of go-peds and electric scooters on the roads and sidewalks.
&nbsp &nbsp &nbsp Although the law only requires moped riders under age 19 to wear approved, properly fastened safety helmets, all moped and bicycle riders should wear them as well as reflective clothing.
(It all sounds good to me except for the part about "slow-moving bicyclists" which I find rather insulting.)
---
Average Speed
One of the problems that the ACT people like to put on their tests goes something like this: &nbsp A motorist drives from City A to City B averaging 60 mph and returns from City B to City A, at an average speed of 50 mph. What is the motorist's average speed for the whole round trip? &nbsp Did you answer 55 mph? &nbsp Wrong! &nbsp It's a little slower than that, but why? &nbsp Even though the distance is the same for both 50 mph and 60 mph, the time is not. &nbsp It takes longer to drive between the cities at 50 mph, so the motorist spends more time going 50 than going 60. &nbsp Therefore the 50 mph gets more weight than does the 60 mph. (Incidentally, a strategy that works on the ACT is to choose the answer that is slightly less than the average of the two speeds, because there is usually only one answer that fits that category.)
To calculate the exact average of the averages, there is a formula which is widely used in physics and electronics: &nbsp The reciprocal of the sum of the reciprocals. &nbsp Because it is a round trip, the result must be multiplied by two. &nbsp In the above case:
Average = 2 x 1 ÷ ( (1 ÷ 50) + (1 ÷ 60) ) = 600 ÷ 11 ≈ 54.54 mph
When I teach my ACT Prep class, I always illustrate this type of average speed problem with an example from my bicycling. &nbsp My daily ride to and from Belle Isle is predominantly east and west, and the wind is most often out of the east or west, so it is unusual if my rides don't have a fast half and a slow half. &nbsp The windier it is, the slower the overall average. &nbsp It doesn't matter how much the wind speeds me up when it's behind me, that never compensates for the additional amount of time that I have to spend riding against the wind. &nbsp Say I am trying to average 18 mph. &nbsp If I average 16 mph on the half of the ride that is against the wind, and 20 mph the other half, my overall average would be:
Average = 2 x 1 ÷ ( (1 ÷ 16) + (1 ÷ 20) ) = 160 ÷ 9 ≈ 17.78 mph
If it is windier and the 16 mph goes down to 15, and the 20 mph goes up to 21, the overall average decreases to 17.5 mph &nbsp With 14 and 22 mph the average further decreases to approximately 17.11 mph
This same reciprocal formula also works for problems of the type where you have two people sharing a task, and the type where there are two pipes filling a tank. &nbsp Here are two examples.
If takes a man 15 minutes to cut the grass and it takes his daughter twice as long to do the same job, assuming two mowers, how long would it take them if they worked together?
Time = 1 ÷ ( (1 ÷ 15) + (1 ÷ 30) ) = 450 ÷ 45 = 10 minutes
If it takes one pipe four hours to fill a tank, and a second pipe six hours, how long would it take them together?
Time = 1 ÷ ( (1 ÷ 4) + (1 ÷ 6) ) = 24 ÷ 10 = 2.4 hours
In both of these examples the ACT guess strategy is to take one half of the faster time and pick an answer that is slightly slower. &nbsp The ACT test typically offers only one answer choice in that range. &nbsp On the pipe example the faster time is four hours and half of that is two hours. &nbsp The correct time turns out to be a little more (slower) than two hours.
---
I do the Math
Riding for forty or more minutes every day gives me loads of opportunity to think. &nbsp Sometimes I will deliberately decide my topic - even before I leave the house - but more often, I think about whatever pops into my mind, and that frequently includes letters and numbers. &nbsp Many a time I have played the game of finding words on signs (or at least trying to) that begin with each letter of the alphabet. &nbsp Actually, I usually would play the variation where I look for signs that contain two of each letter, or I would look for signs that contain two consecutive letters (but not necessarily together.) &nbsp The trouble is that I have memorized where to get all of the letters available between my house and Belle Isle, so there is no adventure in it anymore.
Sometimes I will count how many pedestrians I pass versus how many cars pass me (or I pass) on the perimeter of the Island. &nbsp In the winter, for example, I might pass only four walkers and maybe nine cars might pass me. &nbsp Then on the way home from Belle Isle I would calculate the percentage of pedestrians by dividing 4 by 13 in my head, taking it out to seven decimal places, where it repeats: &nbsp 0.3076923. &nbsp Guess I'm a math nut, too.
---
Spokespersons
Cyclists whom I have met or with whom I have exchanged e-mails
&nbsp
&nbsp
&nbsp
(the late) Woody Miller
(the late) Greg Abdoo
Melanie Kuenzel
Bruce Hubbel
Scott Harrison
Carrie Baic
Kathy Cannon
John Trexler
Peter Suciu
Lise & Dale Brown
Lorne Pare
Alek Budziosz
Victoria Rose
Tom & Sue Olmstead
Reg McGhee
Tom Dusky
Doug Grant
Todd Scott
Rich Points
Dan Masterson
Mike MacKool
Walter Johnson
Trish Hubbell
Phil Bokovoy
Andrew Kemp
Jason Hall
Howard Matthew
&nbsp
&nbsp
&nbsp
&nbsp
&nbsp
&nbsp
If you would like a link back to your own e-mail or website, let me know.
If you would like to get in touch with someone on the list who doesn't have a link, send me an e-mail.
---